Residential / Nov - Dec 2016
House 412
November 7, 2016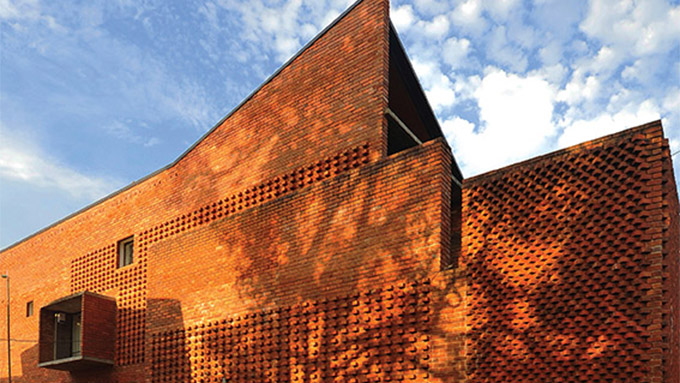 The brief was to build a two-storey, four-bedroom house in a 23 perch-plot, which already accommodates an old two-storey house (to be retained and rented out once the new house has been completed). Hence, the new construction had to be confined to the remainder of the site, which is a narrow, rectangular plot of land abutting the site boundary on southern and western directions, and a major vehicular route and the existing building on the northern and eastern sides respectively. A shared, linear garden is planned between the two buildings, both overlooking into the common garden space.
Formally, the building has a rectangular shape with an articulated brick façade as the main aesthetic. The façade wraps around free-flowing internal and external living spaces, and serves as an environmental barrier against external elements. Additionally, the brick skin opens, turns and projects to bring light, air and people into the interiors. The wall is also a formal canvas that creates varied textures, shadows, colours, light and patterns.
The design places the main structural elements perpendicular to the street. thereby immediately opening the street façade at the pedestrian level. A linear circulation spine starting from this street entrance runs the length of the house. This divides the house into 'served and servant (service) spaces', around which diverse spatial volumes are knitted, generating spatial—and visual—connections between different levels of the house and establishing an experiential route across the fluctuating heights and volumes of space.
Project Name
House 412
Location
Colombo, Sri Lanka
Completion Date
March 2014
Site Area
755 square metres
Gross Floor Area
290 square metres
Number of Rooms
4
Client/Owner
E.A. Ponnamperuma
Architecture Firms
Robust Architecture Workshop
Principal Architect
Milinda Pathiraja; Pulina Ponnamperuma; Ganga Ratnayake
Main Contractor
Prabath Construction Pty Ltd
Civil & Structural Engineer
J.H.T. Chandraratna
Images/Photos
Kolitha Perera; Robust Architecture Workshop
Previously Published Projects