Residential / 3rd Quarter 2023
For the Love of Dog
September 20, 2023
If one ever has a dog as companion, one would likely understand the deep bond between dogs and humans. In fact, this is true for most of us who have had the opportunity to share our lives with any animal. The space in which such a relationship develops over time then becomes a primary factor in the quality of life for both species.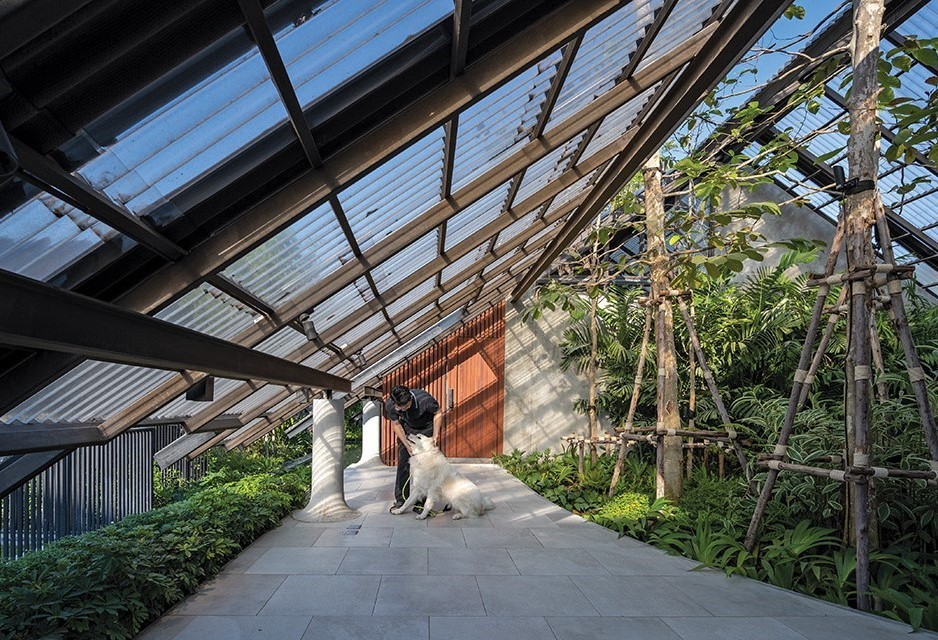 For some, bringing a pet (such as a rabbit, hamster, guinea pigs) into the home may not have any spatial impact on the living space. For others, they might design their homes to take into account the needs of their pets alongside theirs.
The Dog/Human house is an exemplar of the latter—a project embodying a man's love for dogs.
This house is not just a residence for the owner, but one that his dogs could reside in comfort as well. Beyond that, he wishes to share the space with other dog owners too by designating a part of his house to function as a 'hotel' where other dogs can share facilities (grooming/salon) and 'hang out' with one another; as well as a waiting area in front of the house for the owners to watch their dogs interacting.

To reflect the owner's heart, the architects started by researching the context of the project to better understand how the architecture can be configured. Nakhon Pathom is an agricultural province known as the "national kitchen" where pork, chicken and rice in the market are exported to. The research turned up interesting architectural characteristics from the past that are still present today, notably the roof.
When researching on context, the team did not only refer to nearby buildings, trees, weather, geology or physical objects perceived by the senses, but also included abstractions such as relationships between the project's users. They found that scale is a key aspect in the architectural relationship between dog and human.
[This is an excerpt. Subscribe to the digital edition or hardcopy to read the complete article.]
---
PROJECT DATA
Project Name
DOG / HUMAN
Location
Nakhon Pathom, Thailland
Completion Date
2021
Site Area
1,532 square metres
Gross Floor Area
700 square metres
Number of Rooms
10
Building Height
6.5 metres
Client/Owner
Norawee Wainipitapong
Architecture Firm
EKAR Architects
Principal Architect
Ekaphap Duangkaew
Design Team
Tirayon Khunpukdee; Sorapat Maneewong
Landscape Architect
L49
Main Contractor
GRD + RHive Design and Consultant
Images/Photos
Rungkit Charoenwat; EKAR Architects
---

Previously Published Projects