Elderly care 'hacking' and city park rejuvenation among winners of Singapore's President*s Design Award this year
SINGAPORE, 13 JULY 2023 – Yesterday evening on 12 July 2023 at the Istana, eight recipients were presented the President*s Design Award (P*DA) 2023 by President Halimah Yacob in recognition of design excellence that have positively impacted communities in the nation and beyond.
The Designer of the Year category was presented to two recipients: Leonard Ng of Henning Larsen, who was recognised by the Jury as a visionary leader in landscape architecture, having shaped many of Singapore's iconic green public spaces such as Bishan-Ang Mo Kio Park, Kampung Admiralty, and Jurong Lake Gardens; and Kay Ngee Tan of Kay Ngee Tan Architects whose work as architect, educator and writer includes projects such as the Old Bukit Timah Railway Station.
Six projects were awarded in the P*DA 2023 Design of the Year category for making a significant difference through one or more of these four impact areas: enabling economic transformation; raising quality of life; advancing Singapore brand, culture and community; and making ground-breaking achievements in design. Here are the awardees: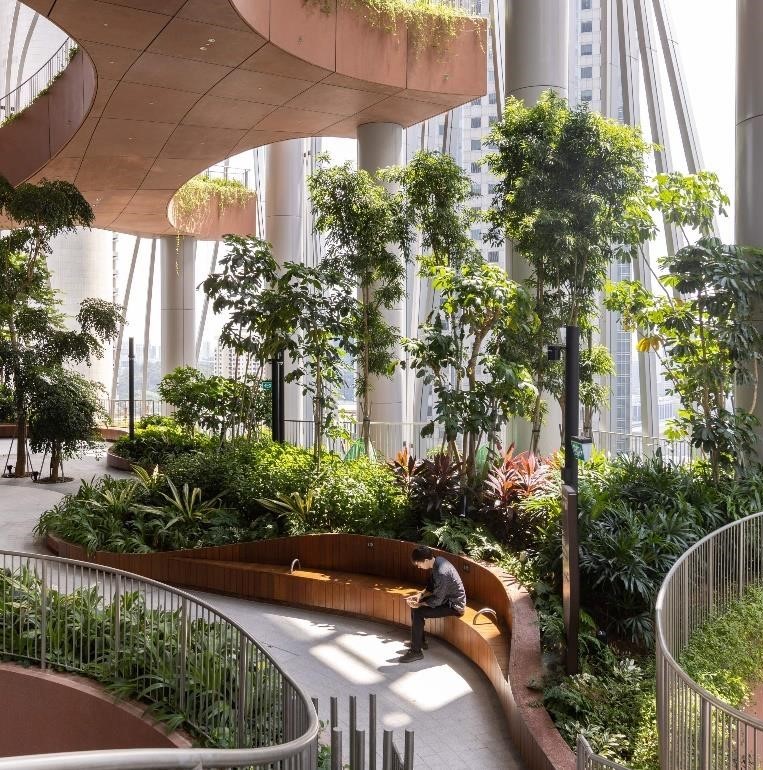 • CapitaSpring, by Bjarke Ingels Group in collaboration with RSP Architects Planners & Engineers (Pte) Ltd and Carlo Ratti Associati, is designed in the spirit of a green skyscraper of the future. Located in the Central Business District, it contains a network of offices, residences and recreation that harnesses the restorative power of Nature through open-air gardens and a rooftop observatory.
• Hack Care: Tips and Tricks for a Dementia-friendly Home, by Lekker Architects and Lanzavecchia + Wai is a timely, important, and accessible toolkit to empower caregivers to provide a life of dignity and grace for persons with dementia. Through creative, affordable, and practical ideas, Hack Care democratises and facilitates inclusive design with each thoughtful hack. The tips and tricks can be accessed here.
• R for Repair, by Hans Tan Studio, seeks to illuminate repair as a transformative process that addresses the global waste crisis by inspiring a new attitude of care toward our possessions. By highlighting the emotional as well as functional value of repair, R for Repair shows that sustainability can be both desirable and purposeful.
• Singapore Pavilion, Expo 2020 Dubai, by WOHA Architects Pte Ltd is a showcase of how Nature and architecture can co-exist to create a sustainable and liveable city. The pavilion was self-sufficient by design, serving as a prototype for more responsible and regenerative cities of the future. Read more about the pavilion here.
• State Courts Towers, by Serie + Multiply Consultants Pte Ltd in collaboration with CPG Consultants Pte Ltd, is a re-conceptualisation of the traditionally enclosed, low-rise courthouse into a contemporary high-rise development that is open and transparent. The design metaphorically reflects the notion of a judicial system that is transparent and impartial, combined with lush greenery and an intuitive layout.
• Tebet Eco Park, by SIURA Studio Pte Ltd, transformed a once neglected and degraded public park in Jakarta, Indonesia beset with environmental and social problems into a vibrant green space embraced by the local community. Completed in just 15 months during the pandemic, the revitalisation of the park went beyond a cosmetic upgrade, renaturalising an existing concrete canal into a river with wetlands that better manages frequent flooding while cleaning the water. Read more about the project featured in FuturArc 3Q 2021: Equity & Urban Interventions, and read our interview with lead designer Anton Siura here.
"As we celebrate the exemplary works of the P*DA recipients who have applied their creativity and craft with empathy and care, we also learn how design can create a positive impact on the environment, our economy and the cities we live in. I hope their contributions will inspire others to create a better world for our future generations," said President Halimah Yacob.
The awarded works will be featured in a travelling exhibition around Singapore, commencing at The URA Centre from 13 July to 24 August 2023 before moving to selected venues. For more information, visit pda.designsingapore.org.
---
Related stories:
Revitalised Tebet Eco Park opened as a Green oasis in South Jakarta

Revitalised Tebet Eco Park opened as a Green oasis in South Jakarta | FuturArc
After being renovated since 2021, the long-awaited Tebet Eco Park was officiated by Anies Baswedan, Governor of Jakarta, on Saturday, 23 April 2022 and opened for public on the following day. It revitalises two existing parks in the area, adding the new functions of children's playgrounds, exercise…
Not a Mirage: Singapore's Net-Zero Tropical Microclimate Thrives in the Desert

Not a Mirage: Singapore's Net-Zero Tropical Microclimate Thrives in the Desert | FuturArc
For the Singapore Pavilion in Expo 2020 Dubai, which is set to be held from 1 October 2021 to 31 March 2022, architect WOHA alongside landscape architect Salad Dressing has created a lush garden that surrounds and suffuses a three-storey building. The Pavilion is designed to have a light environment…