2nd Quarter 2022
Revitalised Tebet Eco Park opened as a Green oasis in South Jakarta
June 15, 2022
After being renovated since 2021, the long-awaited Tebet Eco Park was officiated by Anies Baswedan, Governor of Jakarta, on Saturday, 23 April 2022 and opened for public on the following day.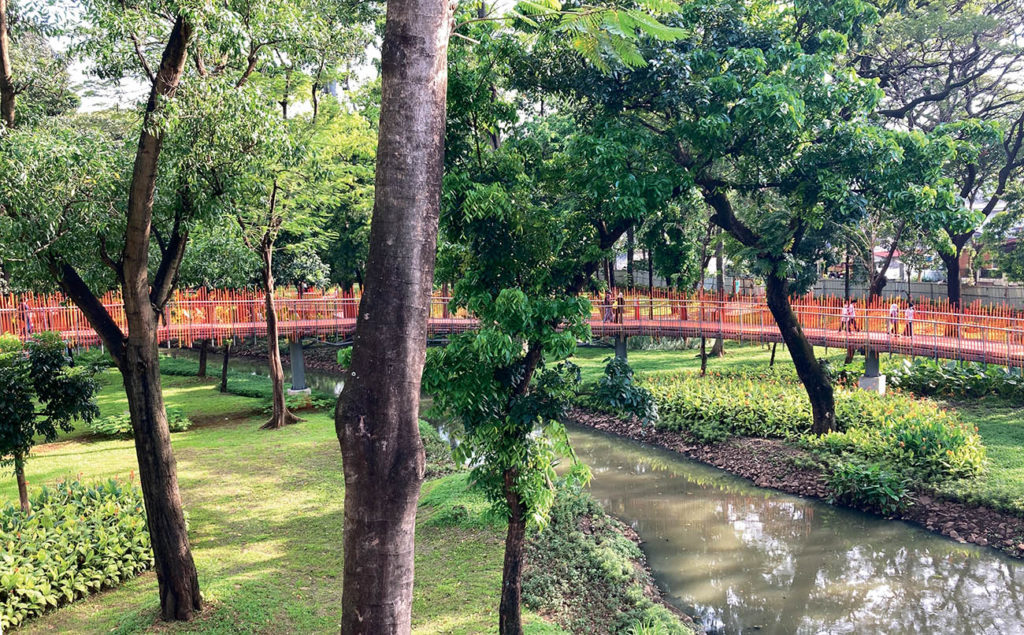 It revitalises two existing parks in the area, adding the new functions of children's playgrounds, exercise equipment, thematic gardens, community lawns, plaza and pavilions, and a wetland boardwalk. More than just adding facilities for public recreation, the revitalisation also focuses on ecological enhancement of the blue-green city infrastructure as part of the Jakarta Government's climate action towards achieving Sustainable Development Goals (SDGs).
For example, every existing tree was mapped and health-checked; unhealthy trees that posed a danger of falling were repurposed as mulch and park furniture. The river embankment that ran across the park was also naturalised by widening and changing its profile to become a retention pond. This is a measure to prevent flooding of the surrounding area during heavy rainfall (read more about this project in FuturArc 3Q 2021: Equity and Urban Interventions).
According to Suzi Marsitawati, Head of the Jakarta Parks and Urban Forests Service at the opening ceremony: "The goal is to create a city park that is representative, recreational, educational and provides positive benefits for the surrounding ecology and Jakarta on a macro basis."

---
History and city context
Strategically located close to the central business district, Tebet is also one of the oldest neighbourhoods in South Jakarta. It was established in the late 1950s by the government as replacement land for residents who were displaced from the Senayan area, which was being redeveloped into the city centre. Tebet is also popularly known as the area where former United States president, Barack Obama, once went to school.
Running across the area is Ciliwung River, the city's longest waterway that measures over 120 kilometres. This river was originally the centre of Tebet's 'garden city' planning concept. However, rapid development of the area has converted a vast majority of green open areas into housing.

The two untouched parklands that remained along the river, previously named Taman Tebet and Taman Honda, were jointly redeveloped as Tebet Eco Park.
Totalling 7 hectares, the two parks are now connected by an infinity-shaped Link Bridge, lifted 6 metres above the main road to separate the pedestrian path from vehicle traffic. The park does not provide parking spaces for motor vehicles—instead, cycling, walking and taking public transportation is encouraged, considering its proximity to the nearby Cawang commuter station.
---
Meeting the need for quality green spaces
Behind the park's improvement is the cooperation of multiple stakeholders. It is the result of a public-private partnership between the provincial government of Jakarta, including its various technical agencies, and PT Award Global Infinity as the developer. The project was helmed by landscape design firm SIURA, alongside Studio Sae as the architecture firm.
Tebet Eco Park is the latest priority public park to be revitalised after Taman Matraman in Central Jakarta and Taman Puring in Kebayoran Baru reopened in 2020. There is a total of 53 public parks currently set for optimisation across the province, measuring up to 27 hectares.
However, this is still a small number when compared to Jakarta's 66,000-hectare land area. Data from Ministry of Agrarian Affairs and Spatial Planning in 2021 showed that less than 10 per cent (6,000 hectares) of all land in the metropolis is open green space—a large gap compared to regulations that dictate a minimum of 30 per cent (21,000 hectares). Considering Jakarta's steep land prices and dense built environment, it is unlikely that this requirement could be met in the near future. Despite this challenge at the macro scale, park revitalisation brings undeniable social and environmental benefits for its surrounding community. The public's enthusiasm for Tebet Eco Park shows that there is a high demand for open green spaces—making this an opportune time to push for more efforts to bring Nature back into the city.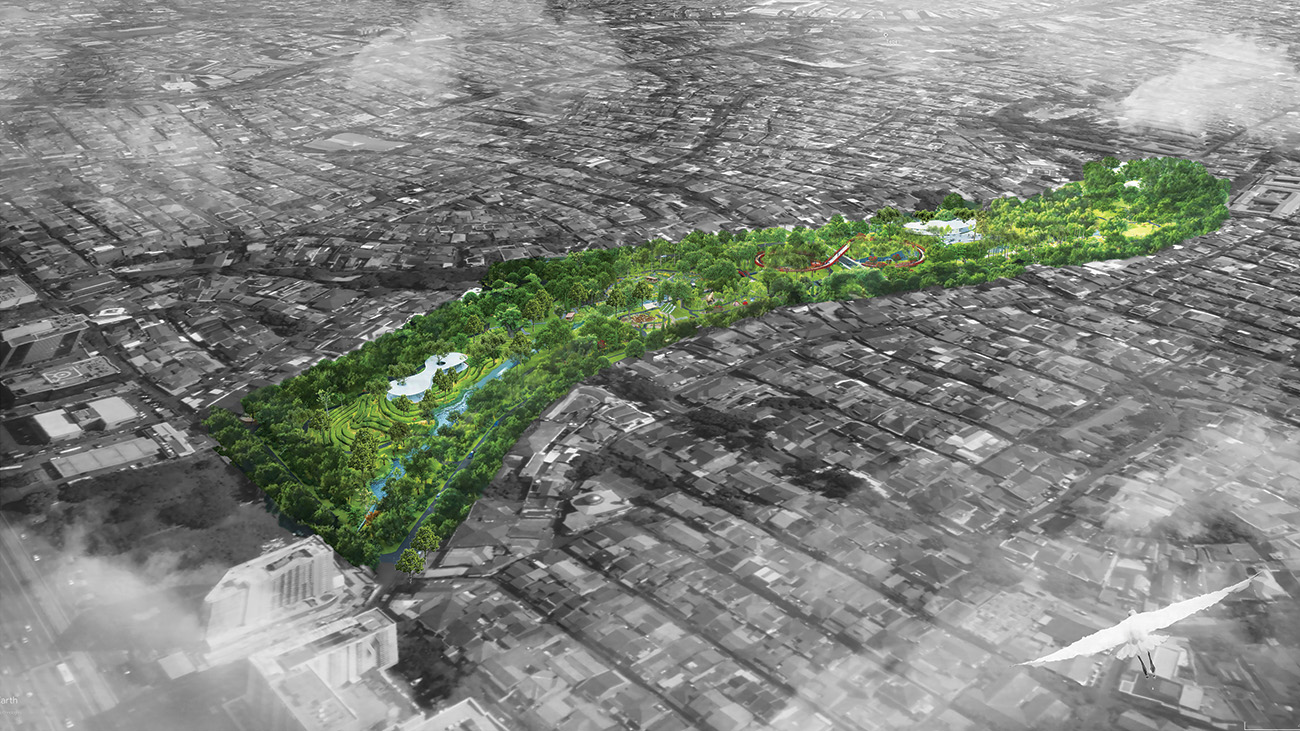 Tebet Eco Garden | FuturArc
The revitalisation focuses on utilising the existing degraded environment with design interventions that maximise ecological restoration.
RELATED: Q&A with Anton Siura about Tebet Eco Garden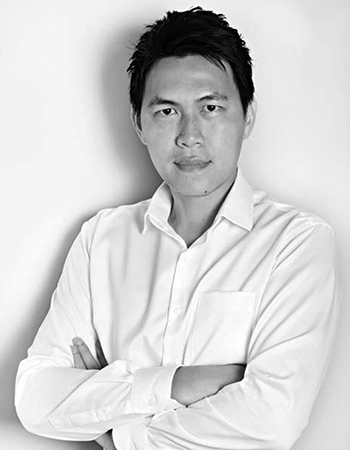 FAP 2022 Juror Project Highlight: Anton Siura's Spectacular Tebet Eco Garden | FuturArc
Handling large-scale public parks is not a walk in the park—they require close coordination between many government and private parties, from assessing the existing conditions, ideating designs that could engage the community, to ensuring ecological restoration through the blue-green infrastructure.…
---

Previously Published Happening