Online Exclusive Feature / 2021
Not a Mirage: Singapore's Net-Zero Tropical Microclimate Thrives in the Desert
August 30, 2021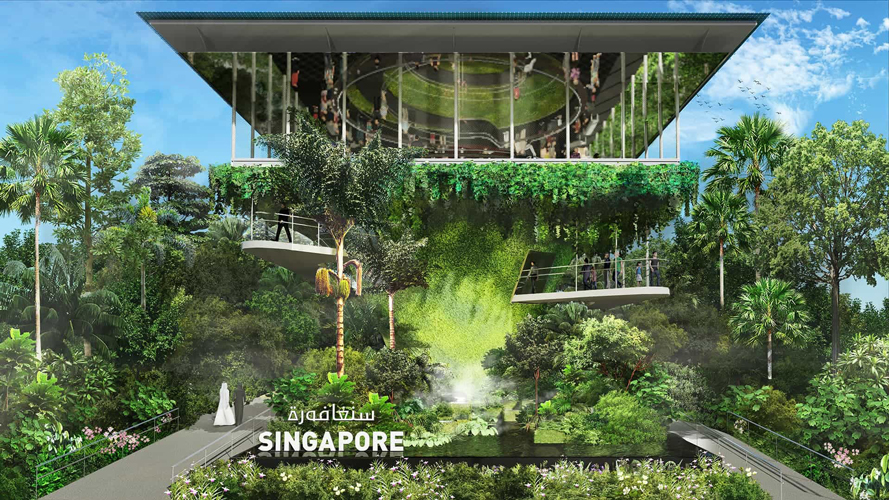 For the Singapore Pavilion in Expo 2020 Dubai, which is set to be held from 1 October 2021 to 31 March 2022, architect WOHA alongside landscape architect Salad Dressing has created a lush garden that surrounds and suffuses a three-storey building. The Pavilion is designed to have a light environmental impact and a self-sufficient ecosystem to achieve net-zero energy over the event period.
Over 170 varieties of plants are selectively placed at various zones to create a multi-layered green space, welcoming visitors with tree canopies; a freshwater stream and mangrove habitat; hanging gardens that cascade from the ceilings; to the thematic Rainforest Cone and Flower Cone inside. Achieving this landscaping vision in the desert climate of Dubai is no small feat—it required years of planning and preparation.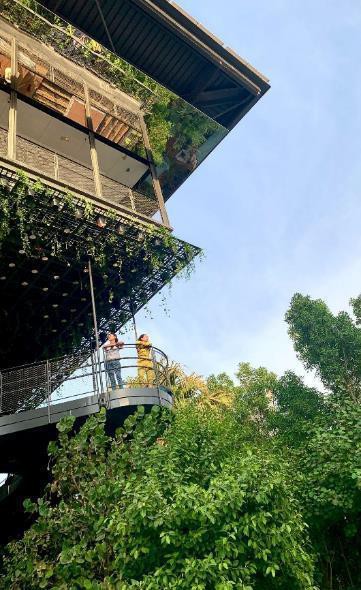 The various plants, some being native to Singapore, have been procured from Dubai nurseries for pre-growing since 2019, and later transplanted on-site. Recognising the challenge of growing and maintaining these plants in the desert environment, the plants' placement has been strategically situated based on their specific growth needs.
For example, the Pavilion's perimeter is protected by trees and palms that thrive well in the Dubai climate, mimicking forest strata to form a well-shaded layer that shields the interior against heat. Sun-loving plants such as Singapore's national flower, the Vanda Miss Joaquim orchid, will greet visitors at the front of the Pavilion, where it receives the most direct sunlight.
Another challenge is to produce and conserve water for the plants' irrigation. Dubai's ocean water is processed through an on-site solar desalination process, which is then deployed through drip irrigation—a form of micro-irrigation that allows water to drip slowly onto the soil near the roots of plants—resulting in a favourable high soil moisture while minimising water wastage.
In addition, leaf litter is also used to replace water-consuming ground cover, thus retaining water in the soil. Together with misting, the greenery helps to increase humidity and thermal comfort within the Rainforest Cone
Meanwhile, inside the Flower Cone, four terrariums are set against a wall of orchids of more than 50 varieties in the darkened exhibit, with propagation apparatus such as plant gels to ensure the orchids' growth.


These strategies enable the creation of microclimates within the Rainforest Cone and the Flower Cone to sustain rainforest plants. The growth of the multitude of plant varieties despite the ground conditions demonstrates the possibility for such landscapes to thrive in different environments around the world while using renewable resources.
Previously Published Projects