Landscape, Urban Design / 3rd Quarter 2021
Zhuhai Xiangzhou Green Connector: Jing Shan Trail
September 24, 2021
At 13.5 kilometres long, the bold Banzhang Mountain Connector in Zhuhai will link the mountain within the city to the sea.
Located right in the middle of the city, Banzhang Mountain has been viewed as a hindrance as it prevents the development of roads, thus limiting people's access around the city. The design team, however, saw it as a resource and asset—the Green Connector will serve as an environmentally friendly infrastructure network that meanders with the terrain, offering the public a recreational space as well as access to nature.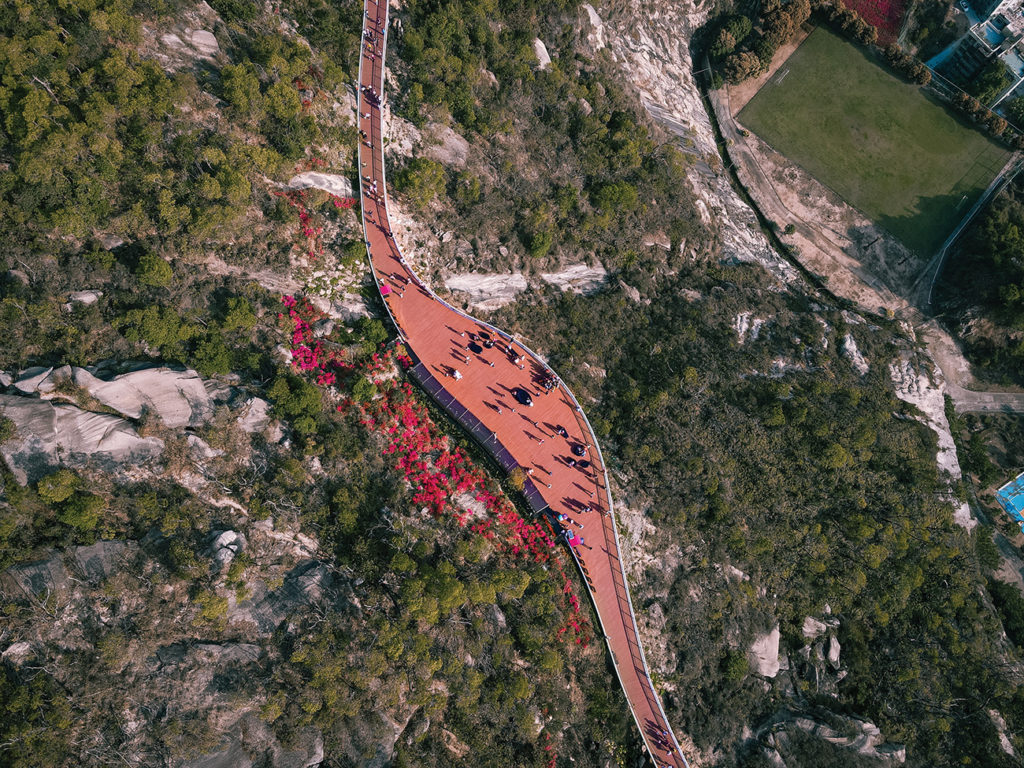 ECOLOGICAL & LOCATIONAL IMPACT
Banzhang Mountain runs east-west across the city and is being cut through by Jining Road from north to south, separating the mountain into two parts. The project design respects the existing natural environment and habitats. By restoring the ecological linkage and developing green infrastructure, the continuity of biological habitats can be strengthened, allowing people to coexist more harmoniously with nature and other species.
The designers have also created an 'eco-link' intended to reestablish the ecological connection between two parts of the mountain currently separated by Jining Road. It not only serves as an important link for wildlife, but also enables biodiversity to flourish across the green bridge.
SOCIAL IMPACT
Driving has been the main means that people get around in Zhuhai City. Hence, five to six through-tunnels have been developed and planned. The project intends to make a long-lasting impact on the local community by looking into changing the behaviour of the people. The Green Connector creates a more sustainable network of corridors and platforms for walking and cycling, supported by public transportation, to motivate the locals to adopt a new lifestyle as well as create a new tourist destination for the city.
The overall public transportation circulation has been reviewed and analysed in order to promote the Green public transportation at the city scale. At the district area, the team investigated the combination of cycling routes with Green Connector networks to promote low-carbon leisure commuting. Meanwhile, the walking routes over the Banzhang Mountain has opened and people are able to walk through it 24/7.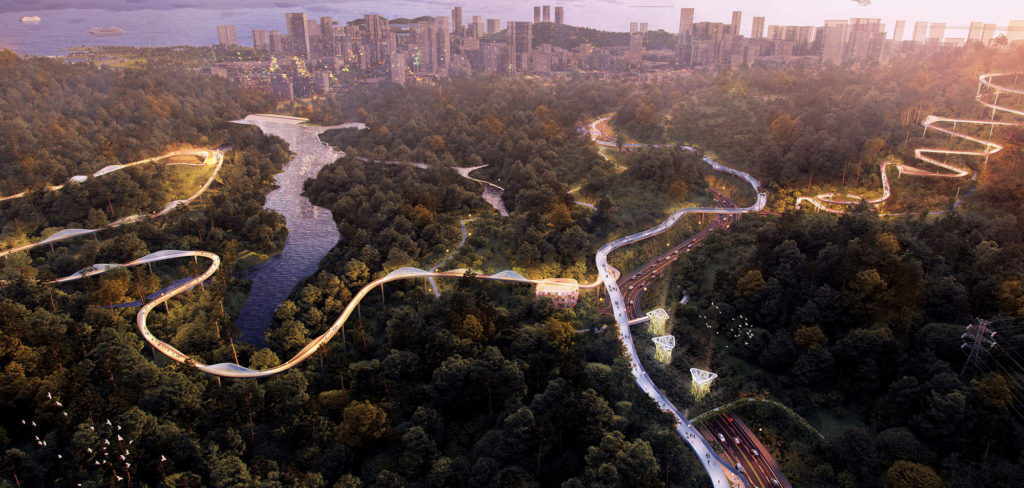 OVERCOMING CHALLENGES
The Singapore design team, together with Zhuhai LDI, conducted a detailed site visit to the surrounding neighbourhoods and over the mountain. As such, the skywalk scheme avoids areas with soil erosion and retaining walls, as well as avoiding heavy structures sitting on the natural soil by following the prevailing contour to the biggest extent.
There are several existing high-tension electrical towers and cable alignments running through the mountain. These have right-of-way and height restrictions of any development on the site. Additionally, the emergency helipad location and flight route must maintain a safe distance from the cable lines and towers. The design also has to minimise light and noise pollution so as not to affect flora and fauna on the mountain.


[This is an excerpt. Subscribe to the digital edition or hardcopy to read the complete article.]
---
PROJECT DATA
Project Name
Urban Design and Planning of Zhuhai Xiangzhou
Green Connector: Jing Shan Trail
Location
Banzhangshan Forest Park, Xiangzhou, Zhuhai, China
Status
Demonstration Zone (1.6 kilometres) completed 2020
Phase 1; Phase 2; Phase 3 under construction
Expected Completion
Phase 1; Phase 2 (total 7.6 kilometres) by end of 2021
Phase 3 (4.3 kilometres) by 2022
Total Length
13.5 kilometres (skywalk route)
Client
珠海九洲城市中央公园发展有限公司
Urban Design; Planning; Conceptual Architecture
RSP Architects Planners & Engineers (Pte) Ltd
Project Director: Chen Hong; Karen Tham
Project Lead: Jose CM Paau; Aung Phyoe; Kim Seon Hee
Project Team: Khine Zin Zin Thwe; Ratna Delia Octaviana;
Moe Pwint Phyu; Lin Yin; Du Huiyan
Architecture; Landscape Architecture
珠海市规划设计研究院; 赫姆斯米勒建筑设计事务所
Project Director: Sun Li Hui
Project Team: Fan Qing; Yang Lei; Ding Hao Hong; Cao Liang
Civil and Structural Engineer
宽德工程设计咨询有限公司;清华大学建筑设计研究院;同济大学建筑设计研究院
Mechanical and Electrical Engineer
珠海市规划设计研究院; 日海智能设备有限公司
Quantity Surveyor
广东有色工程勘察设计院; 中国有色金属长沙勘察设计研究院
Main Contractor
中建三局第一建设工程有限责任公司
Images/Photos
RSP Architects Planners & Engineers (Pte) Ltd
Read more Urban projects below: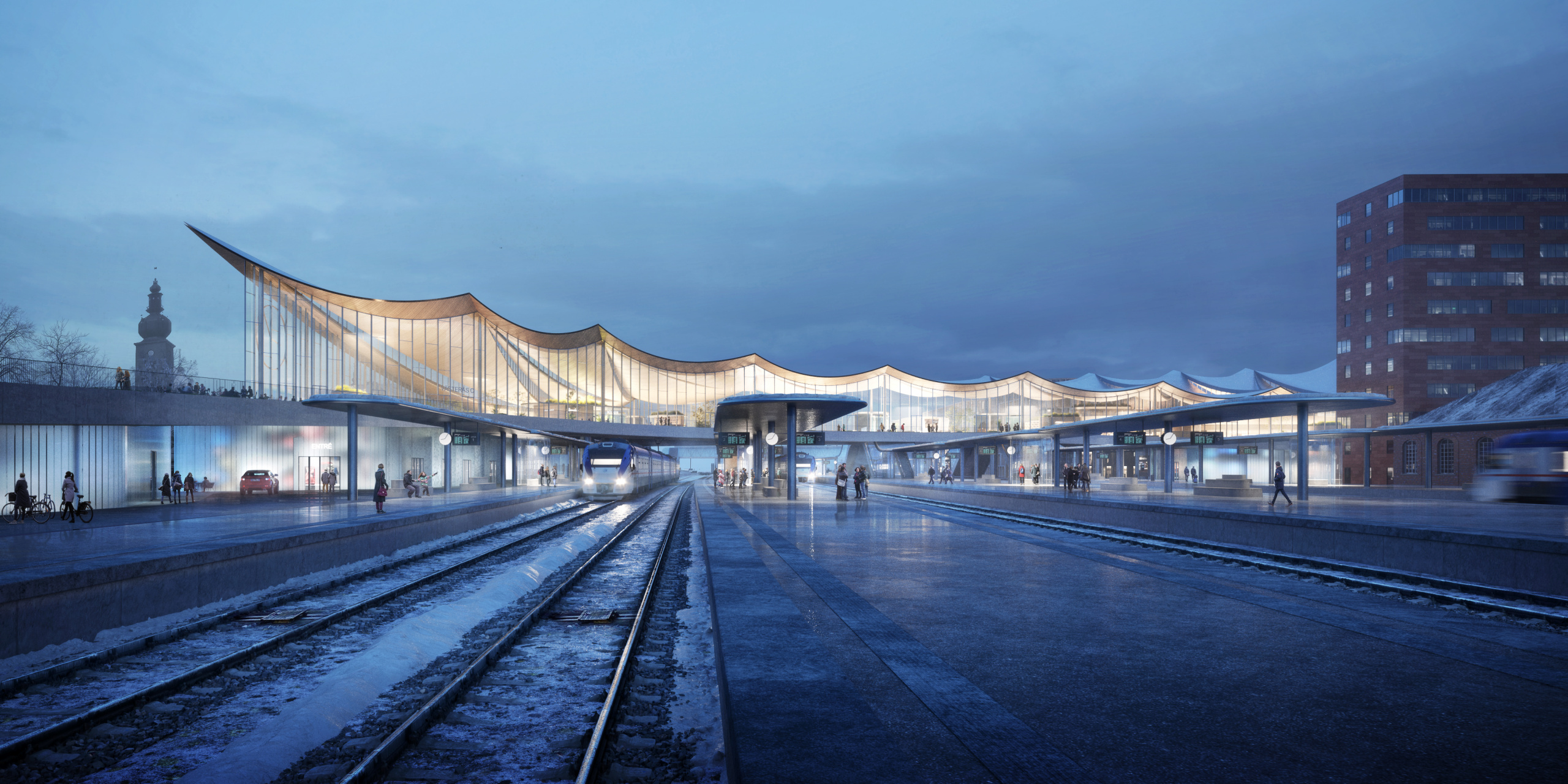 Västerås Travel Centre | FuturArc
Västerås Travel Centre is a new infrastructural hub in the heart of one of Sweden's largest cities. Behaving like a dynamic urban node and visual landmark, the travel centre will connect the neighbourhoods of Västerås and the city's flows and create a new public destination in the city centre.The fi…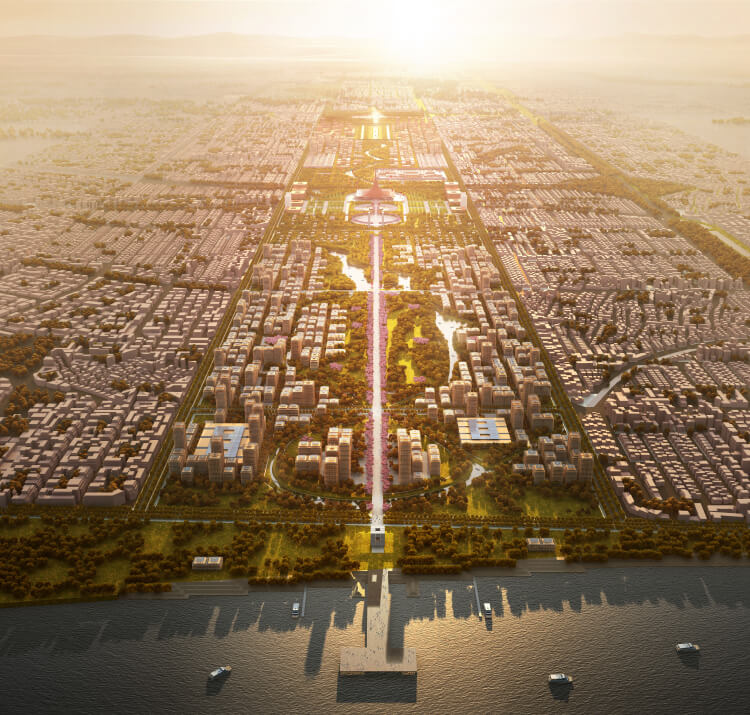 Amaravati | FuturArc
The new state capital of a Southern Indian state is heralded as the most sustainable city in the world. After Jawaharlal invited the Swiss-French architect Le Corbusier to build Chandigarh in the 1950s, Amaravati is the second 'built city' of a massive scale to come up in India. Though five decades…
Previously Published Projects