Registration closed! Thank you for your participation in FuturArc Prize 2023!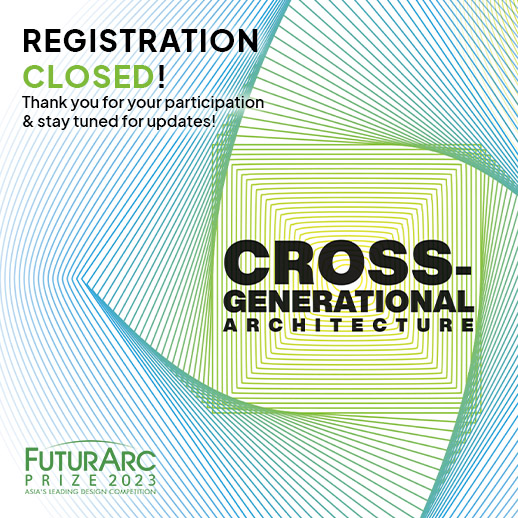 20 FEBRUARY 2023 – This year's FuturArc Prize has just wrapped up last Friday, 17 February 2023. Hundreds of registrants from various countries submitted their proposals along the theme of Cross-Generational Architecture, focusing on Green projects that tackle social issues for future generations.
Following the judging process, winners and merit recipients can expect to be notified individually via email by end March to April 2023. All participants who submitted their entries will also be receiving a certificate of participation.
Afterwards, the selected entries will be published in the 3rd Quarter (September 2023) issue of FuturArc along with Green projects in the theme.
Look forward to the announcement and stay tuned on FuturArc's social media for more updates!
---
Related posts:
Juror Highlight: Dr Miya Irawati

FAP 2023 Juror Project Highlight: Dr Miya Irawati on Migration and Spatiality | FuturArc
According to United Nations data in 2021, almost 60 per cent of the world's population resides in Asia. Along with its growing populace, Asia is experiencing rapid urbanisation, with an influx of people migrating from rural areas to cities. Researching along such themes, FuturArc Prize 2023 juror Dr…
Juror Highlight: Dr Tan Loke Mun

FAP 2023 Juror Project Highlight: Climate-Adaptive Architecture by Dr Tan Loke Mun | FuturArc
At its highest degree of application, climate-adaptive architecture is synonymous with sustainability. Buildings that adapt to their local climate reduce the need for energy-intensive air-conditioning and make the most out of site conditions through passive design strategies. Often, with proper plan…

FAP 2023 Juror Project Highlight: Nan Chyuan | FuturArc
FuturArc Prize 2023 juror Nan Chyuan is a Director at the dynamic cross-disciplinary design practice FARM, which won the President*s Design Award in 2010. In 2017, he was recognised as one of Singapore's emerging architects in Urban Redevelopment Authority (URA)'s 20 Under 45 exhibition. He graduate…
Juror Highlight: Quang Vu Linh

FAP 2023 Juror Highlight: Quang Vu Linh | FuturArc
FuturArc Prize 2023 juror Quang Vũ Linh is a sustainable design architect, researcher and educator in Vietnam who has gained empirical knowledge and practical experience from his educational background in Australia, where Green practices and Green Star rating tools are well-known; and BIM technology…