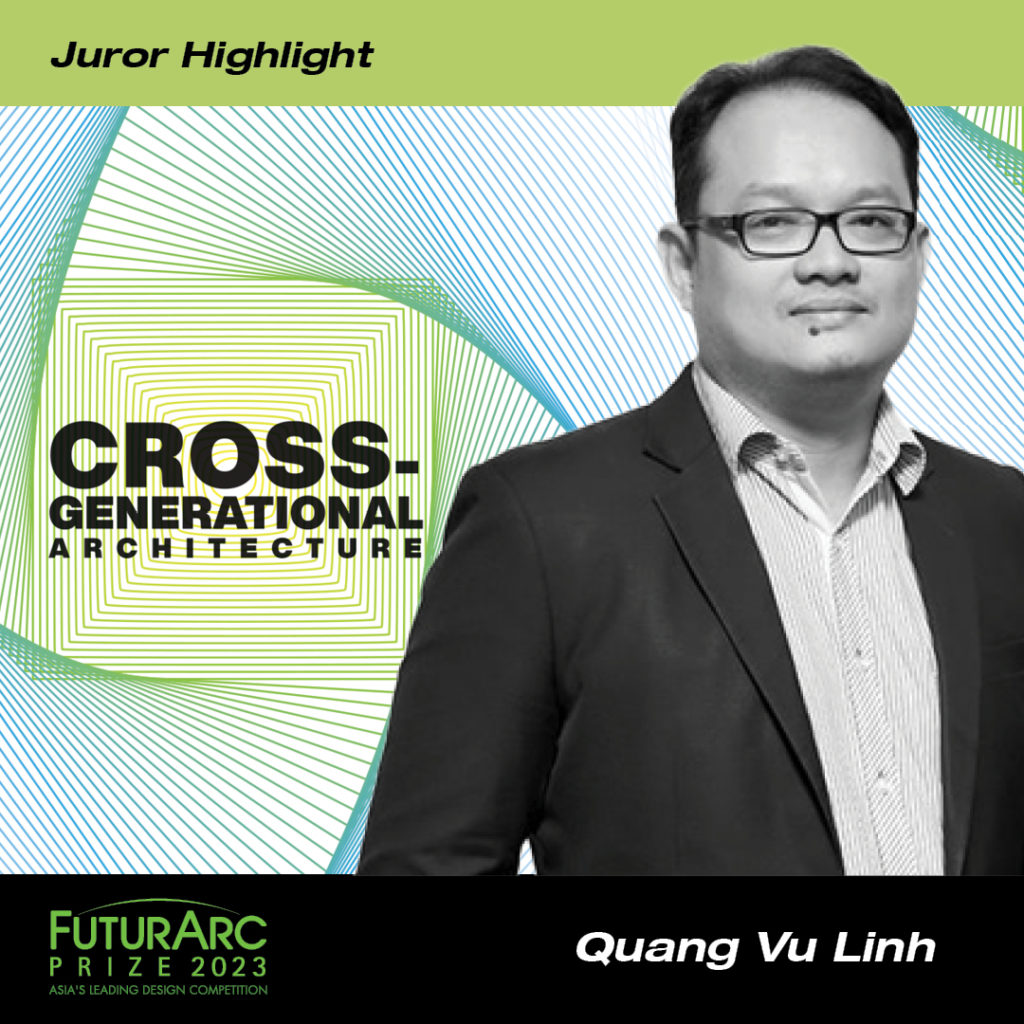 FuturArc Prize 2023 juror Quang Vũ Linh is a sustainable design architect, researcher and educator in Vietnam who has gained empirical knowledge and practical experience from his educational background in Australia, where Green practices and Green Star rating tools are well-known; and BIM technology at University College of Northern Denmark.
Quang is on the Board of Directors of Vietnam Green Building Council and Advisory Board for EDGE (IFC, World Bank) Green building certification; and is Vice President of HCMC Green Architecture Club and Committee member of IBPSA International Building Performance Simulation Association Vietnam. He currently is the Managing Director at ARDOR Green.
As a returning juror for the 2023 cycle, take a look at Quang's reflections about last year's entries! Read our interview below.
---
What would you like to say to the FuturArc Prize (FAP) 3rd Place Winner and Merit teams in Vietnam, the biggest recipient group from a single country for the FAP 2022 (Reinterpretation) cycle?
First of all, I would like to say congratulations to all the winners of this year's FuturArc Prize 2022 and especially for the 3rd Place winner, which is from Vietnam, and also for this year we have five Merit teams from Vietnam. That is a very good honour for us and also for myself as well, being on the juror panel.
We see that the 3rd Place winner shows a lot of technologies. They provided a good design solution for how they can convert a building to make it more sustainable, and also the different layers of interaction between human-made systems and Nature. So, we see that the scheme is very practical and also can be a good example to make Vietnam more sustainable and Greener.
Do you have words of wisdom as an experienced professional in the field of Green to a young group of emerging talents?
I think for this year we [realise] that we only have one world to live in, and it's very important that we live to protect Nature and our urban spaces. Also that we need to have innovative and well-designed solutions to cope with many problems/issues that we are facing today, from air quality to urban waste, to biodiversity.
When we see all the schemes from this year, all the design ideas are very practical, so we hope that all those ideas can be built soon in the future, and that will be great for the whole community and also great for Vietnam too.
Click to watch the video below:
---
The competition ends 17 February 2023—will you be a winner this year? Submit your entries for FuturArc Prize 2023: Cross-Generational Architecture and win cash prizes!


Previously Published Online Exclusive Feature