May - Jun 2017
Wood floor finishes – aesthetics and performance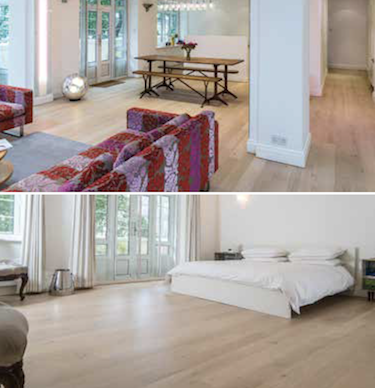 Bona primers and topcoats
The six primers offer a variety of colours ranging from Scandinavian white to rich amber. It is more economical to use a primer as the initial surface coating than to add an extra lacquer coat. Like all Bona coatings, Bona primers are easy to use, reduce side bonding and improve the adhesion of lacquers. In addition, six waterborne topcoats offer customers a solution for every environment—be it a matt or glossy finish; a natural, untreated look; anti-slip properties; or excellent surface durability.
For example, an applied combination of Bona White primer and Bona Traffic Natural polyurethane lacquer can deliver a light, natural, non-yellowing surface to oak floors. Depending on how many coats are applied, Bona White primer is designed to 'whiten' the surface by delivering a subtle pale sheen (one coat) that will inhibit yellowing over time. A whitewashed effect can be achieved when two or more coats are applied. With Bona Traffic Natural as topcoat, the non-yellowing look and feel of pure, untreated wood is maintained, together with superior surface durability.
Environmentally friendly
Primers and lacquers from Bona have low VOC and thus meet the stringent GREENGUARD emissions standards. The global GREENGUARD Certification programme helps buyers to identify products and materials that have low chemical emissions and therefore improve the quality of the air where they are used. Bona water-based finishes and floor care products for wooden floors are also certified with the Green Label from the Singapore Green Labelling Scheme (SGLS) to prove that their manufactures conform to recognised environmental standards.
About the company
Bona AB is a family-owned company established in 1919. The headquarters is situated in Malmö, Sweden. The company's business concept is to provide products for installation, maintenance and renovation of wooden floors throughout their lifespans. Bona is a market leader in finishes and surface treatment, with global sales and subsidiaries in 18 countries.
For more information, please visit www.bona.com or email [email protected].
Previously Published Products