3rd Quarter 2020
Viega Pexfit Pro: Fast, reliable plastic piping for bathroom units
Pexfit Pro offers piping systems with excellent stability for prefabricated bathroom units, an ideal connection to press connectors.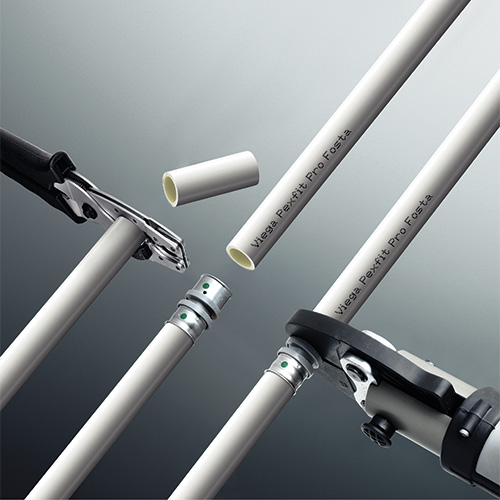 Pressing with the Viega safety factor
The range relies on the Viega press connecting technology: rapid, simple installation with a distinctive safety factor: the Viega SC-Contur. This feature is present in the polyphenylsulphone (PPSU) material or red brass connector (16 to 63 millimetres) in the Pexfit Pro range.
SC-Contur: Central leakage test
As the first in the market, Viega guarantees that a complete leakage test can be carried out centrally using a manometer, as long as the entire system is fitted with Viega SC-Contur. This test offers more security and comfort than the normal necessary visual check of each individual press connector. If connectors are unintentionally left unpressed, the medium leaks out and is shown as a loss of pressure on the manometer.
High-quality materials: the ideal protection against corrosion
Durable, safe and hygienic—the Pexfit Pro plumbing system is the preferred choice for installations. The tight connectors with preassembled press sleeves made of stainless steel create an optimal holding function and prevent twisting after they have been pressed.
For more information, please visit www.viega.com.
Previously Published Products