Nov - Dec 2016
The result of relentless research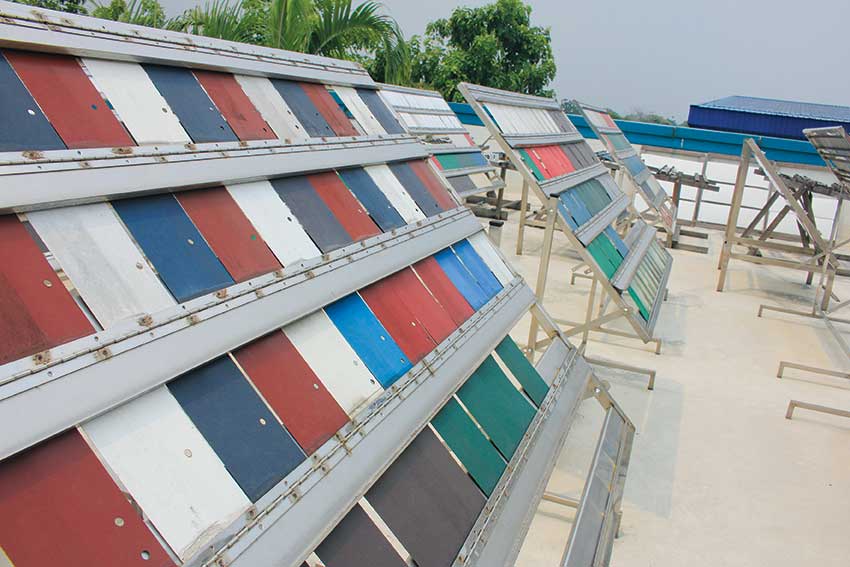 BeckryFluor industrial coatings are best suited for roofing, cladding and aluminium façades. This range of fluorocarbon coatings comprises Kynar 500 or Hylar 5000 brands of polyvinylidene difluoride (PVdF) resin with selected inorganic pigmentation that is proprietarily formulated by Beckers Group. It provides a distinctive finish and long-lasting protection for building envelopes.
BeckryFluor coating is made up of an extremely stable combination of several components. The PVdF resin binder, which is the main component, is resistant to UV degradation; providing long term colour and gloss retention; high chalking resistance and excellent chemical resistance. Incorporating the advanced BeckryTherm technology, the coating is able to reflect direct solar energy and reduce heat gain through roofing or cladding materials. In addition, the quality colour pigments offer excellent chemical and thermal stability. They come in variants—pearlescent, light-interference and metallic—and allow façades to exhibit a range of colours when seen from different angles.
Application
BeckryFluor coating contains additives that are vital to its stability, performance and application. The coating can be applied to a metal substrate by spraying or coil coating. For the spray application, the preformed metal parts are first cleaned and chemically treated. The primer layer is then sprayed on, followed by the outer layers of colour, barrier and clear coatings. The parts with the coatings are then flashed off and cured in an oven at more than 200 degrees Celsius for 10 to 15 minutes. The dried coated metal is then cooled at room temperature before undergoing quality checks.
The coil coating application is an automated continuous line process running at speeds as high as 100 to 200 metres per minute. The metal strip is first uncoiled, cleaned and chemically treated. It then travels to a painting station where rollers apply the primer coat to both sides of the surfaces of the metal strip. After entering an oven where it is cured, it arrives at the water-quenching station for the cooling process. The same process is repeated for the finishing coat.
Beckers Group has more than a century of experience in the architectural coating industry. With more than 20 production sites in the world, there are two Long Term Development (LTD) Lab within Beckers Group, to focus on the market's stringent demands for innovation, efficiency and environmental sustainability.
For more information, please visit www.beckers-group.com/home/.
Previously Published Products