3rd Quarter 2020
Stay clean and fresh with the new Samsung 360 Cassette
These days, most people are spending more time indoors. Polluted indoor air contributes to health risks such as pneumonia, respiratory diseases and lung cancer. Recognising the immediate need for better indoor air quality—not just at homes, but also at high traffic areas such as retail shops, cafés and offices—Samsung has launched the new 360 Cassette with an air-purifying panel.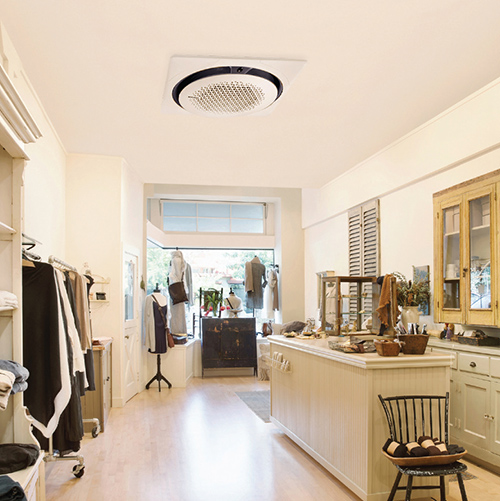 This integrated panel is equipped with an advanced filter technology: pre-filter & PM1.0 filter. Firstly, the pre-filter blocks large dust particles in the air from entering the 360 Cassette. Secondly, the PM1.0 filter effectively captures ultra-fine dust using an electrostatic precipitator, and sterilises up to 99 per cent* of certain microorganisms that are collected in the filter (verified by Intertek, a British multinational assurance, inspection, product testing and certification company).
The 360 Cassette has obtained the CAC Certification from the Korea Air Cleaning Association (KACA). It has a Clean Air Delivery Rate (CADR) of 17.7 cubic metres per minute, and an air purification area of 144.2 square metres*. The semi-permanent filters are also easily washable and reusable. Without the constant need to replace new filters, users are be able to enjoy clean air while reducing maintenance costs. In addition, the new 360 Cassette is equipped with a 4-Step LED panel to display dust concentrations, as well as a wired remote control that allows for intuitive control and real-time monitoring of air quality.
To further enhance indoor air quality, users can opt for an optional ioniser kit. This kit improves air quality by generating active hydrogen and oxygen ions that reduce biological contaminants and reactive oxygen.
Samsung's 360 Cassette with an air-purifying panel comes in an aesthetically pleasing round design that matches a multitude of interiors. It circulates cool air evenly to every corner without unpleasant cold drafts. It is currently available across Southeast Asia, together with the Wind-Free 4-Way Cassette with air-purifying panel.
Wind-Free is a trademark for Samsung Electronics Co., Ltd.
*Per tests results in Korea's laboratory. Data has been measured under specific testing conditions and may vary depending on environmental factors and individual use.
Previously Published Products