May - Jun 2018
Extreme shower enjoyment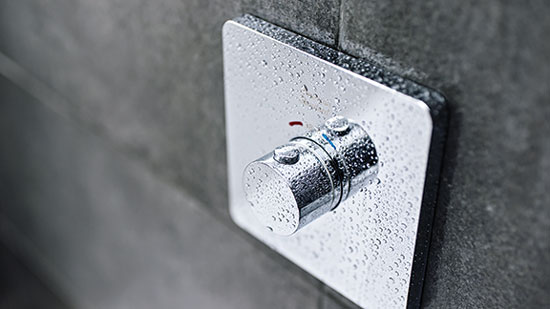 The new award-winning EasySET shower system by American Standard is an essential add-on that complements concealed thermostatic mixers in both function and visual appeal. The minimalist system incorporates users' comfort, convenience, intuitive functionality and aesthetics for the modern bathroom. Users are able to configure their choice showers to fit different bathroom sizes and needs.
Push, turn and enjoy
With EasySET, showering starts with just a push of a button. The fixture sports a simple push button and dial knob with knurled texture that provides a better grip even with soapy hands. It also clearly indicates the control in which it is connected to—overhead showers, hand showers or body showers—and a coloured indicator for on/off functions.
Convenience
When the button is pressed, the user is able to turn the dial to adjust the water flow; another push of the button will cut the water supply. In the next shower session, users simply need to press the button without having to adjust the dial again. When installed to be used with a concealed hermostatic mixer, the added convenience comes from not having to adjust the water temperature as it is already pre-set on the thermostatic mixer.
The EasySET shower system also includes an optional PreSET control to be installed outside the bathroom. With one push of the device, users will enjoy the same shower experience with the pre-set water source, temperature and volume of water without the need to adjust the individual controls.
Safety
Through its ThermoComfort feature, the Thermostatic Mixer keeps shower temperature constant and prevents fluctuations that may arise from the opening of other outlets (e.g., basin mixers or flushing of toilets), which causes a drop in the volume of cold or hot water. The ThermoSafe feature requires users to press the safety button and turn the knob to access to water at higher temperatures. The water temperature restrictor ensures that the maximum water temperature does not exceed 49 degrees Celsius. If the cold water supply is cut, the Thermostatic Mixer will automatically shut off the water supply, hence eliminating scalding incidents—especially useful for homes with children and the elderly.
About the company
The EasySET, which was awarded Merit in the DFA Design for Asia Awards 2017, is the latest addition to American Standard's range of reliable and well designed sanitary wares and fittings. Backed by over 140 years of pioneering legacy, the company endeavours to raise the standard of living by delivering bathroom solutions that are beautiful, purposeful and safe for everyone. For more information, please visit www.americanstandard-apac.com/.
Previously Published Products