Jan - Feb 2017
Façade systems with architectural freedom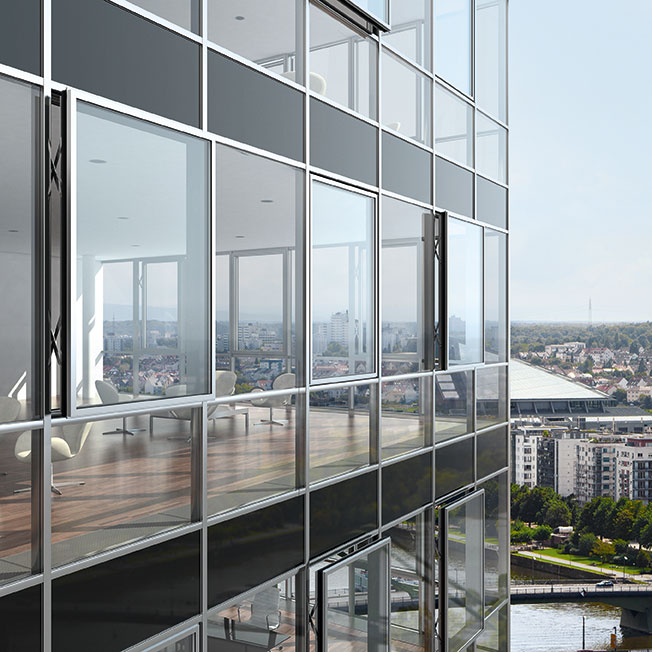 Modern Green architecture goes beyond maximum energy efficiency with slimline appearances, high-quality designs and an excellent integration of functional elements. Together with optimum performances, these features are present in contemporary aluminium façade systems. Schüco offers a new comprehensive platform concept for aluminium mullion/transom façades—Schüco Façade Systems FWS (façade wall system). It provides developers with increased design freedom that is combined with excellent performance characteristics and a cost-effective construction process.
Maximum flexibility
Schüco Façade FWS 50 / FWS 60 offers a high degree of flexibility and attractive design options for façades and skylight areas, including optimised fabrication and installation processes. In addition, this façade ensures ideal thermal insulation values with a passive house-certified SI system.
Feature spandrel safety barriers
The new, transparent system solution that is integrated in the profile for spandrel safety barriers blends in seamlessly into the façade. The required safety barrier loading for floor-to-ceiling opening units and low spandrel heights can be implemented with consistent profile face widths and an unbroken profile. Additional system modules also facilitate the simple and secure integration of electrical components.
Award-winning system
The Schüco FWS 50.SI system has been awarded the Silver level by the Cradle to Cradle Products Innovation Institute for its recyclable properties and minimum toxin content. In line with its commitment, Schüco Southeast Asia also has similar certified system series under the Singapore Green Building Product (SGBP) labelling scheme that has been awarded the 2-ticks "Very Good" rating. Schüco SEA would continue to work with the Singapore Green Building Council (SGBC) and the building industry to identify key Green features in window, doors and façades that contribute to the environmentally friendly initiatives in the built environment.
For more information, please visit
www.schueco.com.
Previously Published Products