May - Jun 2018
An ideal solution for common paving and decking complications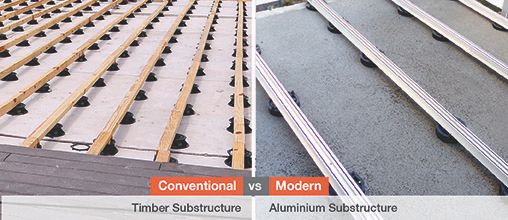 VersiJack Aluminium Joist
An aluminium joist-supported raised paving system provides an accurate frame for the replacement of pavers, which prevents any potential misalignment of the floor caused by improper handling during routine maintenance. VersiJack Aluminium Joist includes thermoplastic rubber strips at the top surface, providing sound and vibration dampening as well as minimising the movement of pavers.
Cost-effective
Using an aluminium substructure instead of laying the pavers directly on pedestals helps to reduce the number of pedestals that are required to support the load of the raised floor while simultaneously increasing the speed of installation. With this, building owners can reap the benefits of having concealed services and accessibility to waterproofing membranes for their outdoor patios or roof terraces.
Selecting the right joist material for a deck
Making the right choice in joist material can ensure the longevity of a deck. Traditional joist materials, whilst cheaper at getting the job done, is not able to withstand the test of time. Timber, for example, is a popular option for conventional joists as it is a natural, non-toxic and eco-friendly material. However, since timber is susceptible to decay and mould, frequent maintenance is required to ensure the integrity of the material. In addition, timber is sensitive to moisture and heat, resulting in distortions and cracks when subjected to unfavourable weather conditions.
As a rule of thumb, porous materials such as wood or concrete run the risk of structural failure after long-term usage. As such, a better alternative to conventional joists is VersiJack Aluminium Joist.
Aluminium joists have multiple advantages when compared to timber ones, including lower maintenance requirements and better structural strength. Labour is greatly reduced, both during and after installation. Aluminium joists are lightweight and always straight, reducing construction time due to their ease of installation. Furthermore, aluminium has the highest strength-to-weight ratio of most construction metals, and is not affected by mould or moisture, making it an extremely stable and lasting solution for substructure needs.
About the company
Established in 1985, Elmich Pte Ltd is the leading provider of state-of-the-art and environmentally friendly urban landscaping, waterproofing, drainage and storm water management solutions to architects, contractors and developers around the world. Headquartered in Singapore with international offices in Australia, Germany, Malaysia, Switzerland and the United States, Elmich works closely with its network of partners that covers more than 30 countries across six continents. For more information, please email [email protected] or visit www.elmich.com.
VersiJack is a registered trademark and protected by registered and ending patents, under the licence from Elmich.
Previously Published Products