1st Quarter 2021
Certified hygienic wall paints for a healthier environment
Mapei has developed hygienic paints that comply with international standards. Both paints are ideal for all types of masonry, render, smoothing and levelling compounds, as well as old paintwork, as long as they are well bonded and sound. The paints have a wide range of colour options, and offer smooth satin finishes that have low dirt pick-up. With durable surfaces that are easy to clean, they reduce maintenance costs.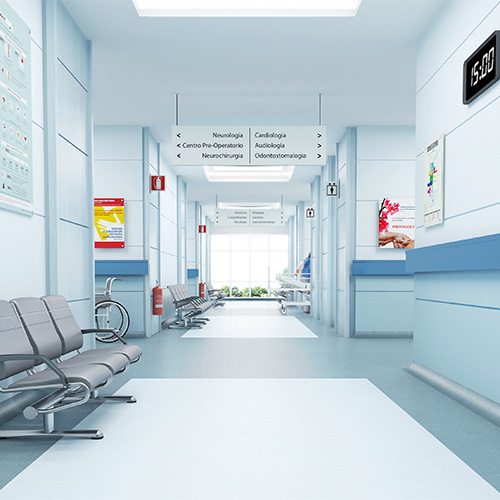 Mapecoat ACT 021 enamel paint for the food and beverage industry
This enamel paint can prevent the formation and spread of mould, protecting areas that are difficult to reach during normal cleaning operations, such as ceilings. The paint is resistant to changes in temperature, which makes it suitable for use in refrigeration units.
It is ideal for environments that require a high level of hygiene and long-term durability, such as grocery stores, supermarkets, bars, restaurants, cafés and kitchen areas. Mapecoat ACT 021 complies with the requirements of HACCP protocol (Hazard-Analysis and Control of Critical Points, i.e., standards that specify the requirements and relative test procedures for paints and varnishes used on walls and ceilings in food-processing areas).
Mapecoat ACT 196 for the healthcare sector
Mapecoat ACT 196 is an acrylic-based paint that contains special protective, wide-spectrum biological agents that impede the growth and spread of bacteria on surfaces. It is tested according to ISO 22196 standards for its effectiveness against attack from the main strains of bacteria such as Staphylococcus aureus, Escherichia coli, Methicillinresistant Staphylococcus aureus (MRSA) and Pseudomonas aeruginosa. In environments where sanitising is often carried out, Mapecoat ACT 196 has excellent resistance to cleaning cycles and special washing agents and disinfectants.
The paint is suitable for internal areas that (i) are subjected to a high rate of visitors and exposed to potentially high levels of microbes such as nursing homes, schools, wellness areas, gymnasiums, changing rooms, etc.; (ii) require a high level of hygiene such as hospitals, surgical wards, diagnostic centres, rehabilitation units, etc.
For more information, please visit https://www.mapei.com/sg/en/products-and-solutions/lines/wall-protective-and-decorativecoatings.
Previously Published Products