2021
A New Era of Sustainable HVAC Design
Brought to you by Johnson Controls-Hitachi Air Conditioning
Takeaki Fujii is a Vice President and General Manager, South East Asia and Pacific Business Unit, Johnson Controls-Hitachi (JCH) Air Conditioning. As a company, JCH is committed to playing our part in minimizing impact within the built environment. This is done through transformational design, environmentally friendly solutions and reshaping what's possible through new and innovative technologies. JCH hopes to open a conversation about what else the HVAC industry can do and why it is so important to create liveable, comfortable and sustainable spaces.

FuturArc talked to Fujii about the role of HVAC in helping to create a more sustainable future for consumers—and the planet.
---
When we think of sustainable buildings, it is easy to picture features like walls of living plants or rooftop solar panels. However, what does not get as much attention are the internal systems that, while out of sight, play a huge role in creating energy-efficient and liveable spaces. Worldwide, buildings account for 40 per cent of greenhouse gas (GHG) emissions. HVAC systems—important for keeping indoor spaces cool and dry—contribute a significant percentage of the city's total GHG emissions. This is particularly crucial in hot and humid tropical climates where up to 50 or 60 per cent of energy consumption in commercial buildings can be attributed to air conditioning.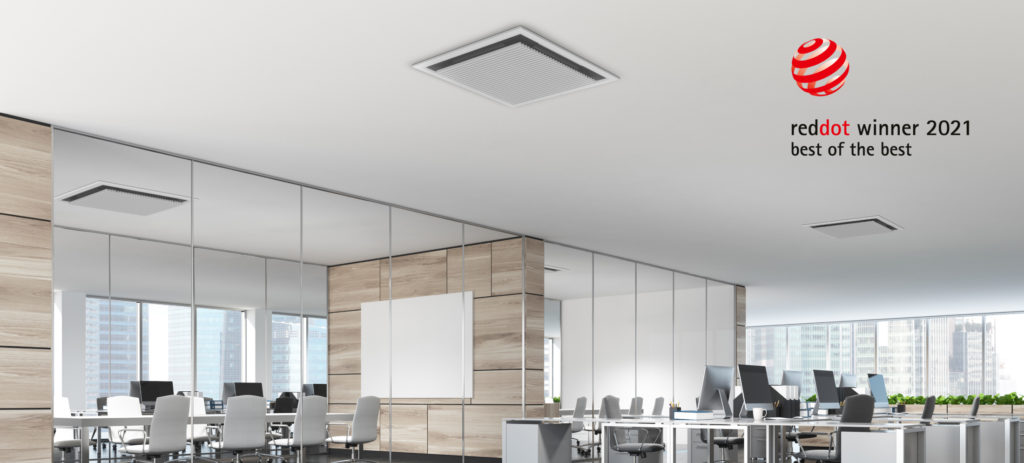 Q: Which Hitachi ranges are best for small to medium-sized businesses?
A: Hitachi Cooling & Heating aims to help keeping operational costs under control while achieving energy efficiency with the line-up of our Commercial Air Conditioning range.
If your business requires multiple units, the PRIMAIRY series' outdoor units have been designed to withstand a wide range of ambient temperatures and conditions to provide consistent cooling. Under the hood, high-efficiency heat DC fan motors are found in the indoor and outdoor unit, which can adjust the speed and external static pressure (ESP) automatically during operation, while the ESP is set manually during the installation process. It is now easier to monitor their operation using the Hitachi Group Control adapter, allowing eight PRIMAIRY units to be controlled via one controller. This makes the running of the units more reliable, efficient and operate with low noise. PRIMAIRY indoor units are available as Ducted, Cassette and Floor Ceiling Convertible units, all offering excellent installation flexibility.
If multi-zone climate control is what your business requires, then Hitachi VRF is a highly efficient, flexible and versatile solution. VRF delivers cool air to individual rooms when they are occupied. Studies have shown that this could save a building up to 50 percent in energy costs, compared to the alternatives. Tsinghua University's Building Technology and Urban Systems Division in China and Lawrence Berkeley National Laboratory in the USA, for example, compared variable refrigerant flow (VRF) with variable air volume (VAV) in Hong Kong office buildings. They found that VRF consumed up to 70 percent less energy for air conditioning than VAV. We offer SideSmart Side Flow VRF with a coefficient of performance (COP) up to 4.92 and SET FREE Σ Top Flow VRF with COP up to 5.09. Depending on the product range, some VRFs come with Hitachi's exclusive scroll compressor called Hitachi SmoothDrive, which allows the VRF system to provide optimal efficiency and comfort at partial load operation. Besides, VRF indoor units offer motion sensors which give business owners the benefit of the Auto-Save function. When a room becomes vacant, the indoor unit will progressively reduce its operation and comes with the option to turn off automatically if a room is vacant for a long period of time.
Q: How can we develop cost-effective and energy-efficient solutions for the tropical heat?
A: Hitachi Cooling & Heating partnered with The Graha Kencana office tower in Jakarta to find more sustainable and efficient air conditioning solutions for its retrofit project. The outdated air conditioning solution at The Graha Kencana was replaced by a flexible combination of top-flow units on the roof and side-flow compact outdoor units on the second floor balcony, which connects to the ground floor indoor units, from Hitachi's SET FREE range VRF system. The most visible outcome was a 20 to 30 per cent reduction in the building's annual electricity costs. It also proved to be a Greener solution as it uses less energy to fulfill the same demand for cooling, plus the refrigerant used does not generate ozone-depleting emissions. The use of outdoor units also freed up inner space for other applications and could separately modulate the compressor speed of the inverter and refrigerant flow in each outdoor unit. This allows the system to adapt to the fluctuating energy demands throughout the day in the different spaces, fighting any unnecessary energy consumption. The new equipment is also exceptionally quiet, so tenants could now enjoy a more satisfactory work environment. Gustaf Stevanus Rotinsulu, building owner of The Graha Kencana, summarizes the project's end result as "a smart investment".
Q: What other technologies can help provide efficient comfort?
A: In the past 10 years, the HVAC industry has embraced the IoT revolution, which brings the power of connectivity and big data to the forefront. These tools enable HVAC engineers and operators to design and maintain systems on a deeper, granular level. They also allow the end user to tailor their indoor climate to their comfort and health. All of this adds up to intelligent, energy-efficient buildings with lower carbon footprints. In relation to VRF and increasing the efficiency and benefits from remote operations, the airCloud Pro tool enables a full overview of your air conditioning performance with the ability to identify unnecessary uses of energy, which can be avoided to reduce costs. This tool, coupled with fixed and mobile controller options that are extensive yet easy-to-use, allows business owners to schedule their system in tune with their business hours, as well as monitor and customize numerous indoor units from one control point.
To keep your carbon footprint to a minimum, air conditioners with more climate-friendly refrigerant gases are now available in some regions. The refrigerant R32 is used in the PRIMAIRY series and is included in various models found in different ranges that we offer. It is becoming increasingly popular thanks to its low global warming potential (GWP) and ozone depletion potential (ODP) of 0.
If you are interested in learning about how your business can benefit from Hitachi Air Conditioners, you can find more information about the range and the products available here.
Download the whitepaper here:
What advanced HVAC technology means for the next generation of buildings (Hong Kong Case Study)
---
Watch: Chiller and VRF installation at Nippondaira Hotel in Japan | Hitachi Cooling & Heating
Previously Published Products