FuturArc Prize 2023: Winners awarded in Vietnam
29 MAY 2023 – In the second round of awarding for the 2023 cycle, the winners and Merit recipients of FuturArc Prize (FAP) 2023 attended the gala event of BCI Asia Awards (BCIAA) Vietnam last Friday, 26 May 2023 at the Sheraton Saigon Hotel and Towers.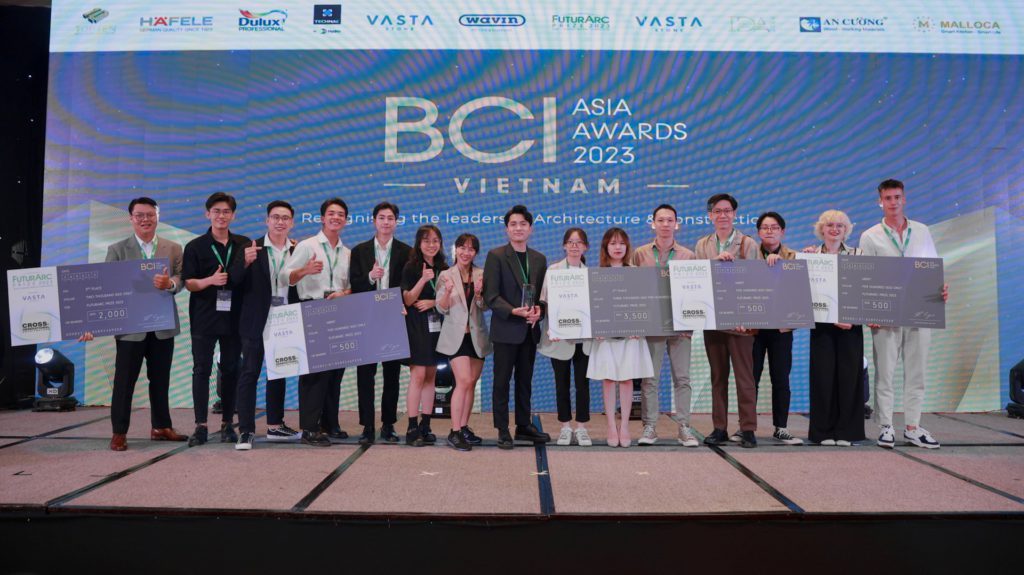 Held with the theme of Cross-Generational Architecture, FAP 2023 is an international Green design competition that explored the rapid change of societal compositions throughout Asia. The theme asked entrants—architecture professionals and students alike—to envision sustainable design solutions for future generations amidst ongoing climate and planetary challenges.
This year, the Second Place award for FAP 2023 went to the entry titled Regeneration by Trần Khoa Thành, Đặng Lê Như Ngọc, Đỗ Việt Hoàng and Nguyễn Minh Ngọc. The team was presented with their trophy, cash prize of SGD3,500 and will receive 1-year subscriptions to FuturArc digital magazine via FuturArc app.
A Third Place award for the entry titled Urban Bamboo Forest went to the solo entrant Xuan Tung Cao, who is a Vietnam national that now resides in Belgium. The entrant will receive a trophy, cash prize of SGD2,000 and 1-year subscription to FuturArc digital magazine via FuturArc app.

In no particular order, Merit awards along with cash prize of SGD500, certificates and 1-year subscriptions to FuturArc digital magazine were bestowed to the following entries:
• By the River by Thibault Cassagne, Gania Romane, Vũ Than Thu and Hoàng Quang Phát;
• On the Floor Over the Flood by Hung Duong Thai, Thong Mai Hoang, An Minh Danh, Do Le Linh and Tien Nguyen Phan Thuy;
• gen-e by Son Khanh Nguyen, Son Trong Nguyen, Trang Thi Pham and Khanh Ngoc Vu.


More FAP 2023 winners in the Philippines, Malaysia and Hong Kong are set to be awarded at BCIAA events in their respective countries throughout June.
Quang Vu Linh, Managing Director of ARDOR Architects and a returning juror for FAP 2023 was also in attendance at BCIAA. Summing up all the entries received in this cycle, he expressed his appreciation: "I feel that the important issues of cross-generational architecture have been addressed very well in FAP 2023. Entries focused on the global issues of sea level rise, the impact on the lives of local people, and other pressing society problems: preserving and renovating existing buildings of high cultural value, increasing use value, public utilities with more greenery and solutions to meet increasing housing needs.
"I myself have also been updated with a lot of new knowledge, not only from the entries, but also from the judges, about the trend of Green building development in countries in the region," said Quang. "Thanks to BCI Central and FuturArc Prize 2023 for organizing a meaningful and inspiring design competition, for all of us to exchange and learn more about sustainable design solutions."
FuturArc Prize 2023 is brought to you by Gold Sponsor Vasta Stone in Vietnam.
---
Watch video: Announcing FuturArc Prize 2023 Winners and Merit Recipients
---
Related story:
FuturArc Prize 2023: First Place Winner and Merits from Indonesia Revealed

FuturArc Prize 2023: First Place Winner and Merits from Indonesia Revealed | FuturArc
15 MAY 2023 – Following hundreds of submissions from all around the globe, the international Green design competition of FuturArc Prize (FAP) 2023 finally revealed its winners and merit recipients at the event of BCI Asia Awards (BCIAA) Indonesia, which was held last Thursday, 11 May 2023 at Raffles…