FuturArc Prize 2022: Teams awarded at BCIAA Vietnam
30 JUNE 2022 – Architecture students from Vietnam continue to set records for having the most winners for this cycle of FuturArc Prize (FAP). The teams received their awards at the event of BCI Asia Awards (BCIAA) on 30 June 2022, comprising the 3rd Place winner and five merit recipients.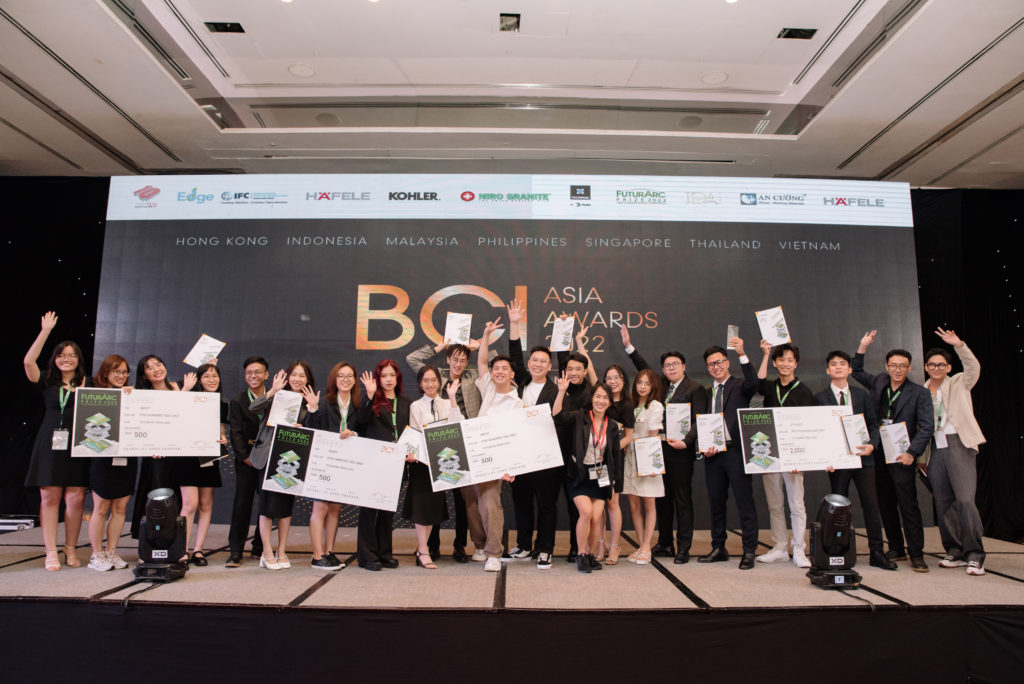 With the prompt of Reinterpretation, this year's FAP asked entrants to reimagine an empty or underused existing building in Asia to become a public property that is safe, inviting, sustainable and gives back to the community. Following the judging session in April, a total of three winners and eight merits were awarded.
The 3rd Place award went to the team of Nguyen Tien Huy, Nguyen Thanh Lam, Nguyen Quang Linh, Han Phung Van Trang and Tran Thanh Tung, students at the Hanoi University of Architecture, for their entry titled Revival Waste that transformed an abandoned factory to become a community-based waste processing centre. The team received their SGD2,000 cash prize, trophy and 1-year subscription to FuturArc App.
Merit awards were bestowed to:
• Duyen Hong Anh Nguyen, Dang Anh Vy Nguyen, Thu Ngoc Ha Lam, Di Tuong Luu and Hoang Tu Uyen Pham, students at the Ho Chi Minh City University of Architecture, for the entry titled Touch of Change;
• Nguyen Kien To and Chu Minh Duc, students at Hanoi University of Civil Engineering, for the entry titled Low Garden;
• Le Quoc Tuan, Dang Ngoc Hoang Bao, Le Hoang Chau, Nguyen Hoang Thien Ni and Tran Kha Phoi, students at the Ho Chi Minh City University of Architecture, for the entry titled Wastefilter;
• Nguyen Cao Hoai Nam and Van Nhat Tan from Ton Duc Thang University; Dao Van Quan and Ngo The Quang from Hanoi University of Architecture; and Thieu Luu Hoang Bao Dai from Van Lang University, for the entry titled San Chung.
More winners and merit recipients will be awarded in different countries' BCIAA events. Stay tuned on FuturArc's Instagram and Facebook for the latest updates.
WATCH: FuturArc Prize 2022 | Juror Interview: Quang Vu Linh
---
Read more News:
FuturArc Prize 2022 Merit recipient awarded at BCI Asia Awards Singapore

FuturArc Prize 2022 Merit recipient awarded at BCI Asia Awards Singapore | FuturArc
24 JUNE 2022 – On Friday evening at the Fairmont Singapore, the annual BCI Asia Awards (BCIAA) was held to acknowledge the nation's Top 10 developers and architecture firms, as well as recognise sustainable design ideas from the next generation of talents. The keynote speech was delivered by Mr Melv…
FuturArc Prize 2022 winners announced at BCI Asia Awards Philippines

FuturArc Prize 2022 winners announced at BCI Asia Awards Philippines | FuturArc
21 JUNE 2022 – The winners and merit recipients of the student competition FuturArc Prize (FAP) 2022: Reinterpretation have been announced for the first time through a video played at the BCI Asia Awards (BCIAA) ceremony in the Philippines on 21 June 2022. FAP 2022 asked students to submit ideas to…