Opportunities for Green Transformation at Vietnam Green Building Week 2023
HO CHI MINH CITY, 5 OCTOBER 2023 – According to Nguyen Tuong Van, Vietnam's Deputy Minister of Construction, the number of Green buildings in the country has steadily increased although it is still at a modest rate: "Vietnam boasts nearly 300 green buildings certified to international standards … covering a combined floor area of around seven million square metres." However, no building has been constructed to meet net zero criteria yet in the country.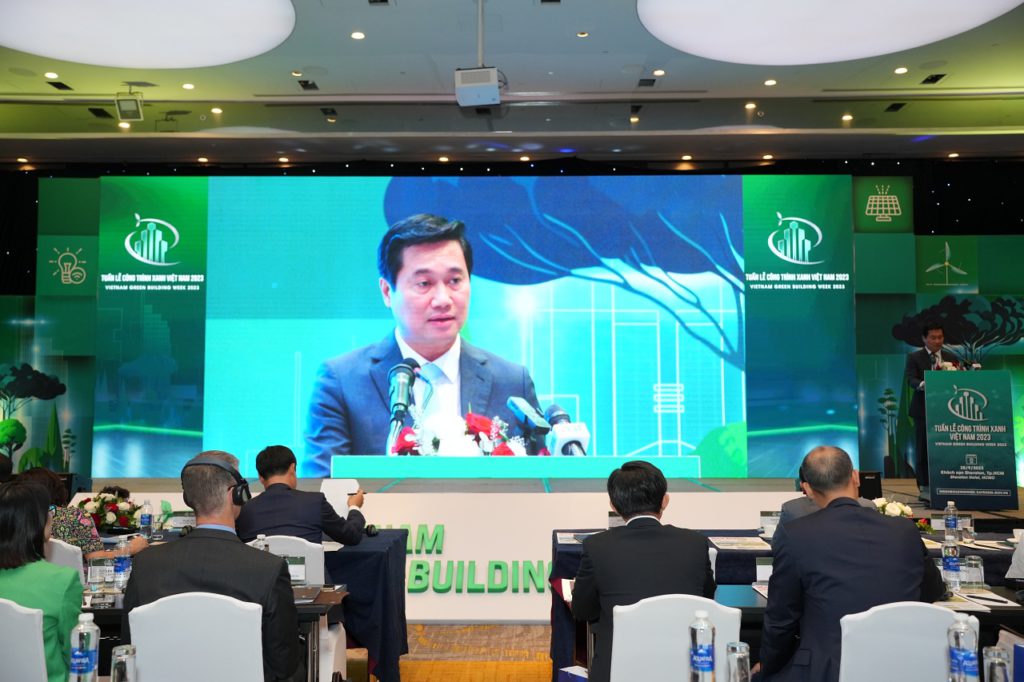 More efforts are needed to promote Green building uptake, including mainstreaming sustainable construction solutions, products and materials. Thus, the topic of "Green Building Development to Promote Green Transformation of the Construction Industry: Opportunities and Challenges" was used for Vietnam Green Building Week 2023, held on 28 September 2023 at Sheraton Saigon Hotel & Towers, Ho Chi Minh City.
The annual event was chaired by the Ministry of Construction in coordination with related agencies/organisations in the field of Green building. More than 1,000 delegates attended the conferences and exhibitions. Side activities included specialized training courses; field visits; a media award for outstanding journalistic works on Green buildings; and a national-level student architecture competition.

---
Plenary: Policies and milestones
The Plenary Session was attended by experts and leaders in the field. It was chaired by Leader of the Ministry of Construction and Leader of Ho Chi Minh City People's Committee, and featured the following topics:
● Remarks from:
○ Nguyen Tuong Van, Deputy Minister of Construction
○ Bui Xuan Cuong, Vice Chairman of Ho Chi Minh City People's Committee
○ Patrick Haverman, Deputy Resident Representative UNDP in Viet Nam
○ Hayoung Lee, Industry Lead of Mekong Manufacturing, Agribusiness & Services (MAS), International Finance Corporation (IFC)
○ Chakraborty, Country Director of ADB in Vietnam
○ Cristina Gamboa, President of the World Green Building Council
● "Policies and Practices for Developing Green and Ecological Industrial Parks Promote Green Transformation in Vietnam" presented by Vuong Thi Minh Hieu, Deputy Director of Department of Economic Zones Management, Ministry of Planning and Investment
● "Seven Global Green Building Policies for Vietnam to 2030 And Beyond" presented by Douglas Snyder, Executive Director of Vietnam Green Building Council
● "Decarbonisation and the Path to Fossil Fuel-free Buildings of the Future" presented by Nguyen Hong Hai, Director of the Institute of Construction Science and Technology, and Nguyen Thi Kim Phung, Head of Arup Sustainable Design
● Panel discussions on:
○ International trends and experiences for development: Green transformation of the construction industry, Green building development, energy saving and recommendations for Vietnam
○ Opportunities and challenges from domestic and international actors for the transformation of the construction industry
○ Important milestones and goals to be achieved in the Green transformation roadmap of the construction industry
---
Conference sessions
The event included four conferences, each with panel discussion sessions:
Conference Session 1
Greening Living and Working Space Towards Improvement of Quality of Life, chaired by Vietnam's National Institute of Architecture
● "Sustainable Industrial Buildings – Best Practice Examples from Europe and Southeast Asia" presented by Robert Himmler of GIZ
● "Green Schools: A Journey to Student-Centered School Design" presented by Tran Nguyen Quang, General Director of Sunjin Vietnam
● "Green Lighting – Intelligent Lighting Solutions for Brighter Lives and Better World" presented by Ngo Tan Cang, Director of Lighting Design and Solutions Department of Signify Vietnam (Philips Lighting Vietnam)
● "High-tech HVAC System – The Ideal Solution to Improve Air Quality in the Living and Working Environment" presented by Nguyen Ly Tuong, Senior Manager, Panasonic Air-Conditioning Vietnam
● "Improving Indoor Air Quality, the Actual Situation and Possible Solutions" presented by Associate Professor Nguyen Viet Dung, PhD, HUST
● "Aiming for Net Zero in Construction: From Optimizing Design to Improving Operational Efficiency" presented by Vu Linh Quang, Managing Director of ARDOR Green
Conference Session 2
Using Green, Energy-Saving and Environmentally Friendly Materials, chaired by the Institute of Building Materials
● "Promote the Use of Green and Environment-Friendly Materials in Buildings Towards a Circular Economy" presented by Hoang Thanh Vinh, UNDP Vietnam Program Officer
● "Making A Positive Impact to the Environment With Glass" presented by Tsuyoshi Yasuda, Senior Director Marketing Group Leader of AGC Glass APAC
● "Lightweight and Sustainable Material Solutions for the Green Construction Industry" presented by Nguyen Hai Anh, Technical Director of Saint-Gobain Vietnam
● "Comprehensive Solution for Industrial Flooring Systems" presented by Laurent Bouet, Sika Market Development Manager, Target Market Flooring & Coating of Asia Pacific
● "The Trend of Using Insulation for Green Buildings" presented by Ha Ngoc Anh Minh, Director of Kingspan Vietnam
● "Sintered Stone and Sustainability: Green Choice for Modern Architecture" presented by Ranko Lukic, Chief Commercial Officer of Viglacera Vietnam
Conference Session 3
Equipments and Technologies to Modernise Construction Works and Improve Comfort for Users, chaired by Vietnam Institute for Building Science and Technology
● "Building Envelope and Energy Optimisation Evaluations for Urban Areas in Vietnam: Learning from Global Standards" presented by Tobias Kuester-Campioni, TU Dortmund University
● "Equipment Standards Used for Energy Saving and Low Carbon Emission Projects" presented by Vietnam Energy and Environment Consultancy (VNEEC)
● "Innovating Sustainability with High-Tech Security Solutions for Smart Buildings" presented by Pham Van Kien, Senior Business Development Manager of Dahua Vietnam
● "Solutions to Improve Indoor Air Quality with Air Conditioners, Air Purifiers and Dehumidifiers" presented by Associate Professor, Dr Tran Ngoc Quang, Hanoi University of Civil Engineering
● "Smart, Energy-Saving Lighting Technology: Top Priority for Future Buildings" presented by Tran Viet Binh, Deputy Director of Rang Dong Lighting Center Ho Chi Minh City
● "Smart Home – Smart Building: Experience Comfort and Modernity" presented by Do Nguyen Hung, Deputy General Director of Schneider Electric Vietnam, Project Division
● "Heat Pump Technology Using R290 Is Energy Efficient and Environmentally Friendly in Green Housing Construction" presented by Ms Vu Thi Kim Thoa and Le Nguyen Minh, Consultants from GIZ
Conference Session 4
Green Finance: Paving the Way for Construction Businesses to Thrive in the World of Sustainable Finance, chaired by IFC and ADB
● "Seizing the Green Building Opportunity in Vietnam" presented by Maria Joao Pateguana, ADB Principal Private Sector Development Specialist
● "Green Financing Opportunities for Construction Businesses in Vietnam" presented by Do Ngoc Diep, Green & Resilient Building Program Lead, IFC
● "Promoting the ESCO Model – Investment and Financial Solutions in Green Buildings" presented by Ma Khai Hien, Director of Enerteam
---
Read more Vietnam stories below:

Re-generational Architecture | FAP 2023 Second Place
CHALLENGES Mang Thit is a famous pottery, brick-making craft village in Vinh Long Province, Vietnam, that is being shut down, partly due to the pollution of the brick-making process. As such, most of the kilns have been dismantled and destroyed due to the deterioration of the village. The dismantling processes of unused brick production facilities […]

Hong Ha Eco City
Some 10 years ago, the planning and construction of an ambitious urban housing project began. Situated on 16.7 hectares of land in the south-east region of Hanoi that was adjacent to a major intercity highway, the site was originally intended to be a run-of-the-mill 'new city': an array of low-rise, landed housing, clustered alongside supporting […]