In Conversation / 2nd Quarter 2022
In Conversation with Aswin Indraprastha & Carlos Bañón
by Dinda Mundakir
June 15, 2022
NEXT-GENERATION TECHNOLOGIES IN ARCHITECTURAL DESIGN
In the domain of architecture, computational design has come a long way. Nowadays, the latest tools in computational design include artificial intelligence, which simulates human behaviour in 'learning' through advanced programmes.
While many of these technologies are still considered new in varying degrees—and are definitely developing at different rates in different economies—they have also often been used as blanket buzzwords to convey a sense of newness, which may sometimes be more of a marketing gimmick than a fact.
So, what are the new technologies in architectural design? What is the actual state of their adoption in the industry? What are their benefits and risks? More importantly, how sustainable are these methods—both in terms of their ability to help us design Greener and the amount of energy such methods consume?
Since it is the tendency of innovative technology to trickle down, this means architectural education plays a pivotal role in its proliferation. FuturArc spoke to two lecturers from Singapore and Indonesia, both specialising in computational design, to address these questions and more.
---
HOW ARE NEW TECHNOLOGIES TRANSFORMING THE WAY WE DO/LEARN ARCHITECTURE?
Generative design methods
Digital tools have and will continue to shift the design process. This is even more pronounced for parametric design, which entails transforming features according to algorithms instead of developing them traditionally from design ideas. According to Bañón, "We'll start with a script—not even a sketch—which is something more abstract. Sometimes you don't even start with a physical shape—you start working with a certain set of rules and systems, and then you start exploring."
Aswin took note of this collated process from his generative design studios: "Architects usually work in two stages. The first stage is generating or creating the design … Once you have generated the alternatives, the next stage is selecting and optimising. These two stages are now being reflected in generative modelling."

Aswin's students' works at the DigitalFUTURES: InclusiveFutures – Form Follows Data Flows workshop on parametric modelling
Artificial intelligence (AI) and machine learning
Can it replace the human touch anytime soon—or even take into account the stringent constraints in the architecture, engineering and construction industry?
In his practice, Bañón has used AI to optimise structural components of pavilions and furniture. However, he thinks that a truly AI-driven design will take some time. "I don't see a full application of AI yet, because as you can see, it's been applied at separate layers. There are floor plans that are AI-driven: you can feed an AI with all the works from Le Corbusier, for example, and then it will come up with something that mixes and matches the elements and produces something new … For designers, I think AI is a bit of a black box. You feed the system with something and you get something out."
Projects developed by Bañón's firm AirLab: The structural diameter of AirTable is pushed to a minimum, which can only be achieved through digital design and additive manufacturing

---
DIGITAL TWINS: AN ENTANGLEMENT OF THE PHYSICAL AND VIRTUAL
The culmination of all these technologies is encapsulated in the concept of digital twins—a real-time virtual representation of physical objects or processes, which also entails their diagnostics and forecasting, as well as modelling how new changes can be implemented.
Closer to home, Aswin envisioned another possibility of applying digital twins—he wants to investigate how generative methods can be used to optimise local wisdom in traditional buildings. "Every region in Indonesia has their own culture of building … many of which are threatened by extinction, because some techniques of building were considered too sacred to be written. In Sumba for example, it is considered pamali (taboo) to write down knowledge related to house-building. So, they purposefully burn down buildings periodically, so that the next generation can learn how to build them (from scratch). However, how can we ensure that this wealth of knowledge does not get lost, or is not only seen as artefacts?"
ENERGY-EFFICIENT OR ENERGY-EXCESSIVE?
One thing that goes hand-in-hand with increasing computation and the ready availability of new tools is the energy demand of such systems. It is standard practice for architects to implement passive design measures to lower a building's embodied and operational energy, but the energy expended in the design process itself is something that many still take for granted.
[This is an excerpt. Subscribe to the digital edition or hardcopy to read the complete article.]
---
Aswin Indraprastha is a lecturer specialising on the topics of computational design, BIM and design representation. He received his PhD at the Department of Design and Engineering, Shibaura Institute of Technology, and currently serves as the Vice Dean of Academic Affairs at the School of Architecture, Planning, and Policy Development of Institut Teknologi Bandung (ITB). In 2017, he co-founded the Indonesia BIM Institute (IBIMI) and has since advised on BIM application for a national multidisciplinary consultant. He was the Deputy Chairman of the Association of Architecture Schools of Indonesia (APTARI), and has organised or lectured in various collaboration programmes for students, most recently the 2021 DigitalFUTURES Online Workshop: Form Follows Data Flows.
Carlos Bañón is the architect behind the award-winning AirMesh Pavilion, which has also been awarded the Singapore President*s Design Award 2020. The hybrid 3D printing technology behind it automates the design and fabrication process, and removes the constraints of conventional 3D printing techniques. Specialising in digital design and advanced manufacturing methods within the built environment, Bañón is Director and Co-founder of AirLab Singapore, Principal and Co-founder of Subarquitectura Architects, and Assistant Professor of Architecture and Sustainable Design at the Singapore University of Technology and Design (SUTD). He also previously held visiting professorships at various international institutions. His works have been recognised both locally and internationally, such as by the London Design Museum, Mies van der Rohe Prize Nomination, German Design Award and Singapore Good Design Awards.
---
RELATED: The FuturArc Interview | Wendy W. Fok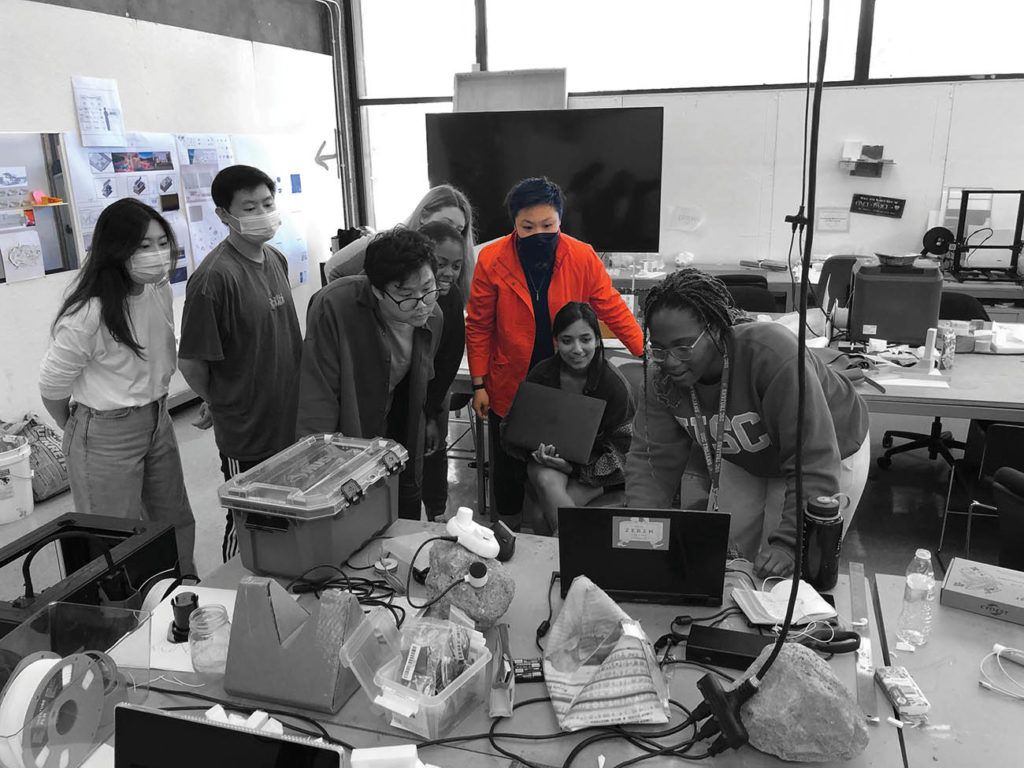 Wendy W. Fok | FuturArc
Talking to Wendy W. Fok feels easy even though the myriad topics discussed are not. She has a way of meeting you where you are when giving her extensive insight and knowledge, breaking down complex issues into 'byte-sized' information. Aside from removing the marketing veil of trendy terms such as…

Previously Published In Conversation