Transforming the way we build (IBEW 2019)
4 September 2019, Sands Expo & Convention Centre, Marina Bay Sands, Singapore — The inaugural International Built Environment Week (IBEW) welcomed more than 12,000 overseas and local visitors to the first of its kind built environment event in the region. Themed Transforming the Way We Build, IBEW brings together the whole built environment value chain to an integrated platform which showcases progressive firms and the latest innovations in the industry, set against the backdrop of global trends like urbanisation, digitalisation, and climate action.
Opening addresses were given by Lawrence Wong (Minister for National Development and Second Minister for Finance) and Lee Fook Sun (Chairman of Building & Construction Authority).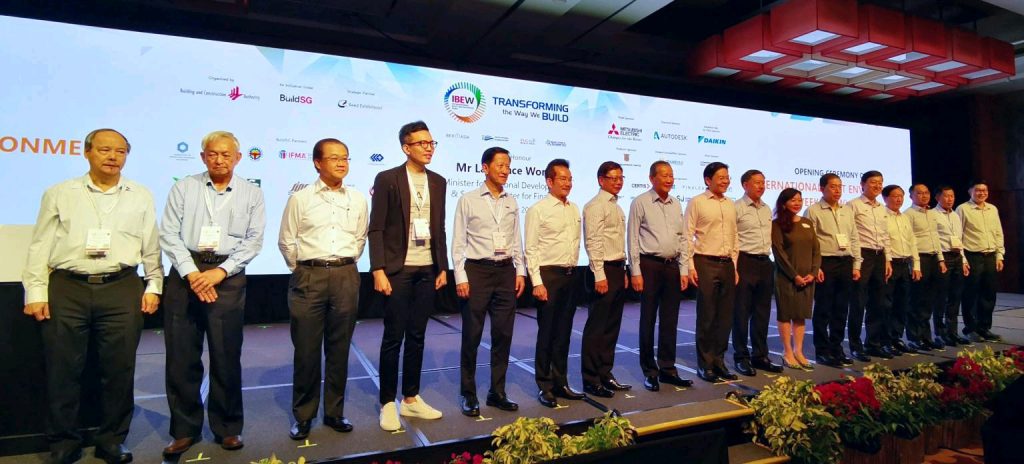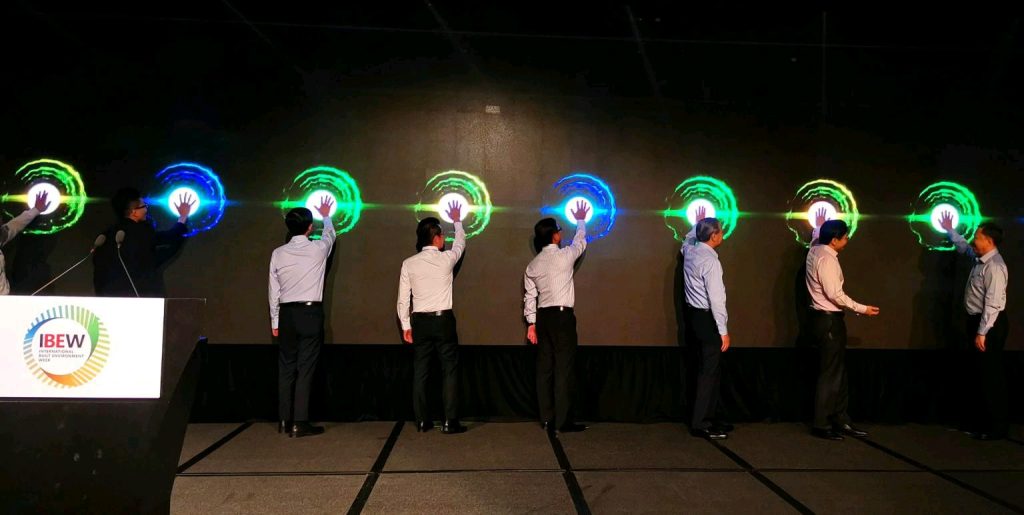 Spotlight Plenary
The digital economy is transforming the way we live and work, including the way we build. Moderated by PROF. GERARD GEORGE (Dean of Lee Kong Chian School of Business, Singapore Management University), this session provided insights into how BE industry players could harness the power of technology and innovations to transform the BE sector and stay ahead of the curve. e.g., disruptive thinking, innovation and technology, transformation.
TOPIC 1: Transforming the Aerospace Industry: Digital Innovation and Future of Manufacturing
DR. BICKY BHANGU, President – SE Asia, Pacific & South Korea, Rolls Royce Singapore Pte Ltd
Growing demand for cleaner and more efficient power, coupled with increasing electrification, is revolutionising the aerospace industry
Addressing these challenges requires creativity and innovation to develop products and services for the future
Smart manufacturing is being enabled through digital solutions to significantly improve efficiency, quality and productivity
TOPIC 2: Accelerating Innovation and Transformation for a Sustainable, Resilient Built Environment
MS. LISA BATE, Chair, World Green Building Council
Rapid urbanisation, expanding population and climate deterioration means the building and construction industry must innovate and transform
Innovation in technology, collaboration and new financial models are creating people + planet + profit thinking, driving sustainability and resiliency
Design for Manufacturing & Assembly (DfMA), Internet of Things, Virtual/Augmented Reality, robotics and drones enable only; leadership and partnerships deliver
TOPIC 3: Digital and Business Model Innovation in Built Environment
DR. UWE KRUEGER, Head, Industrials, Business Services, Energy & Resources & Joint-Head, Portfolio Management Group, Temasek International Pte Ltd
Prevailing productivity and innovation challenge in the construction industry
Technology is enabling the rise of new and innovative business models
Proliferation of promising and well-funded Construction Tech start-ups
Mr Hugh Lim, CEO, BCA, said, "Since the Construction Industry Transformation Map (ITM) was launched two years ago, our Built Environment sector has seen good progress. Leading firms are staying ahead of the curve through deep capability building, strong collaborations and co-creating effective solutions for the built environment sector. The inaugural IBEW is a shared platform that reflects both the aspirations and the progress of the built environment sector in Singapore. Together with like-minded international partners, we envision IBEW to be the platform in the region for rich exchange of ideas and co-creating innovative solutions to transform the built environment."
The Construction ITM identified three key transformation areas: Green Building, Integrated Digital Delivery (IDD) as well as Design for Manufacturing and Assembly (DfMA) underpinned by research and innovation and manpower development. Through collaboration and co-creation with the industry and academia, the ITM seeks to bring about an advanced and integrated sector, with progressive and collaborative firms, supported by a skilled and competent workforce, offering good jobs for Singaporeans.
As part of advancing our Green Building agenda, BCA has been supporting research and innovation efforts to push the boundaries of transformation. The Green Buildings Innovation Cluster (GBIC), managed by BCA, has enabled the development of several energy-efficient technologies. These have been translated into commercial solutions adopted in Singapore and overseas.
To support our national drive toward Super Low Energy (SLE4) buildings such as the PSA Corporation's Net Zero Energy Building, the National Research Foundation Singapore has provided a funding of $20 million to enhance the GBIC programme. In addition, to help building owners and developers source for innovative Super Low Energy (SLE) technologies, BCA and Hitachi have also launched the SLE Buildings Smart Hub – the first digital knowledge portal for green buildings in the region.
BE Connect
IBEW 2019 features BE Connect, a premier business platform that brings together urban solution providers from Singapore, developers from the region, and the investment community to address urban challenges in the region. Over the past 9 months, BCA has met with close to 100 developers in China, India, and South East Asia to understand their needs, introducing solutions, and sharing relevant experience by Singapore's urban solution providers. BE Connect marks a major milestone in a year-round effort to assist buyers in the region to access fully integrated solutions across the entire built environment value chain for their building needs.
Sustainability Initiatives
To reduce the carbon footprint of IBEW 2019:
The IBEW is held at Marina Bay Sands, an eco-venue which was awarded the Green Mark Platinum Award.
The halls are set at 50% full lighting during the exhibition build-up days, and 75% full lighting during the event days. Indoor air-conditioner are set at 24/25 degree Celcius to reduce energy consumption.
Food and beverage across the 3-day conference are 100% selected from a harvest menu, which include fresh ingredients and items that are sourced locally and regionally to offer sustainable food options. Unconsumed food during the event will be donated to charity organisations.
Reusable stemware cups are offered instead of paper cups.
Only recycled or Forest Stewardship Council Certified paper stocks are used for printing of delegate name badges and conference materials.
For the list of conferences, keynote and track sessions, please visit https://www.ibew.sg/en-gb/conference/program.html#/sessions.
For more information, please visit https://www.ibew.sg/.