IGEM 2023 Aims to Lead the Way on Climate Action
[MEDIA PARTNER] 27 SEPTEMBER 2023 – Organised by the Ministry of Natural Resources, Environment and Climate Change (NRECC) and with the help of the Malaysian Green Technology and Climate Change Corporation (MGTC), the International Greentech & Eco Products Exhibition & Conference Malaysia (IGEM) will be held at the Kuala Lumpur Convention Centre from 4 to 6 October 2023.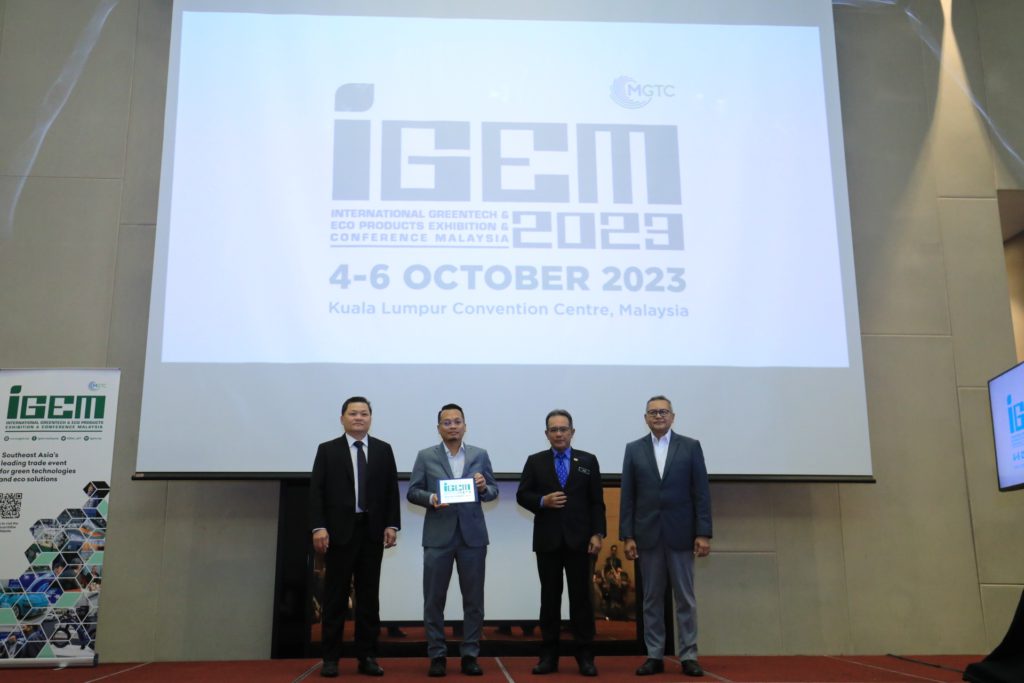 Positioned as Southeast Asia's leading trade event for Green technologies and eco solutions, the event has attracted the participation of not only leading local companies, but also those from neighbouring countries such as China and Singapore, as well as those further afield such as Austria, Canada and France.
With a successful track record of RM41 billion in business leads, over 530,000 visitors from over 112 countries since 2010, IGEM 2023 positions this year's series as a Race Towards Net Zero: Leadership for Climate Action. It targets to attract RM4 billion in business leads, 400 exhibition booths and 40,000 visitors from over 40 countries.
Natural Resources, Environment and Climate Change Minister YB Nik Nazmi Nik Ahmad said, "With around 3.3 billion people living in highly vulnerable contexts globally, ongoing climate change innovation, mitigation and adaptation continues to be paramount."
He added that Malaysia looks forward to host an impactful and insightful event that will present innovative technologies, products and solutions to support climate action.
IGEM 2023 seeks to play a leadership role on this singular platform to contribute towards accelerating and delivering the region's Net Zero and Just Energy Transition agenda. The exhibition floor will be organised based on the sub-themes: Empowering Cities; Electrifying Mobility; Decarbonising Energy; Accelerating Circularity; and Conserving Biodiversity. Numerous Memorandum of Understanding (MOUs) will be signed between local and international parties, reinforcing their commitment to the regional Green economy.

---
Convergence for Bright Minds in Green technology and Climate Change
There will be several conferences on topics such as climate change; low-carbon cities; science innovation; hydrogen economy; waste management; circular economy; water, energy efficiency; and the United Nation's Sustainable Development Goals. They will be organised on an ongoing basis during the three-day event. Alongside this, the Canadian High Commission and Business Finland will conduct seminars and networking sessions offering ideas and solutions to the participants.
For the 14th consecutive year, IGEM will feature the much-in-demand business networking sessions organised by the Malaysian Investment Development Authority (MIDA), Malaysia External Trade Development Corporation (MATRADE) and Malaysian Green Technology and Climate Change Corporation (MGTC).
To sign up for free as a trade or public visitor, please refer to https://www.igem.my/visitor-registration. For further details on IGEM 2023, please visit www.igem.my.