FuturArc Blue-Green Run Kicks off at Equinox Hong Kong!
HONG KONG, 25 SEPTEMBER 2023 – Last Friday, 22 September 2023, BCI Equinox was held at Sky 100 from 5–9pm. FuturArc's Blue-Green Run was launched in the evening, announcing the 10-kilometre route that will take place along Hong Kong's waterfront.
The run will commence on 3 November 2023, and participants can complete the run at their time of choosing till 29 November 2023, with a cheering day on 26 November. The route will start at Tai Wan Shan Swimming Pool and end at West Kowloon Cultural Park, with specified checkpoints of landmark buildings. Find out more about the run here.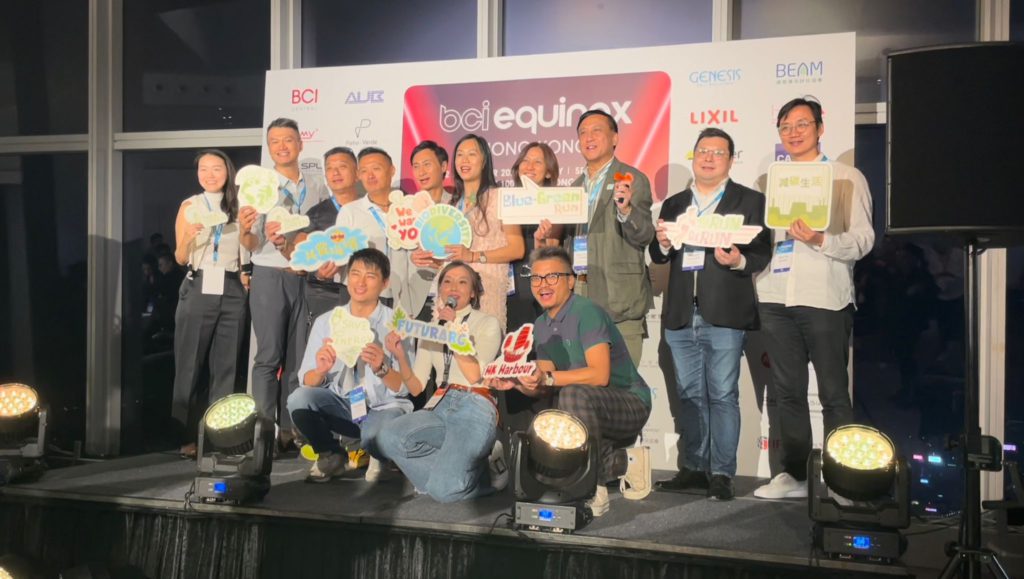 The networking event shone a spotlight on Environmental, Social and Governance (ESG) solutions and strategies for the built environment. Two sessions of talkshows on the latest ESG topics and solutions were held at Tech Hubs.
The session themed Balanced mESsaGe was hosted by Roger Wu, an architect actively involved with both the Royal Institute of British Architect (RIBA) RIBA and The Hong Kong Institute of Architects (HKIA). It featured Vivian Yeung, Senior Manager at PricewaterhouseCoopers Ltd.; Vanessa Ho, Co-founder of Lion Rock Heritage Foundation; Jack Tang, Founding President of Hong Kong Enterprise Digital Transformation Association; Andrew Lau, Director of ESG Advisory at Colliers; Eugene Ching, Chairman of the Planning & Urban Design Committee at HKIA and Director of Leigh & Orange Architects; and Florence Cheng, Executive Director of the Institute of Community Making.
A facilitative session titled Transforming S&G Inspiration into Practical Immediate Actions was also held with John Lee, Partner at Corporate Sustainability and ESG Advisory THINK ESG Ltd.
Concurrently, the session titled ESG Framework & Solutions invited a range of speakers, from association leaders to consultants of decarbonisation strategies: Dennis Wu, Founding President of GBA Carbon Neutrality Association; Vicky Chan, Founder of Avoid Obvious Archtiects and representative of a chapter of the American Institute of Architects (AIA); Kyran Sze, Chairman of the Chartered Association of Building Engineers, Hong Kong Chapter; Alejandro Navarro Fernandez, Premium Partner of JS Window; Grace Kwok, Director of the Hong Kong Green Building Council; CM Jao, Vice Chairman of the Hong Kong Interior Design Association; Robert Allender, Corporate Decarbonisation Strategist at EnergyUse Strategy Advisors; David Morke, Director of Urbis Ltd.; and Gregory De 'Eb, Representative of Hong Kong Institute of Architectural Conservationists.

---