Empowering circular cities around the globe: Circular Cities Summit 2023 launches collectively owned platform
MONDAY, 20 NOVEMBER 2023 – With a little over seven years left before the Sustainable Development Goals (SDGs) are targeted to be achieved in 2030, leaders of international organisations sought to establish a collectively owned platform to advance these goals.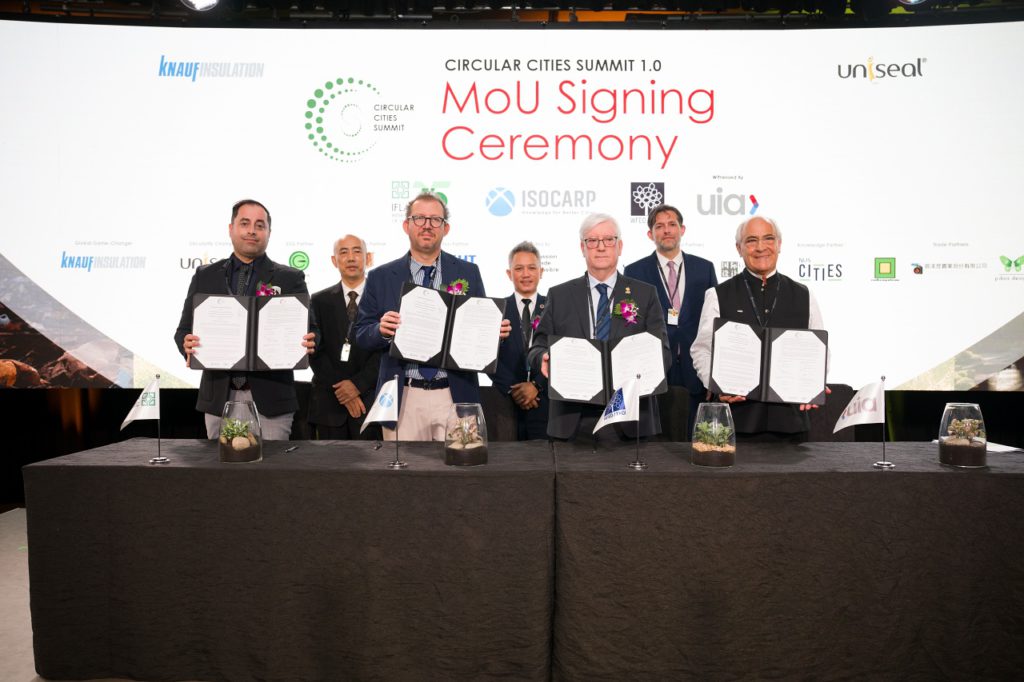 The first-ever Circular Cities Summit (CCS) 1.0 was held last week on 14–15 November at the Roselle Simpor Ballroom, Marina Bay Sands Expo & Convention Centre, in conjunction with Architecture & Building Services (ABS) 2023. Themed Game-changing Innovations for Future Cities, CCS explored solutions and strategies to achieve closed-loop, sustainable systems within the built environment.
At the summit, the Circular Cities Network (CCN) was launched as a global platform for professionals to collaborate on projects and initiatives. It aims to offer resources and tools to assist its members in transitioning to more circular business practices. The launch was marked by a Memorandum of Understanding (MoU) signing ceremony between three founding organisations, namely International Federation of Landscape Architects (IFLA), International Society of City and Regional Planners (ISOCARP), and the World Federation of Engineering Organizations (WFEO), witnessed by the International Union of Architects (UIA).
"Our mission transcends statistics; it is about safeguarding lives, protecting natural habitats and securing a legacy for future generations," said Prof. Damian Tang, Organizing Chair of CCS 1.0 during the summit's opening speech. "The climate crisis we face is a stark reminder of the interconnectedness of our world. The time for action is now, and circular cities offer hope—a holistic approach to urban development conserving resources, minimising waste and fostering regenerative systems."

The current linear economy is unsustainable where resources are depleting at the same time that waste is accumulating at an alarming rate. Some key visions of the CCN include a circular economy, aligning with SDG 12: Responsible Consumption and Production, where materials are continually reused and recycled, and businesses and residents work together under sustainable principles. Holistic solutions are envisioned to conserve resources (SDG 6: Clean Water and Sanitation), create jobs (SDG 8: Decent Work and Economic Growth) and fortify professions. Special emphasis is placed on SDG 11, which is making cities and human settlements inclusive, safe, resilient and sustainable across the globe.
---
Do you have ideas for circular communities in extreme climate conditions? Take part in FuturArc Prize 2024: Architecture for Life After …! Register now on FuturArc App!