Built Environment and Property Prospect Seminar 2021
Singapore, 18 January 2021 — The pandemic has caused much disruptions globally. Closer to home, while the built environment sector is facing unprecedented challenges amidst much uncertainties, the sector is working hard and appears to be on track for a sustained recovery. The construction sector grew by 38.7 per cent on a quarter-on-quarter seasonally adjusted basis, which was a rebound from the sharp contraction of 59.4 per cent recorded during the Circuit Breaker period (based on advance estimate by Ministry of Trade and Industry Singapore (MTI)). While the sector is grasping with recovery, it is equally essential to look ahead, grasp opportunities and gain stronger footing to emerge stronger from this crisis and remain resilient.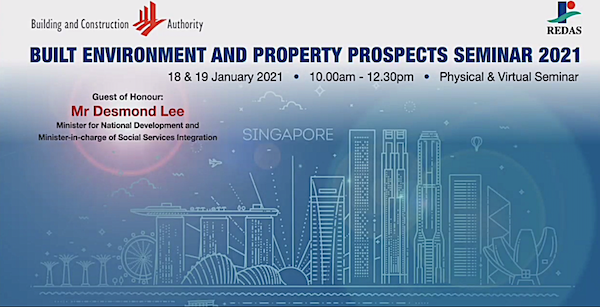 Desmond Lee, Minister for National Development & Minister-in-charge of Social Services, graced the seminar and gave an opening speech.
Impact of COVID-19 on the sector and the lessons we can learn from this, in order to emerge stronger
Current projections for the construction industry in the medium term
Conclusions about the property market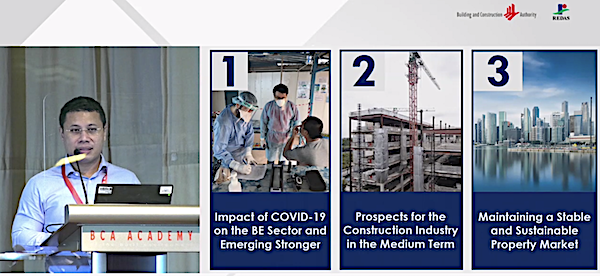 Impact of COVID-19 on the Built Environment Sector
Our built environment sector had a really tough time last year. Especially during the Circuit Breaker, when most work had to stop. And even after that, projects could not restart immediately as our foreign guest workers dormitories took some time to be cleared. Even now, some firms are still operating at lower capacity due to the safe management measures needed to prevent another outbreak.
To get through the worst of the crisis, everyone in the Built Environment sector had to give-and-take. We also had to intervene in an unprecedented way along the entire value chain, and inject a significant amount of support. For example:
For the construction industry, including main contractors, sub-contractors, consultants and suppliers: we had to provide a $1.36 billion Construction Support Package, the Jobs Support Scheme, and provide Foreign Worker Levy waivers and rebates.
For developers, we provided an extension of the Project Completion Period and Additional Buyer's Stamp Duty remission timelines to account for delays due to COVID-19.
For purchasers and consumers, we introduced urgent legislation so that developers could not terminate Sale and Purchase Agreements on the basis of the buyer's inability to pay, and could not increase interest rates or impose new charges without buyers' agreement, during the relief period.
In April last year, the Government also introduced the COVID-19 (Temporary Measures) Act, where we provided a moratorium on legal and enforcement actions for prescribed contracts. Later in November, we also introduced the re-alignment framework to provide businesses badly affected by the pandemic with a quick and fair way to re-align and move forward. This is the first time that we have intervened in private contracts so significantly. But the relief measures are necessary to cushion the impact of COVID-19 on our firms. In many cases, firms may have gone under without the urgent intervention by the Government.
No one is a winner in the pandemic. Everyone suffered. But we had to put these measures in place to ensure that no one segment of the value chain had to bear a disproportionate burden brought about by COVID-19. The global pandemic continues to evolve. Many countries are still battling second and third waves of the pandemic, and worryingly, new variants of the virus have emerged. While vaccines have become available, we are not yet out of the woods. So we must continue to be vigilant with our measures, and cannot afford to let our guard down.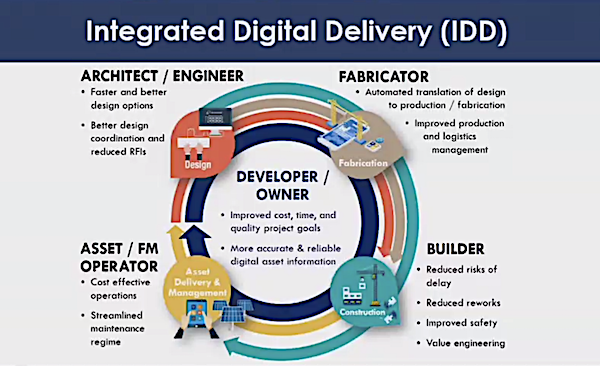 Lessons from COVID-19 and emerging stronger
Even as we continue to keep an eye on the pandemic, we we must reflect on the lessons that we have learnt, and take decisive steps to transform our sector, so that it can emerge as a much stronger sector after this crisis. First and foremost, we need to build in more resilience into the system, and significantly reduce our over-reliance on foreign guest workers.
We have been emphasising the need to adopt Design for Manufacturing and Assembly (DfMA) technologies. This is not new. BCA has been working closely with the industry on this over the past few years. With DfMA, we can prefabricate building components in a more productive way, by moving more construction work off-site and enabling automation of manpower-intensive processes. We will adopt a more aggressive approach to drive DfMA across our entire sector in the coming years.
Integrated Digital Delivery, or IDD, complements and enables DfMA. It is like a digital spine that brings together the entire building lifecycle and its various parties, covering construction to facilities management. This facilitates greater integration and collaboration among stakeholders across the value chain. And reduces abortive work by resolving design conflicts upstream. To drive IDD, the industry-led Digitalising Built Environment Alliance for Action, or AfA, was formed in June last year under the Emerging Stronger Taskforce to accelerate digitalisation of our built environment sector. I am happy to announce that the AfA will be launching industry-wide Common Data Environment Data Standards, which have been established to drive the adoption of digital platforms. The AfA targets to invite 300 leading firms in the industry to start adopting digital platforms based on the set of Data Standards. Firms can take advantage of funding from the Productivity Solutions Grant to do so. This will have a multiplier effect, as these firms will in turn bring the companies in their supply chains on board the digitalisation journey.
We will also press on with our efforts to build strong and capable firms, anchored by a skilled and competent Singapore workforce. The adoption of new technologies and digitalisation will help to create higher-skilled jobs in better working environments that will appeal to more Singaporeans. These efforts will help to sustain the growth of the industry in the long term.
We will continue to partner the industry on our journey to transform the construction industry. We are also looking at further strengthening our policies to facilitate transformation and to support firms. We will announce more details during the Budget season this year. More broadly, COVID-19 has also challenged the way we think about how we live, work and play. This includes a shift towards more telecommuting and work-from-home arrangements, changes to retail consumption and commuting patterns, and an increased emphasis on health and wellness.
While some of these changes may be temporary, others may well become part of our new normal, and will have long-term implications on the way we master plan and build our city. We are actively monitoring these trends and studying their impact on businesses' practices, and consequently on the demand and distribution of commercial spaces. We will be consulting industry players, including developers, property consultants and business operators on this effort in due course.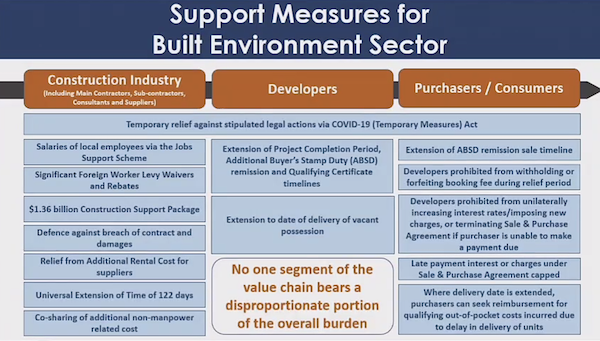 Steady recovery in construction demand in the medium term
While the sector has made significant progress in recovering from the impact of COVID-19, concerns remain about the impact on construction demand in the coming years. In September last year, BCA revised its earlier projected construction demand for 2020 downwards, from $28-33 billion to $18-23 billion. BCA has now estimated that $21.3 billion worth of projects were awarded last year, which is within BCA's revised projection. Public sector demand has been affected as some projects were postponed. For example, the construction of Changi Airport Terminal 5 has been put on hold for two years, until we have more clarity on the future of air travel. Construction demand from the private sector has also been weighed down by market uncertainties.
Construction demand is expected to recover to some extent from this year. BCA estimates that $23 – 28 billion worth of projects will be awarded this year. The Government will contribute about 65 per cent, or $15 – 18 billion of the overall construction demand this year. This is higher than the $13.2 billion worth of public sector projects in 2020. Public sector demand in 2021 will be driven by major public housing and infrastructure projects, such as LTA's Integrated Transport Hub at Jurong East, the Jurong Region Line and the Cross Island Line. There will also be around $6 billion worth of smaller public sector projects which are less than $100 million in contract value, such as cycling paths, parks, and upgrading works. This is comparable with the annual average pre-COVID, and will benefit our smaller and mid-sized contractors. As investors are likely to remain cautious, private sector construction demand is not expected to return to pre-COVID levels yet. Private sector demand is projected to be $8 – 10 billion in 2021.
Our early forecast is that construction demand may further strengthen to $25 – $32 billion between 2022 and 2025. This forecast has not taken into consideration potential new contracts for Changi Airport Terminal 5 and the expansion of the two Integrated Resorts, as these project timelines are still under review due to disruptions from COVID-19. The growth of the construction industry in the medium term will be supported by public sector developments such as public housing, transport and healthcare infrastructure. Private sector demand is projected to improve steadily, in tandem with the recovery of the global economy.
In sum, we expect sustained recovery of construction demand over the next five years. However, the construction industry is still facing significant headwinds, especially with the tight manpower situation. For much of last year, our firms found it difficult to bring in new foreign workers, as we wanted to protect the health of our pool of existing workers and prevent another outbreak that would disrupt the built environment sector again. We hear the feedback from construction firms that manpower costs have increased, given the current labour crunch. The Government has been working closely with our industry partners to address the issues. For example, MOM has worked with SCAL to facilitate matching of workers in Singapore with new employers through the SCAL Manpower Exchange platform. From December last year, we also eased entry restrictions to allow more existing and new work permit and S Pass holders to enter Singapore, to better support businesses. This was not a straightforward endeavour, given the global pandemic situation. It continues to require close coordination between agencies, such as MOM, MOH and MND/BCA, to ensure that we can bring in sufficient workers to alleviate the manpower shortages faced by firms, and yet to do so in a safe way, with sufficient testing and quarantine facilities, in order to protect public health. We will continue to monitor the situation and adjust our measures as necessary to support the sector.
Maintaining a stable and sustainable property market
The market has a direct impact on Singaporeans as most of us own homes. The Government is thus committed to maintaining a stable and sustainable property market.
For the private housing market, we have put in place several measures over the years to try to ensure that prices move in line with economic fundamentals. This is to ensure that the property market remains resilient to economic downturns, property bubbles and external shocks like the COVID-19 pandemic.
Even in the midst of the COVID-19 pandemic and economic challenges, the property market has stayed generally resilient and we are starting to see some signs of renewed positive sentiments in the property market. The pace of increase in private housing prices has gathered momentum since the second quarter of 2020. Developers' sales at recent project launches have been robust. With developers' inventory of unsold units progressively coming down, there has been healthy bidding interest in recent Government Land Sales tenders.
But we must remain vigilant. The property market is not insulated from ongoing uncertainties in the global economic outlook, nor setbacks to the recovery in the domestic labour market. Developers should remain prudent in their land bidding and work with agents to market their projects responsibly to allow buyers to make considered decisions that take into account their needs and affordability. Households need to exercise caution in their property purchase decisions. Given the uncertain economic outlook and possible rises in interest rates, buyers should be mindful of their ability to service their mortgage obligations before making long-term financial commitments.
The Government is monitoring the developments in the property market very closely. We will adjust our policies if necessary, to maintain a stable and sustainable property market for all Singaporeans. Although COVID-19 has presented significant challenges to the built environment sector, let us turn this into a window of opportunity to transform and emerge as a stronger society and a more resilient economy. Our transformation efforts will also help to position our firms to capture medium to long-term growth opportunities, including growth in Asia and arising from disruptive technologies. We look forward to growing our strong partnership and collaboration with the industry to shape our BE sector. There may be twists and turns, ups and downs in the road ahead for us, as the pandemic continues to grip the world. But we hope that 2021 will be a year of recovery and growth, where we transform our sector and consolidate our strengths.
Plan, pivot and prioritise: Navigating ahead towards resilience
In the first day of this seminar, we heard from the speakers below:
Economic Outlook 2021: Challenges & Opportunities
Song Seng Wun, Director, CIMB Private Banking
Resilient, Robust, Rejuvenated – Planning Singapore's Urban Development through and beyond COVID
Yvonne Lim, Group Director (Physical Planning), URA
Singapore Construction Prospects
Teo Jing Siong, Group Director, Strategic Planning & Transformation Office, BCA
Construction Cost Trend 2021: Impacts and Strategies
Silas Loh, Joint Managing Partner, Rider Levett Bucknall
Panel Discussion (Day-1)
Chaired by Prof. Gerry George, Dean, Lee Kong Chian School of Business, Lee Kong Chian Chair Professor of Innovation & Entrepreneurship, Singapore Management University