Building Professionals Expound on Green at FuturArc Forum 2019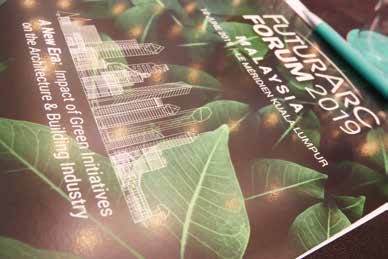 18 June 2019, Kuala Lumpur — FuturArc Forum was created to expand the conversation on Green architecture and development beyond the printed FuturArc magazine, onto a more personal and interactive medium. Hence, in 2008, the series of conference and networking events was born, and it was held in all seven BCI Asia countries. Thereafter, subsequent Forums were successfully organised in Singapore and Hong Kong separately.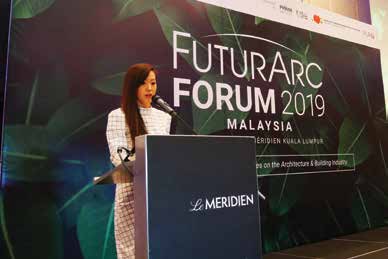 "We wanted to bring together advocates, partners, like-minded professionals and industry players to push the movement along, and carry on the dialogue face-to-face," Candice Lim, managing editor of FuturArc, highlighted in her opening speech. "The first FuturArc Forum kick-started in Malaysia back in 2008, so this is a homecoming of sorts."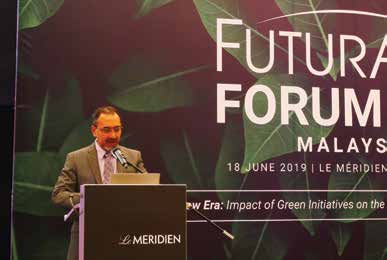 The day began with a keynote address on the state of Green in Malaysia by Ar Ezumi Harzani Ismail, the immediate past president of Pertubuhan Akitek Malaysia (PAM). As Malaysia's Green Building Index reaches its 10th year milestone, it is a good time to take stock and assess the impact of sustainability efforts in the country.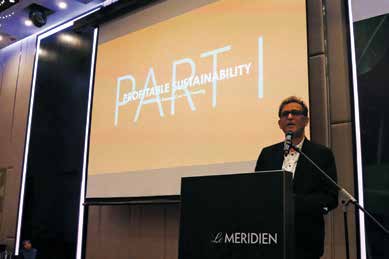 FuturArc editor-in-chief Dr Nirmal Kishnani spoke on eco-puncture, which refers to strategic designs and projects that trigger systemic health (not unlike acupuncture) and creates a ripple of good in the surrounding community. With the global threats of climate change and ecological loss demanding urgent intervention, sustainability efforts, he says, should move from mitigation of harm to catalysing change that repairs and restores the environment.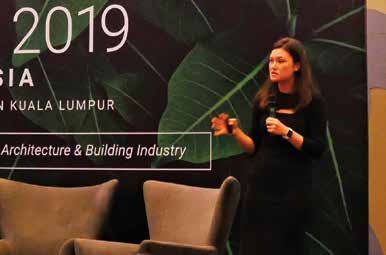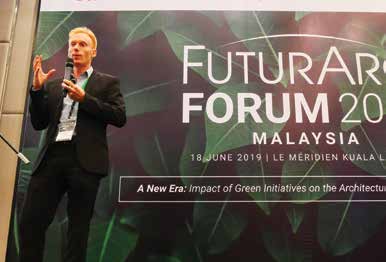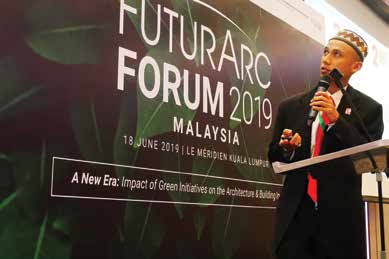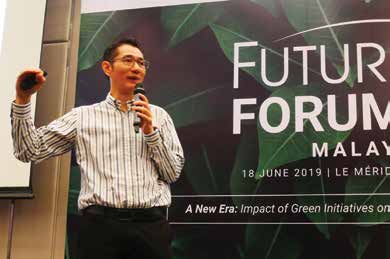 Candice moderated panel discussions with the speakers. The takeaway messages were: Green buildings alone could not create a sustainable future, as there needs to be whole ecosystems solutions that are scaled up to have a greater impact on mending the planet; occupants need to change their behaviour and mindset for change to be effective; building better will see greater returns in the social and economic sense because the cost of not doing so will be higher than any monetary or opportunity cost.
The Forum was well received by the attendees who gave high marks for the speakers and the overall event experience.
FuturArc Forum 2019 Malaysia is presented by the following partners: Hume Cemboard Industries Sdn Bhd, San Miguel Yamamura Woven Products Sdn Bhd and UBE Corporate Solutions Sdn Bhd, and is supported by the CIDB Malaysia, Malaysia Green Building Council and the International WELL Building Institute.
For more details of the post-event report, please contact us!
For media enquiries on FuturArc Forum 2019 event, please contact:
Mr Christopher Victor Roch
T: +6012 528 9667 E: [email protected]
Events Management Consultant, BCI Asia Construction Information Sdn Bhd
About FuturArc
FuturArc has been a pioneer in leading the conversation on Green architecture and development in Asia since 2008. FuturArc magazine is an award-winning quarterly publication that recognises the impact of buildings on society and the environment, promoting architecture that is socially and ecologically responsible. FuturArc Forum is a series of conferences and networking events specifically crafted around the topic of Green building in Asia, across seven countries in the region. For more details visit www.futurarcforum.com.
Follow us on social media to get the latest updates: Facebook | Twitter | Instagram | LinkedIn