B.A.U.M. honours GROHE CEO Thomas Fuhr for his commitment to sustainability
Düsseldorf, Germany, 4 Sep 2019 — The corporate network B.A.U.M. awarded Thomas Fuhr, CEO GROHE AG, with the 2019 Environmental and Sustainability Award for the category "Large Enterprises" in the German city of Hamburg. Under Fuhr's stewardship, GROHE, one of the leading global brands for full bathroom solutions and kitchen faucets, has become one of the most sustainable brands in the sanitary industry. Thomas Fuhr announced exclusively that by 2020, the entire manufacturing process of GROHE's five production plants worldwide will be completely CO2-neutral. Since 1993, the B.A.U.M. award has honoured personalities who have made a name for themselves regarding their universal approach of many years of outstanding commitment and exemplary initiatives in terms of environmental protection and sustainable development.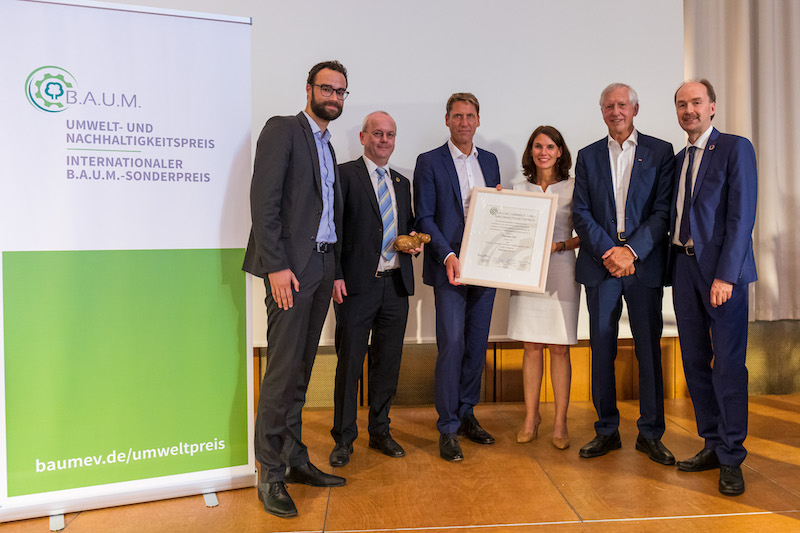 Energy efficiency, CO2 reduction and waste prevention along the entire value chain
"I am delighted to receive this award, which I would like to accept on behalf of all of my GROHE colleagues," says Thomas Fuhr. "My mission and that of GROHE is to develop intelligent technologies with water- and energy-saving qualities, without having to sacrifice when it comes to the joys that water brings. Every single drop counts. Our passion for saving water is the reason we have developed our expertise in conserving other resources, which is why we attach great importance to the aspects of energy efficiency, reducing CO2 and avoiding waste along our entire value chain."
A clear goal: to be the sanitary industry's first manufacturer to achieve CO2-neutral production
GROHE not only invests in research and development to manufacture intelligent, sustainable product solutions, but also spends a lot on its five global production sites. Investing in combined heat and power plants, receiving the silver certificate from the German Sustainable Building Council (DGNB) for the plant extension in Klaeng, Thailand, and building a state-of-the-art test laboratory in Hemer, Germany, are part of the brand's commitment. Regarding production processes, GROHE also constantly uses the latest technologies that increase sustainability: This year, the material-saving 3D metal-printing process was introduced. These as well as numerous other projects of the past years support the sustainable reduction of the brand's carbon footprint and save resources.
Now, GROHE goes a step further: The global brand aims to be the first leading manufacturer of the sanitary industry to achieve CO2-neutral production by 2020. In July 2019, GROHE converted all of its production plants to green electricity. The sanitary manufacturer will offset unavoidable CO2 emissions by implementing compensation projects and supporting activities based on very high standards, such as the Gold Standard, championed by the WWF who were instrumental in its development. In addition to avoiding CO2, the measures also contribute to a sustainable, ecological and social development in the projects' environment.
GROHE & B.A.U.M. – a long-standing partnership
B.A.U.M., the German Environmental Management Association, has been in existence since 1984. Today, with more than 500 members, it is the largest European network for a sustainable economic system. GROHE has been a B.A.U.M. member since 2016. As a member of the B.A.U.M. circle of supporters, GROHE aligns with the B.A.U.M. code of conduct for sustainable business and promotes its implementation. According to a recent study by Hohenheim University, with 89.1 per cent the B.A.U.M. Environmental Award is the third most important sustainability competition for companies in Germany, following the German Sustainability Award and the German Environmental Award. External studies also confirm the high recognition of the B.A.U.M. Environmental and Sustainability Award.
For more information, please visit GROHE.