2020
WorldGBC announces 18 new signatories to the Net Zero Carbon Buildings Commitment
On 11 December 2020, the eve of the fifth anniversary of the signing of the Paris Agreement, World Green Building Council (WorldGBC) announces 18 new businesses and organisations as signatories to the Net Zero Carbon Buildings Commitment (the Commitment).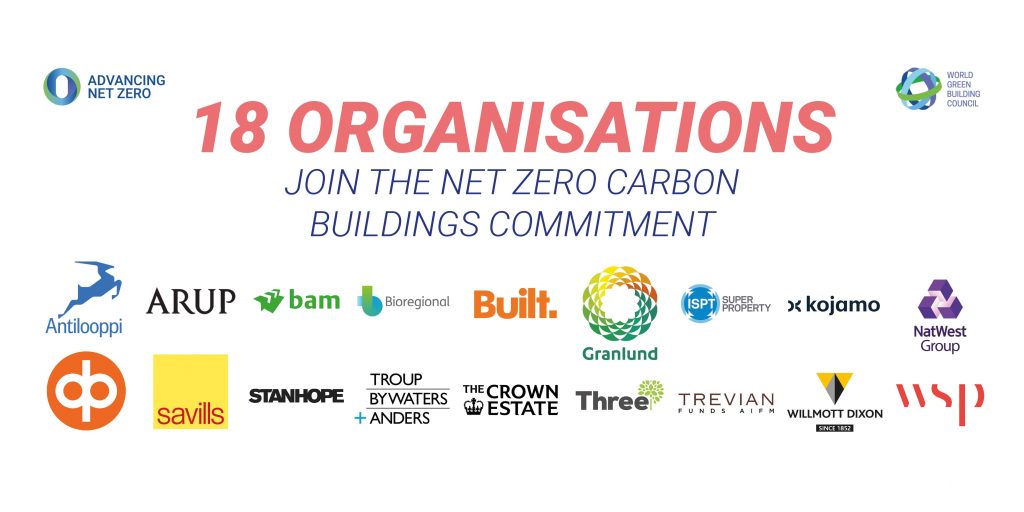 After urging the building and construction sector to #ActOnClimate during World Green Building Week 2020, WorldGBC, together with nine international organisations sent a letter to the COP26 President, Alok Sharma, requesting a dedicated Built Environment Day at COP26. With COP26 delayed until 2021, these 18 new Commitment signatories join a strong cohort of businesses and governments leading the decarbonisation of the built environment.
As the leading initiative focused on climate action in the built environment, the Net Zero Carbon Buildings Commitment continues to grow exponentially. Complementing initiatives such as the Race To Zero and Science Based Targets, the Commitment's signatories take action to achieve an operationally net zero carbon portfolio by 2030 or earlier. For eligible signatories, the Commitment acts as a pathway to membership of the EP100 initiative from the Climate Group, a global initiative for energy-smart companies doing more with less energy.
Cristina Gamboa, CEO of the World Green Building Council, commented, "As we build momentum to COP26, the growth and impact of the WorldGBC Net Zero Carbon Buildings Commitment signals a leap towards sustainability in the built environment. There are now 128 total signatories, comprising 94 businesses and organisations, 28 cities and 6 states and regions. The businesses and organisation signatories now cover over 9,000 assets, 5 million (tCO2e) of portfolio emissions, 42 million m2 of total flooR area and approximately USD 150 billion in annual turnover. Together with our new and existing signatories, we will work to drive sustainable buildings for everyone, everywhere."
For more information, please click here.
Previously Published Happening