Nov - Dec 2017
Special Focus: International Green Building Conference 2017
by Alakesh Dutta
December 31, 2017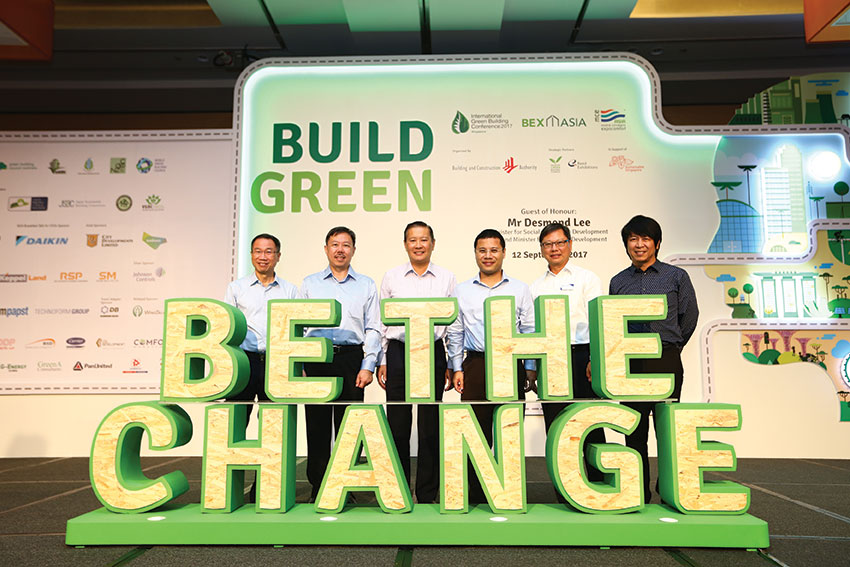 International Green Building Conference 2017
by Alakesh Dutta
The ninth Singapore Green Building Week (SGBW) was organised by the Building and Construction Authority of Singapore (BCA) from 11 to 14 September 2017. Around 25,000 participants from across the world, including several international Green building experts; policymakers; academics; built environment practitioners; users and owners; as well as members of the public, attended the plethora of co-located events held under the SGBW umbrella at the Marina Bay Sands Expo & Convention Centre. The anchor event of the SGBW was the International Green Building Conference (IGBC) held between 12 and 14 September 2017, together with the Build Eco Xpo (BEX) Asia and Mostra Convegno Expocomfort (MCE) Asia exhibitions.
Inaugurating the event, Desmond Lee (Minister for Social and Family Development, Singapore and Second Minister in the Ministry of National Development) announced the outcomes and new initiatives that have emerged from BCA's review of its 3rd Green Building Master Plan and other Green building initiatives that have was conducted from 6 to 8 September 2017. The International Panel of Experts reviewing the master plan included experts like Stephen Selkowitz from the Lawrence Berkeley National Laboratory; behavioural change expert Sonja Graham from Global Action Plan; IEQ expert Prof Shinichi Tanabe from Waseda University, Japan; and climate engineering expert Dr Wolfgang Kessling from Transsolar Energietechnik GmbH, amongst several other distinguished panellists. The panel affirmed the continued success emanating from the Green Mark Scheme since its launch in 2005. As Singapore continues to strive towards achieving its commitment to reduce carbon emissions intensity (from 2005 levels) by 36 per cent by 2030, Minister Lee announced future initiatives that BCA will be rolling out in phases, such as efforts to further enhance the indoor environment quality for occupants, encouraging energy-efficient buildings, as well as greening existing buildings and spaces.
An important initiative outlined was to implement greater transparency of buildings' energy performance data.
An important initiative outlined was to implement greater transparency of buildings' energy performance data. This year, BCA plans to disclose performance data of commercial buildings (whose owners have agreed to such disclosure). With such transparency, BCA aims to encourage owners and building users to adopt cost-effective measures to reduce their carbon footprint as well as increase demand for Green buildings and the related services.
The need and attention to such measurements, transparency and accountability were also shared by Andrea Reimer, Councillor of the City of Vancouver, Canada. As part of its road map towards becoming the Greenest city by 2020, Vancouver has been able to translate many of its plans into actionable strategies, and has constantly evaluated the results. This information feedback helps the leadership to gauge the impact of the plans that they implemented and derive future strategies and improvements. Such measures have resulted in the gradual transformation of more than 200 kilometres of road segments into bicycle lanes and the creation of more than 43 community-based commercial urban farms.
While countries like Singapore and Canada are striving towards improving their performances to higher benchmarks of sustainability; the event juxtaposed them against the development trends happening in three of the largest Green building markets in Asia: China, Indonesia and India. They are amongst the fastest urbanising nations, where the pace of urban growth threatens to outpace the necessary implementation of infrastructure and sustainable road maps. The Green leaderships of these countries reflect upon their individual success achieved thus far and the challenges that lie ahead, distinct to each context.
The Green building movement in China has so far been driven by market economics, with the implementation of Green policies being restricted to the large metropolis. Global competitiveness as well as demands and expectations from international investors for healthier built environments have spurred the local Green building movement. However, such efforts have failed to cascade to the provincial and municipal regions where an even larger number of building stock is being built. With the rapidly
deteriorating health of Chinese cities and the pressure to meet Commitments to the 2016 Paris Climate
Agreement, the government is escalating its efforts and support through important initiatives like the declarations in the 13th Five Year Plan, which includes working towards certifying 50 per cent of all new urban buildings as Green and further implementing the Sponge City Plan to improve water quality in the urban areas. These shall go a long way in improving the health of China's urban districts, which are currently grappling with the challenges of polluted air and water resources.
The dire health of cities is a typical problem faced by several developing nations. Naning Adiwoso, Chairperson of the Green Building Council Indonesia, underlined the lack of proper sanitation and access to clean water for most of the urban populations in Indonesian cities. She commented that even though we may be making buildings that perform better, the lack of basic infrastructure challenges the provision of the fundamental conditions of a healthy lifestyle.
Even as reducing emission targets and improving energy performance remain the central focus, a significant parallel emphasis is now being laid upon creating a healthier environment for the well-being of the occupants.
Oswar Mungkasa (Deputy Governor of DKI Jakarta for Spatial Planning and Environment, Jakarta Capital City Government) spoke about Jakarta government's Grand Design of Green Building Implementation vision. Under this vision, the government aims to achieve a 30 per cent reduction in energy consumption, carbon dioxide emissions and water consumption by the year 2030. Given the current lack of support and voluntary participation in Green initiatives, Mungkasa emphasised that this vision can only succeed if there is substantial technical know-how available through collaboration across the civic agencies and stakeholders, and a willingness amongst the owners and users to adopt these measures. At the same time, he opined that sufficient financial investments and amendments to government regulations are required to create the conducive climate necessary to realise the vision.
On the other hand, Sundaresan Raghupathy (Regional Chair, Asia Pacific Regional Network and in-charge of the Indian Green Building Council) informed that the adoption of Green building practices in India has received healthier support from the government as well as building owners and users alike. Emphasising this, he stated that the country now boasts the second highest quantum of Green-rated floor area in the world. The council, together with several other agencies, has been able to diversify its works into various building sectors and regional markets through dedicated local chapters. Such diversification has helped the widespread adoption of Green building practices in India. Raghupathy also mentioned about a new healthy building rating system that shall be introduced under the aegis of the Indian Green Building Council to implement initiatives in the built environment that promote users' health and well-being. Even as reducing emission targets and improving energy performance remain the central focus, a significant parallel emphasis is now being laid upon creating a healthier environment for the well-being of occupants. This has been a visible observation from this year's discourse at the IGBC. A recent research
conducted by BCA and the National University of Singapore (NUS) on indoor environment quality found that besides being more energy efficient, Green Mark-rated buildings also provide a healthier indoor environment for occupants. BCA's Chief Executive Officer Hugh Lim said that making such benefits clear to building users will better engage them as champions of change in promoting Green practices in homes, offices and schools. Visible results of improved living conditions shall make a stronger case for promoting Green practices and behaviour especially in those markets that still face resistance.
Concluding the plenary sessions, Dr Lam Khee Poh (Dean, School of Design and Environment, NUS) also stressed that as all nations strive to upkeep their efforts to improve building performances, create healthier cities and meet their 2030 goals, there needs to be continuous support and investment in the research and development sectors to create technologies for the future, and more importantly, dedicated professionals who shall be able to engineer and lead our future efforts.
Themed Build Green: Be the Change, IGBC 2017 sought to catalyse behavioural change at the individual, interpersonal and community levels. The speakers at the ninth edition of IGBC were unanimous in emphasising that the built environment and the people need to work together. Participation and support from building owners and users, together with stakeholder collaboration and cross-disciplinary working, shall be the key drivers to propel the Green movement forward.
Previously Published Happening