2020
S$385.8 million Green loan for 5One Central
December 16, 2020
ARA Asset Management Limited (ARA) and Chelsfield have secured a S$385.8 million Green loan from DBS Bank and United Overseas Bank Limited (UOB) to finance the acquisition and asset enhancement of their 50:50 joint venture, 5One Central (formerly known as Manulife Centre), in Singapore. The loan is issued under the Green loan framework jointly developed by ARA and Chelsfield, in line with both companies' commitment to developing and designing buildings that achieve the highest standard of sustainability.
5One Central is expected to receive the Green Mark Platinum certification awarded by Singapore's Building and Construction Authority once the asset enhancement is completed in the second half of 2021.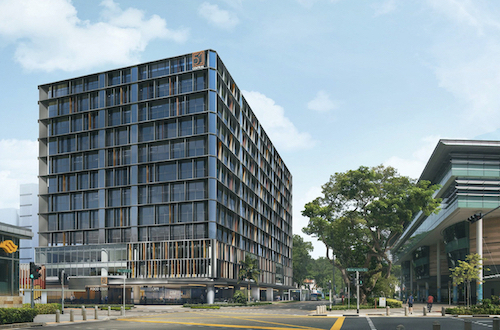 ARA and Chelsfield are reinventing the 11-storey commercial building with several asset enhancement initiatives to improve its environmental footprint and to create a positive impact on the community. For example, the newly-introduced vertical and horizontal fins enhance the building's façade while providing much needed shade to diminish the building's solar heat gain. This ultimately reduces the building's cooling load and energy consumption.
Upon completion, the building will also boast several Green features, including CO₂ sensors to regulate fresh air supply; occupancy sensors to optimise lighting usage; paper and plastic recycling facilities; electric vehicle charging facility; as well as a highly efficient variable and constant air-distribution system. The energy conservation initiatives are expected to cut energy consumption by half.
Other new initiatives include reconfiguring the ground floor retail space to cater to a wider variety of product offerings, refreshing the common areas and facilities, as well as creating additional office space through converting the carpark space on the lower levels.
Spanning across 241,000 square feet, the building comprises a ground floor retail podium and large, contiguous and column-free office floor plates of at least 23,000 square feet. This distinct feature allows occupants to enjoy an efficient office layout and addresses the needs of a post-COVID-19 office that accommodates safe distancing measures.
Stephen Tang, Head of Value Add and Opportunistic Real Estate, ARA Private Funds (APAC Real Estate), said, "As a responsible real assets fund manager, ARA is committed to achieving long term sustainability in our investments and assets. 5One Central, with various initiatives introduced to improve energy efficiency, reflects a strong commitment to our ESG cause. Securing this Green loan is part of achieving greater sustainability in our properties while creating value for our investors."
Nick Loup, Group Vice Chairman, Chief Executive Officer at Chelsfield Asia Limited, said, "In this major repositioning, we have been able to significantly improve the environmental performance of the building while refreshing the design to create a contemporary setting that appeals to the dynamic technology and creative industries."
Chew Chong Lim, Managing Director & Global Head of Real Estate, Institutional Banking, DBS, said, "DBS is delighted to support ARA and Chelsfield on their maiden Green loan for 5One Central, and we applaud the slew of innovative sustainability features that are being incorporated into the development. We see sustainable financing in the real estate sector continuing to gain traction in Singapore and Asia in a post-Covid-19 environment, and to that end, DBS will continue to forge more of such collaborations with our customers to meet tomorrow's sustainability challenges."
Lim Lay Wah, Group Head of Global Financial Institutions Group (Global Financial Sponsors/Property Funds, Non-bank Financial Institutions, Banks), UOB, said, "Singapore's highly built-up environment means that there is a large stock of existing buildings that can be retrofitted to become Greener and more sustainable. As such, we have been proactively working with building owners and asset managers to help them understand how Green financing can be used to support their efforts to make their buildings more environmentally friendly. Through such efforts, we hope to be able to support more clients such as ARA and Chelsfield in achieving their sustainability goals and in turn, contribute to Singapore's push for more Green buildings."
Previously Published Happening