Jan - Feb 2016
NUS establishes Centre for Integrated Building Energy and Sustainability in the Tropics
January 30, 2016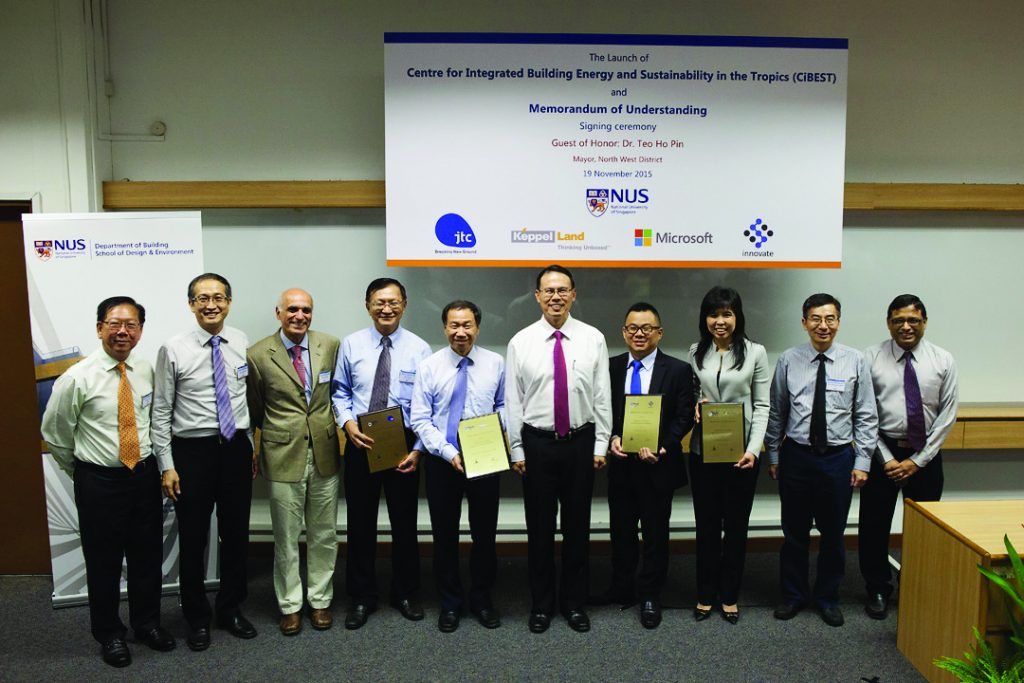 The National University of Singapore's (NUS) School of Design and Environment inaugurated on 19 November the Centre for Integrated building Energy and Sustainability in the Tropics (CiBEST) to develop cutting-edge expertise in designing energy-efficient and sustainable buildings in the tropical climate.
Dr Teo Ho Pin, mayor of North West District, graced the inauguration and MoU signing ceremony as the guest-of-honour. The event, which also included a technical seminar, was attended by about 120 guests from government agencies, academic institutions, building industry, and professional organisations and societies in the field of building and construction.
In conjunction with the inauguration ceremony, CiBEST signed four MoUs with JTC Corporation, Keppel Land, Microsoft Singapore and S3 Innovate Pte Ltd to conduct joint research in the areas of data analytics software, building energy efficiency, energy management and smart nation.
Within the next five years, CiBEST, which is based in the Department of Building, will receive funding of close to S$3 million to strengthen and deepen its capabilities to develop itself as a global leader in this area, as Singapore moves toward becoming a smart nation.
Professor Heng Chye Kiang, dean of the NUS School of Design and Environment, said, "The establishment of CiBEST contributes directly to Singapore's vision of becoming a smart nation, as smart buildings and facilities are integral to this vision."
"Our Department of Building has strong expertise in areas such as building science and climatology, urban heat island and greenery, building energy analysis and benchmarking, smart buildings, thermal comfort and indoor air quality, energy-efficient air-conditioning, building maintainability and Green facilities management, as well as smart building materials. CiBEST consolidates and synergises these capabilities under one roof and celerates the growth of these capabilities at the local, regional and international levels. We look forward to working with our industry partners to develop innovative and integrated solutions for smart buildings and facilities," Professor Heng added.
Helmed by Professor Chandra Sekhar and Associate Professor David Cheong as co-directors, CiBEST has been operational since August 2014. The centre consists of two research clusters in building energy efficiency and sustainable buildings. The building energy efficiency cluster conducts cutting-edge research in the energy efficiency of various types of buildings. The sustainable buildings cluster conducts research in areas such as Green and smart building materials and climatic assessment of urban spaces and buildings in a holistic way. The centre currently has a team of 36 researchers.
CiBEST will partner JTC Corporation and Keppel Land for test-bedding, evaluation, development and commercialisation of research and development solutions. Microsoft Singapore and S3 Innovate Pte Ltd will be technology partners of CiBEST, offering the latest in big data technology and interfaces in linking buildings into an integrated campus network.
Previously Published Happening