2020
IBEW 2020: New opportunities for accelerating climate action and sustainability
September 11, 2020
10 September 2020 — In this keynote session, which is part of the International Built Environment Week (IBEW) 2020, speakers from leading organisations such as the World Green Building Council, City Developments Limited and Beca Asia shared how we can draw lessons from the COVID pandemic and leverage innovative technologies to accelerate global climate action moving forward.
Cristina Gamboa, Chief Executive Officer, World Green Building Council
Cristina Gamboa is CEO of the World Green Building Council (WorldGBC), the strongest local-regional-global network of around 70 Green Building Councils and their 36,000 members, catalysing the uptake of sustainable buildings for everyone, everywhere. Prior to joining WorldGBC in November 2018, she was CEO of Colombia Green Building Council. She also has expertise in economic research, journalism and international affairs.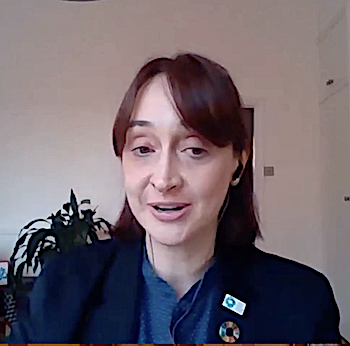 Accelerating climate action has never been more important than before. What I would like to say in this opening remark to start the conversation is that there have been several lessons to be learnt from what we have experienced thus far that can make a difference for the people, the planet and the built environment.
We know that COVID-19 has emphasised the importance of net-zero buildings for economies. Even though we think that there might a reduction in carbon emissions due to, for example, the slowdown in activities, we still consume energy. There are still opportunities in the recovery plans for governments and stakeholders to take action.
Recently, the WorldGBC has launched a new strategy: Sustainable Buildings for Everyone Everywhere.
Sustainable buildings have evolved around three main aspects:
Climate action
Health and well-being
Resources and circularity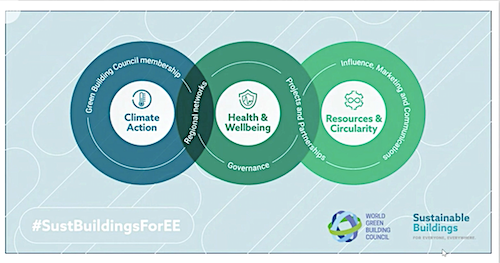 For a long time, we know that buildings have to be part of the solution to address the climate emergency. What we have here is a way forward for us to make a difference, in particular, a systemic change approach and a radical collaboration that we can deliver to have sustainability embedded in all aspects.
Below are five main points that are key to having a conversation on the lessons learnt from COVID-19:
Trusts in scientists
Collaborative government structures
Innovative partnerships
Change the message of mental and physical health
Digital acceleration
The pandemic has shown that there are opportunities for transformation: that we can act and society can be mobilised quickly if we understand that the climate emergency is also putting our health at stake. Buildings do support our health, the health of the planet, and help in a Greener recovery.
A sustainable future is our only future. And history will judge us tomorrow on what we do today. We have solutions. It's time to scale them up; it's time for collective action for a much needed Green and equitable transformation all around the world.

Cristina Gamboa, Chief Executive Officer, World Green Building Council
Esther An, Chief Sustainability Officer, City Developments Limited (CDL)
An active advocate for sustainability for over two decades, Esther has been instrumental in establishing CDL's leadership in integrating ESG best practices into its business. CDL is ranked top real estate company on the Global 100 Most Sustainable Corporations in the World 2020 and is also the only CDP A-List company for climate strategy and water security in SE Asia.

Key ESG initiatives she has spearheaded include publishing the first sustainability report using GRI standards in Singapore in 2008; issuing the first Green bond by a Singaporean company in 2017, and pioneering an SDG Innovation Loan in Singapore in 2019. As a forerunner in embracing the UN SDGs, Esther was conferred 2018 SDG Pioneer for Green Infrastructure and A Low Carbon Economy by the UN Global Compact. She sits on the boards or advisory platforms of several organisations including the World Green Building Council, Singapore Green Building Council, UNEP Finance Initiative Property Work Group, GRI Corporate Leadership Group, Asia Pacific Real Estate Association Singapore Chapter Board, Global Compact Network Singapore and Urban Land Institute Singapore Chapter. An advocate for women empowerment, Esther founded the Women4Green Network to engage women to drive sustainable practices at home, at work and at play.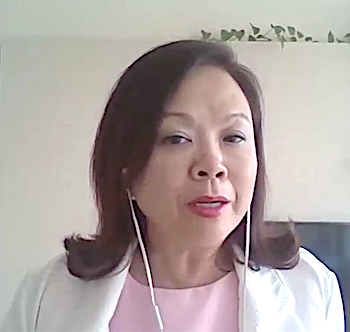 Since the start of 2020, how we live, work and play has been quite disrupted. So now in the new normal, there are several challenges and opportunities for us to reveal our business model and approach. In the UN Climate Action Summit 2019, businesses have been urged to take bold and urgent actions to avoid disastrous consequences by climate change. Evidence indicates that a 1.5-degrees-Celsius compliant business model will be best placed to thrive as the global economy undergoes a transition to a net-zero future by 2050. Embracing and investing in SDGs (Sustainable Development Goals) is the pathway to a sustainable future.
As such, City Developments Limited's four-pillar sustainability strategy are:
Integration: Integrated reporting framework and approach
Innovation and adaption: Technologies and solutions to accelerate Green building, and a low-carbon, resilient economy
Investment: Growing ESG investment and sustainable financing
Impact: Reaching out to value chain and stakeholders
Er. Lee Chuan Seng, Emeritus Chairman, Beca Asia
Lee Chuan Seng is the Emeritus Chairman of Beca Asia, a leading regional engineering consultancy based in Singapore and Chairman of the National Environment Agency of Singapore. Some of his past and present roles are:
Board Member, Building and Construction Authority of Singapore (2003 to 2013)
Deputy Chairman (2011 to 2013)
Chairman BCA Green Mark Advisory Committee (2005 to 2019)
Board Member World Green Building Council (2010 to 2013)
Honorary Advisor, Singapore Green Building Council 2011 to present)
Scientific Advisor, Ministry of National Development Singapore (present)
Chairman, Technical Advisory Workgroup and Exco Member, Urban Solutions and Sustainability, National Research Foundation Singapore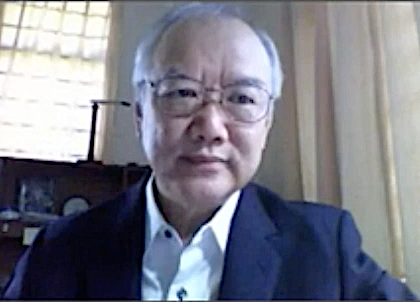 Being a heavily urbanised country, Singapore is almost all built environment, where there a lot of infrastructure. There is an aim to work towards zero waste in a circular economy, to take advantage of new opportunities for accelerating climate action and sustainability.
In Singapore, about 60 per cent is recycled, and 40 per cent of the waste is sent to the incinerators to be burnt. In a circular economy, first we try to reduce, then we try to repair and reuse, and finally, we can try to recycle. Last year, 99.6 per cent of the construction and demolition waste had been reused.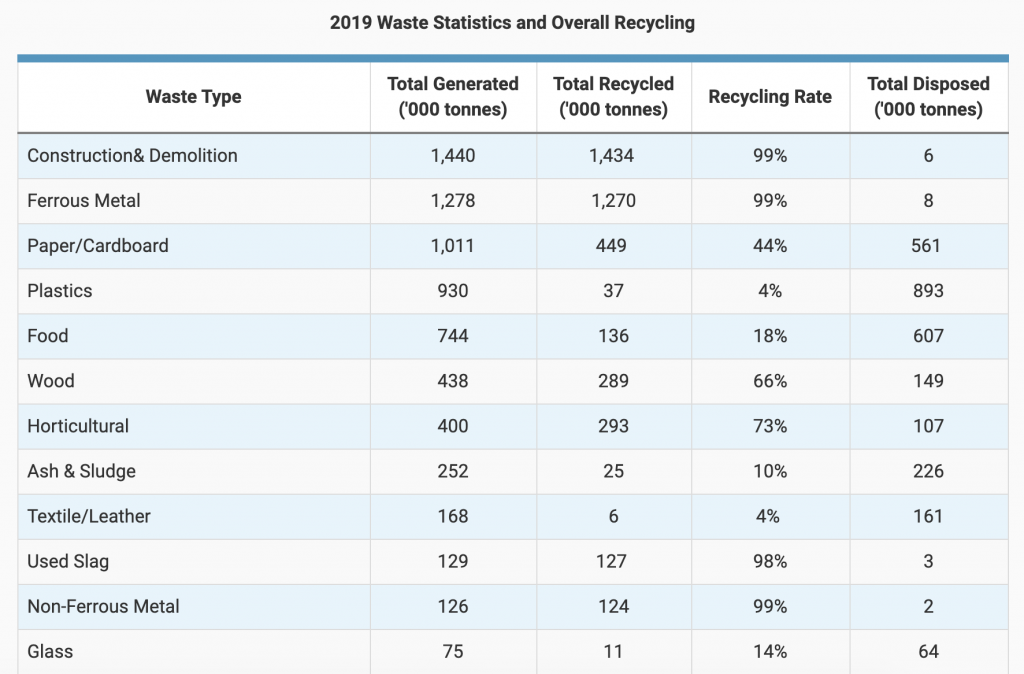 ---
Prof Dr Thomas Schroepfer, Singapore University of Technology and Design, and moderator of this session
Prof Dr Thomas Schroepfer is Full Professor and Founding Associate Head of Pillar of Architecture and Sustainable Design at the Singapore University of Technology and Design and a member of the Steering Committee and Core Research Team of the Singapore-ETH Centre Future Cities Laboratory. His book publications have been translated into several languages and include Dense+Green Cities: Architecture as Urban Ecosystem (2020), Dense+Green: Innovative Building Types for Sustainable Urban Architecture (2016) and Ecological Urban Architecture (2012). He is the recipient of prestigious awards and recognitions including the Asia Education Leadership Award and the President's Design Award, Singapore's highest honour accorded to designers and designs across all disciplines.
Previously Published Happening