Nov - Dec 2018
International Conference on World Class Sustainable Cities (WCSC) 2018
December 28, 2018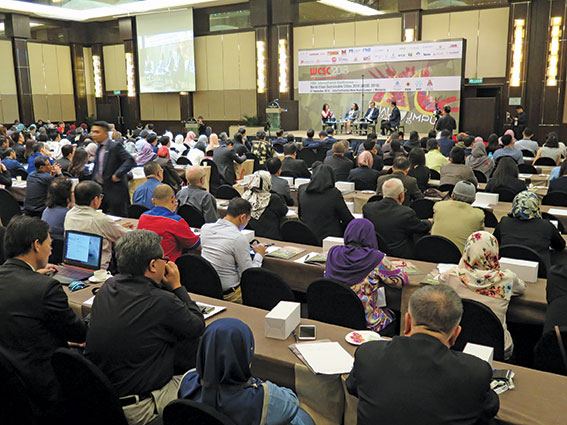 The 10th edition of the International Conference on World Class Sustainable Cities 2018 (WCSC) was held on Thursday, 27th September 2018 at the InterContinental Hotel, Kuala Lumpur, Malaysia. Jointly organised by the Real Estate & Housing Developers' Association Malaysia Wilayah Persekutuan Kuala Lumpur (REHDA K.L.), Malaysian Institute of Planners (MIP) and Malaysian Institute of Architects (PAM), the theme this year was Kuala Lumpur: Today & Beyond.
Today, cities and its inhabitants are facing continuous challenges and pressures for further economic growth and stronger competitive advantage. At the same time, cities are expected to provide for better quality of life in an improved urban environment. This includes a conducive, inclusive and affordable living environment, excellent connectivity as well as ample outdoor public spaces set within a greener, and therefore cooler, urban setting. The present challenge for cities is how to balance the need to provide a sustainable infrastructure and environment within, and the affordability gap that meets the continuous migration and growth of population in the city. Cities therefore need to reinvent themselves to implement and rethink policies and innovative solutions for all issues confronting cities, to achieve the global goal of sustainable development.
WCSC 2018 continued to explore how Kuala Lumpur and other cities in Malaysia can prepare for present and future challenges; to be more liveable, resilient, inclusive and sustainable through better planning, technology and social innovation towards implementing the New Urban Agenda for all. The event had a line-up of local and international speakers including panellists from Italy, Singapore, South Korea and USA, who are renowned for their innovative ideas and solutions for urban planning issues and challenges to provide improved and healthier living habitats.
The speakers shared their knowledge and experiences with the participation from more than 500 delegates representing the built environment industry professionals, government agencies, NGOs and city stakeholders. The keynote speakers included Y.B. Tuan Haji Khalid bin Abd Samad (Minister of Territories, Malaysia), who presented the topic on Kuala Lumpur: A Report Card by the City; Riccardo Andrea Marini (founder and director of Marini Urbanismo, Italy), who presented the topic World's Most Liveable City – Reimagining Cities Through Urban Design; Dr Belinda Yuen (research director, Lee Kuan Yew Centre for Innovative Cities, Singapore), who presented the topic From Planning to Implementation – Lessons from Singapore; Peter Ramstedt (vice president and project director, Turner International, USA), who presented the topic on Urban Transformation in a Malaysian Context.
Previously Published Happening