3rd Quarter 2023
Climate Feature | Special Focus: International Green Building Conference 2023
by Alakesh Dutta
September 20, 2023
The Singapore Green Building Council (SGBC) organised the comeback edition of the International Green Building Conference (IGBC 2023) from 26th to 27th of June 2023 at Singapore's Raffles City Convention Centre. This annual event, returning after a hiatus, has always been a marquee event for the building and construction industry in Singapore and the region. This was reflected in the sizeable turnout of attendees and event partners for this year's event as well. More than 600 delegates participated over the two days, together with 41 organisations that included government agencies, industry associations and SGBC partner companies from Singapore and abroad.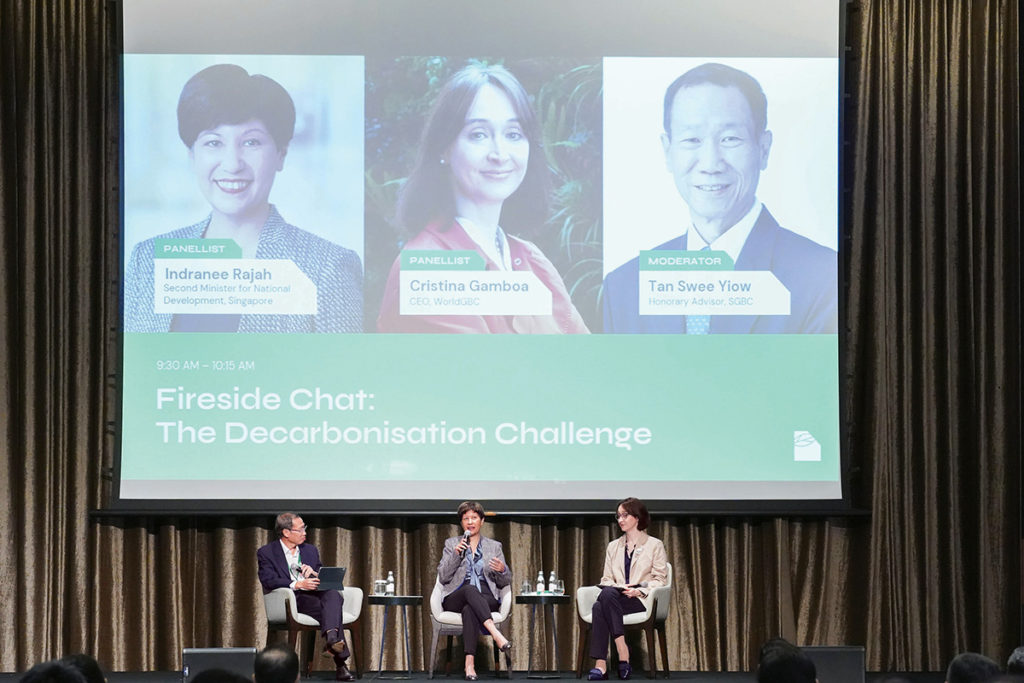 IGBC has always delivered a platform for the industry to share and showcase innovations in design and technology. It brings together key stakeholders to discuss critical issues related to the industry and set the agenda for the future. IGBC 2023 was no different. It unequivocally underlined decarbonisation as the central theme this year with an urgency for the industry to act. The tempo was set upfront by the Guest of Honour, Indranee Rajah, Second Minister for National Development, Singapore in her opening address; and permeated through to the organisational nuances of the event. SGBC urged delegates to use public transport during the event days and catered meals with more plant-based food options. Albeit little measures in themselves, they are transformational gestures nevertheless.
---
Decarbonisation
In her opening address, the minister emphasised the immediacy and severity of the changing climate, noting the gradual increase in Singapore's average temperature since the 1980s, with the highest-ever recorded temperature in 40 years being set just a few days earlier on 13th of May. (At the time of writing this article, blistering heat has been sweeping across larges parts of North America, China and Europe; deadly floods are ravaging several parts of Asia and Europe.)
Minister Rajah stressed that as a civilisation, we must decarbonise to arrest these trends and spoke about Singapore's commitment to achieving Net-Zero emissions by 2050. To this end, the government had launched the Singapore Green Plan in 2021 as a whole-of-nation roadmap that charts targets and strategies spanning key sectors, which must significantly move the needle towards the Net-Zero goal. She highlighted the 80-80-80 in 2030 Vision within the Green Plan that targets the built energy in buildings. It stipulates that:
a. 80 per cent of all buildings (by gross floor area or GFA) to be Greened by 2030 (this requires new and existing buildings undergoing major renovation to achieve 50 per cent and 40 per cent improvements in energy efficiency over 2005 levels respectively)1
b. 80 per cent of all new developments (by GFA) to be super low energy by 2030 (this requires achieving energy efficiency of 60 per cent over 2005 levels)1
c. Best-in-class new buildings to achieve 80 per cent improvement in energy efficiency over 2005 levels by 2030.1

---
Reducing operational carbon
Reducing the demand for operational energy is the necessary first step towards decarbonising a nation's grid. This must then be complemented by generating clean energy to meet the residual demand.
Law Gee Yong from Singapore's Energy Market Authority (EMA) opened the segment on Energy Transformation towards Net-Zero and outlined the strategies being considered by Singapore to decarbonise its national energy supply, which at present relies almost wholly on imported natural gas. EMA is working towards developing additional energy sources to reduce this dependency on natural gas and to decarbonise. These mainly include:
• Increasing solar PV deployment within Singapore.
• Creating a regional power grid to share clean energy.
• Investing in technologies like Green hydrogen as the clean fuel of the future.
[This is an excerpt. Subscribe to the digital edition or hardcopy to read the complete article.]
---

References:
¹ Building and Construction Authority, Singapore Green Building COuncil. Singapore Green Building Masterplan (4th Edition).
2 Sustainable and Affordable Housing Report. World Green Building Council. [Online] https://worldgbc.org/article/sustainable-and-affordable-housing/.
Previously Published Happening