2021
IBEW 2021 Reimagines a Greener Future
September 10, 2021
"We are the first generation to feel the impact of climate change and the last generation that can do something about it," quotes the moderator of the Opening Plenary of the International Built Environment Week (IBEW). Since the built environment sector accounts for almost 40 per cent of global energy use and carbon dioxide emissions, we need stronger collaboration for sustainability across the industry, if we are to reach net zero carbon goals by 2050.
This was an important message throughout IBEW, held on 7–10 September 2021 with a fully virtual audience from Singapore and globally. This year's theme, "Re-imagining the Future", asked the question of what's next for the built environment sector, facing a post-pandemic world and looming threats of climate change.
Organised by BCA International, a subsidiary of the Building and Construction Authority, the event featured three days of seminars and a trade show in partnership with Reed Exhibitions Singapore and supported by 12 Trade Associations and Chambers.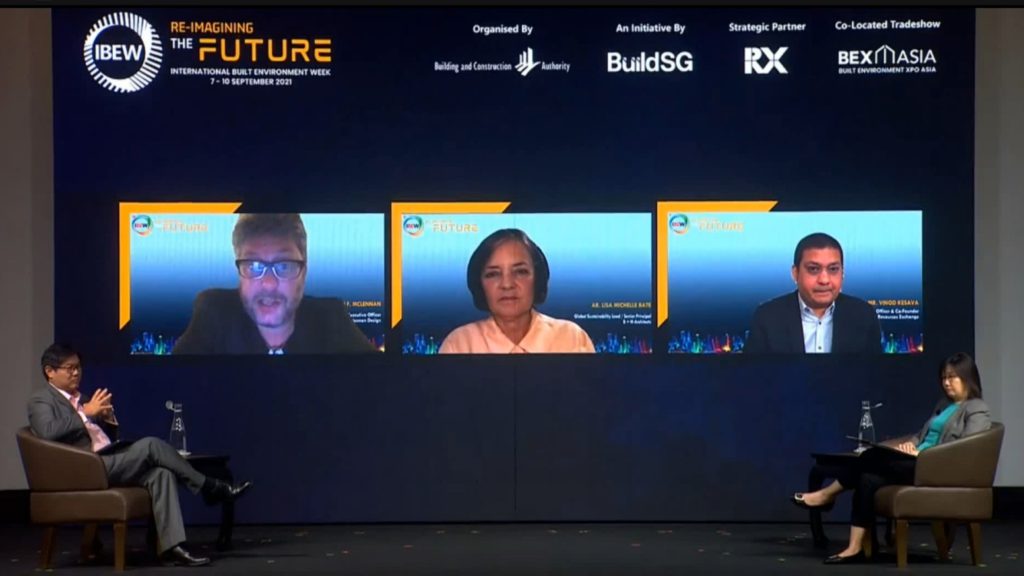 IBEW 2021 was opened with a speech from Minister Desmond Lee, who announced a revamped Green Mark certification scheme called the BCA GM:2021. This scheme would aim to achieve 80% of all buildings to be Green, and 80% of new developments to be Super Low Energy (SLE) buildings by 2030.
The first day of seminars was followed by plenary sessions on the opportunities, challenges and insights in achieving a net-zero world. The speakers showcased some of the most advanced Green projects in the world today, and outlined best practices in the race towards zero carbon, from buildings to cities.
The second day saw leaders discussing how to build back better towards an agile ecosystem in facing the pandemic. Presented in detail were smart solutions for crucial systems, such as HVAC and energy generation.
The third and final day of seminars concluded with future-forward visions for the built environment. The conversations highlighted an importance to move beyond biophilia into a bio-centric mindset: that developmental goals must prioritise ecology at its heart.
On the fourth day, a trade show featured demos from innovative services and start-ups, followed by virtual networking sessions. This online format enabled the gathering of various professionals with a lower carbon footprint by minimising travel, and brings hope for further collaboration in the built environment sector, evolving and being more resilient in facing the future.
Previously Published Happening