Nov - Dec 2016
Future-proofing the built environment
November 6, 2016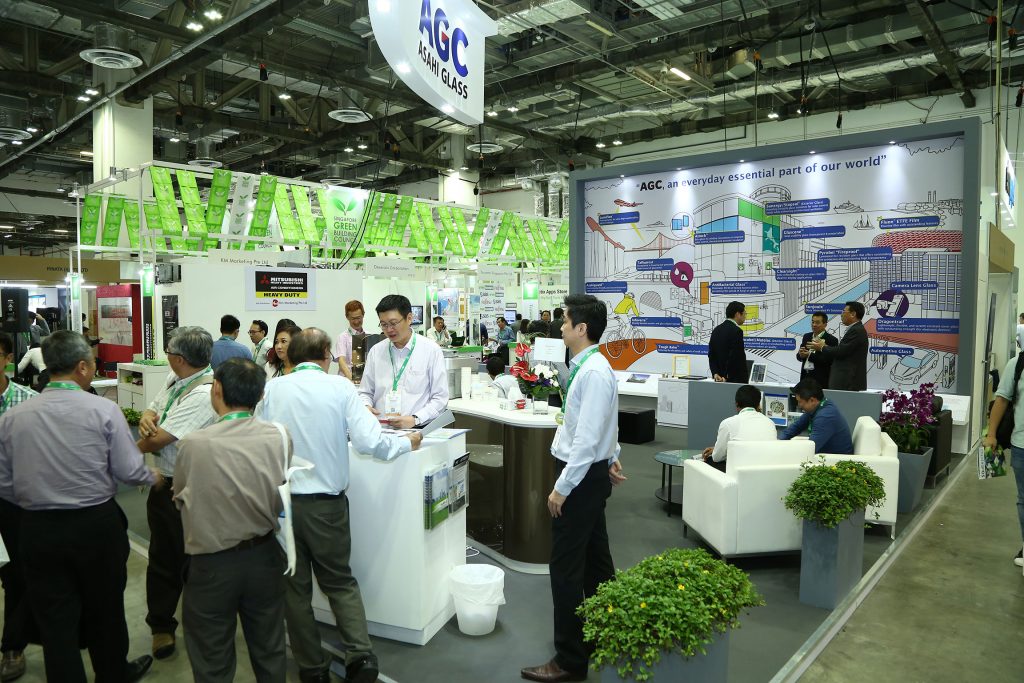 Build Eco Xpo (BEX) Asia, Mostra Convegno Expocomfort (MCE) Asia and International Green Building Conference (IGBC) (see Special Focus report) were the anchor events of the Singapore Green Building Week (SGBW) organised by the Building and Construction Authority of Singapore (BCA). Held at Marina Bay Sands Expo and Convention Centre Singapore from 7 to 9 September 2016, it was attended by close to 12,000 visitors from 57 countries including China; India; Indonesia; Italy; Malaysia; Philippines; Thailand; Vietnam; and USA, an 8 percent increase in participation from 2015.
BEX Asia
BEX Asia, Southeast Asia's leading trade exhibition, returned for the ninth year with a total of 450 exhibiting companies representing 27 countries, providing a common platform for the Green building industry to source, network, learn and grow. Green building experts, policymakers, academics and practitioners of international recognition convened to discuss new sustainable ideas and solutions to future-proof the built environment.
Lawrence Wong, minister for National Development, graced the joint opening ceremony of BEX Asia, IGBC and MCE Asia 20161. He shared, "This year, the theme of our Green Building Week is on the future. As the theme says, it is about our next decade and the efforts that we need to take to advance our Green building movement over the next 10 years. So we will have particular focus on new technologies, on what we should be doing in the next few years to really take steps forward and advance our Green building agenda."
Exhibitors showcased ways in which environmentally friendly buildings would be able to function in tandem with smart, energy-efficient technologies for a regenerative approach to building designs. Visitors to BEX Asia this year saw a strategic three-way rollout of the exhibition and seminar to focus on Green architecture, smart technologies and energy-efficient solutions. The three-day event also facilitated 373 one-to-one business meetings, as well as key networking sessions with regional delegations including Indonesia, Malaysia, Vietnam and Italy, with more than USD130 million expected in Green building business transactions.
"Singapore is widely regarded as a liveable and sustainable city. But this achievement did not come by chance, and is the result of meticulous planning, foresight and more importantly, multi-party and inter-country collaboration. We've seen how advancements in technology are disrupting the ecosystem, and the Green building industry is of no exception. BEX Asia and MCE Asia are therefore excellent trade platforms to encourage information sharing amongst industry practitioners," said Tai Lee Siang, chair, board of directors, World Green Building Council (WGBC).
"In line with the Building and Construction Authority of Singapore's recent efforts to encourage building users and owners to play a bigger role in the Green building industry, we are very proud to have created a platform through BEX Asia and MCE Asia, where the various stakeholders can come together to have a better understanding and awareness [of how] to transform spaces and buildings to be more environmentally friendly," said Louise Chua, business development director and project director, Reed Exhibitions, organiser of BEX Asia and MCE Asia 2016.
MCE Asia
With the accelerating climate change and rapid population growth, the call for more energy- and cost-efficient buildings in Southeast Asia is immediate. There is a growing focus on the investment of research and development in eco-friendly technologies, and the adoption and integration of these new solutions to capitalise on their potential.
The second edition of MCE Asia is the leading trade exhibition dedicated to energy-efficient solutions in heating, ventilation, air conditioning and refrigeration; plumbing technology and sanitary accessories; and solar energy. The event showcased the latest energy-efficient innovations and products for internal building conditions, from countries such as Canada, Germany, Italy, Japan and Korea. Forty-eight international speakers also shared their thoughts at the Green View and Mostra Xchange seminars.
The next editions of BEX Asia and MCE Asia will be held from 13 to 15 September 2017.
Previously Published Happening