2nd Quarter 2022
FuturArc Exchange and Exhibitions (FEX) | 2Q 2022
June 15, 2022
Architects all over Indonesia's archipelagic territory have always been drawing from the wealth of wisdom from various building traditions, creating works that are rooted and responsive to their context while also innovating in various ways, thanks to new technologies and the openness of information. FEX events provide an avenue for architects, designers and other construction industry professionals to exchange their insights, building a broader perspective on the challenges, potentials and opportunities that are present in different regions.
---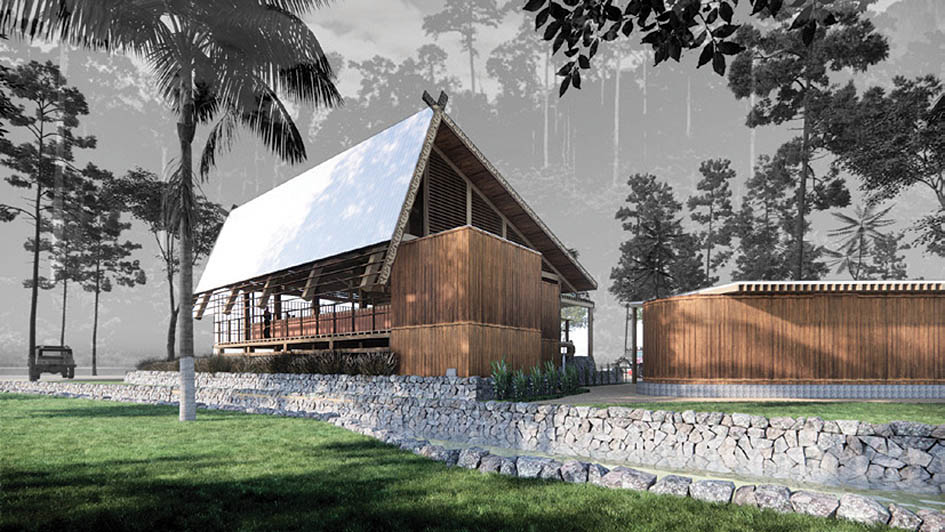 Date 4 February 2022
Audience Yogyakarta
Venue Grand Tjokro
Technology reviews Bluescope; Hunter Douglas Indonesia-Architectural; TOA Paint
Supported by Indonesian Institute of Architects (IAI) Yogyakarta; Sunpower
To kick off the year's events, this offline session saw two architects presenting their notable projects. "I want to connect architecture to Nature and create very emotional and spiritual spaces for everyday life," said architect Agung Rudianto about his personal philosophy, which drives the project explorations done by Deamaya Studio. This is evident in Ukhuwah High School, an Islamic institution in Banjarmasin, South Kalimantan that draws inspiration from façade patterns of vernacular buildings, translating them into a plaid-like arrangement of openings. The strategy of recalling familiar traditional forms is also applied to the distinctive roof and breathable partitions in Batu Tilam Check Point, a rest area amidst an off-road forest trail in Riau, Sumatra Island.
Meanwhile, Aris Munandar of Hepta Desain recalled the firm's two-decade journey in attempting to study various local contexts to synthesise sitespecific solutions. Their most recent projects include a nature park in Lejja, South Sulawesi and Huta-n, a 15-hectare science and technology park combined with a herbal and horticultural research centre in Humbang Hasundutan, North Sumatra. On the food estate forest land, they implemented a master planning configuration that ensures a clear looping circulation for electrical and mechanical services and waste processing. The buildings are split up into smaller masses to enable sunlight penetration and cross-ventilation, are limited to four storeys tall and built with stilted structures to minimally disrupt the fertile soil.
---

Date 18 March 2022
Audience Bandung
Venue Zoom session
Technology review Hunter Douglas Indonesia-Architectural; Mulia Ceramics
Supported by IAI Jawa Barat
In the continuing endeavour to regenerate a practice that was originally established in 1990, Arief Isrefidianto of AI-CTLA Studio highlighted the importance to collaborate while adhering to fundamental principles. For the office, these are affordability and understandability—because a project is most meaningful when it can be understood and maintained independently by its users.
One of their 'grand challenge' projects was the Green Factory Creative Hub in Middlesbrough, United Kingdom. It was an urban regeneration project for an ex-industrial area with old buildings, unused factories and warehouses, integrating it with surrounding areas to become a lively development. Closer to home and in a rural context, they designed the master plan for Huntara Agro Village in Sleman, Yogyakarta, where the village infrastructure and homes were arranged in rectangular clusters to form central open spaces for communal activities.
---

Date 25 March 2022
Audience Bali
Venue Swiss-Belhotel Denpasar Kuta
Technology review Avian Brands, Hunter Douglas Indonesia-Architectural
Supported by IAI Bali
Contemporary homes in Bali are almost synonymous with inside-outside architecture that takes advantage of the year-round tropical climate. In this offline event, Bali-based Ryan B. Saputra of Dialog Desain Studio presented several projects, including Silent Beach Retreat in Tabanan. It was designed as a series of stilted villas with footplate foundations, minimising damage on the contoured site. Similar stilted structures were also designed for a sloped hill inRomania for Skylark Hub, which is a minimalist-style living cluster targeted at start-up entrepreneurs.
Yanuar Pratama of Aaksen Studio spoke about their philosophy of 'responsible architecture': transforming lifestyles by achieving comfortable living through passive design strategies and, most importantly, optimising every resource available. The office gained popularity and won international awards through their project Norhouse, which is a compact dwelling designed for the tropical context using prefabricated materials. Anticipating more demand for alternative living solutions in the future, they are developing and testing sustainable micro-buildings such as their prefabricated cabin-office and Amular Home.
---

Date 1 April 2022
Audience East Java
Venue Zoom session
Technology review Signify
Supported by IAI Jawa Timur
In the presentation titled Developing a Dream, Primaldy Perdana of LABWRKS Architects expressed that architecture holds a massive responsibility in shaping the future, having direct impact on the site and community. Having won several design competitions, Primaldy shared stories and challenges of 'safeguarding' projects from idea to execution.
These included keeping the most impactful elements for Ngloram Airport in Blora, Central Java: a main hall with laser-cut canopies that filtered sunlight into the space. For Rusun Tongkol, a social housing project in the flood-prone area of Ancol, North Jakarta, the original idea of creating concave water traps was further modified with an 'urban void' to highlight the city's axis road, creating a focal point that serves as a gathering space for residents.
---

Date 8 April 2022
Audience Central Java
Venue Zoom session
Technology review Fumira; Mulia Ceramics
Supported by IAI Jawa Tengah
Ryan B. Saputra of Dialog Desain Studio, located in Denpasar, reprised his role as a speaker in this event. One of the projects showcased was Garba Nanda, a renovation project aimed at improving a local birthing and postpartum treatment centre in the sub-district of Pedungan. The design objective was to create thermally comfortable, naturally-lit and ventilated spaces, as well as providing activity areas for pregnant mothers and families. This was achieved through 'porous' brick arrangements and reusing colourful window slats as façade materials.
"Some people think that the output of architecture is inanimate objects. However, the task of the architect/designer is to add 'soul' to the objects," Ryan stated. "The birth of Garba Nanda was the result of our contemplation that health facilities should provide spaces to improve the quality of life, and not be intimidating for the users."
---

Date 22 April 2022
Audience South Sulawesi
Venue Zoom session
Technology review Mapei; Hunter Douglas Indonesia-Architectural
Supported by IAI Sulawesi Selatan
Andhika Nugraha Siregar of Studio Entitas presented their latest completed and ongoing projects in Medan, which are characterised by playful geometric shapes. Located at a rectangular piece of land that is much longer than it is wide, W House is designed with an expansive backyard, leaving the main building to be divided by diagonal partitions to create a triangle-shaped inner court.
Y Commune, a five-storey office building, is centred around a curving staircase topped with a skylight. The project was inspired by the Memphis Design style (known for its clashing colours, shapes and patterns in haphazard arrangements), meant to inspire happy moments and exude optimism in the workplace.
---

Previously Published Happening