2nd Quarter 2023
FuturArc Exchange and Exhibitions (FEX) | 2Q 2023
June 19, 2023
Finding inspiration for architectural design does not always need to come from novelty—good solutions can come from retracing one's past experience, interests and even connections. This is something that has been often expressed by speakers of FEX, who are leaders and senior architects with an array of notable projects across the nation, to the audience of fellow designers and construction industry professionals.
---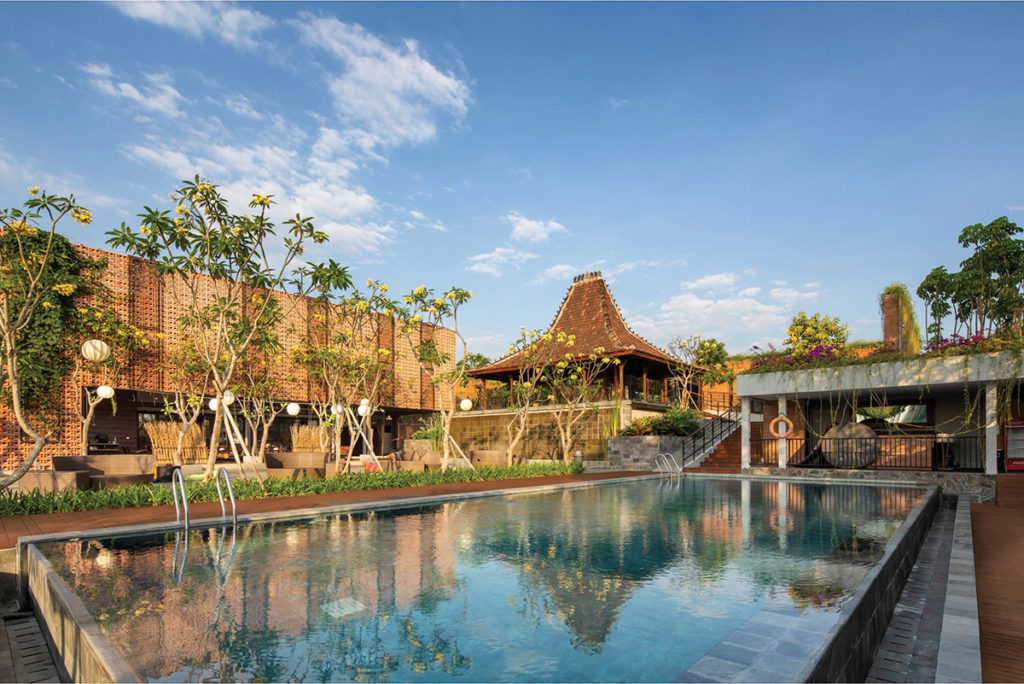 Date 3 March 2023
Audience Bandung
Venue West Point Hotel Bandung
Technology reviews PT Anugerah Magna Nanoteknologi; Bluescope; Hunter Douglas Indonesia-Architectural
Supported by Ikatan Arsitek Indonesia (IAI) Jawa Barat
"Never grow up, it's a trap!" said Rekotomo Prasetyo of Rachnamatra, telling the story of how the office has found inspiration from constantly being 'dreamers'. By finding like-minded colleagues that carry the same childlike wonder in the field of architecture, they were able to gain the trust of clients that repeatedly assigned them with projects. This included the master plan of the 65-hectare new town cluster of Bukit Semarang Baru (BSB) Village in Central Java, where they also designed the commercial area and the open-air, vernacular-inspired Clubhouse and Marketing Gallery.
Azhari Nurrakhman of LABWRKS Architects also reminisced about his early interest in the built environment ever since playing the town-building game of Simcity 2000 in 1993. In recent years, the office has been venturing into metaverse research, comparing and contrasting the architect's role in the analogue or "meatverse" world with new possibilities in the virtual realm. They identified how typologies such as education, commerce, community centres and museums/galleries have high potential to be moved on-screen, and how such 'spaces' could be enriched by architects' expertise.
---
Date 10 March 2023
Audience Batam
Venue Swiss-Belhotel Harbour Bay Batam
Technology review Mapei Indonesia
Supported by IAI Kepulauan Riau
Setting itself apart from other government office buildings in the area, the Port Business Entity building (Kantor Badan Usaha Pelabuhan) in Batam has been designed with a massive internal void for cross-ventilation and landscaping, further topped by solar panels.
Presenting this project at FEX, Supriyanto of Almatra Buana discussed the design, which had been done in collaboration with Antonius Richard.
Also with a seaside context, Artria Pratomo of K.O.H shared the project called Shelter Marina. This shelter for alighting passengers at a harbour originally had the design of a wavy roof canopy, inspired by the sea to tie together the appearance of buildings in the entire area. However, the construction faced various challenges, including a shortened schedule, and resulted in the roof being simplified.

---
Date 30 March 2023
Audience Jakarta; Surabaya; Yogyakarta; Medan; Makassar; Balikpapan
Venue Zoom session
Technology review Samsung Indonesia
This FEX Premium session invited Ren Katili, Principal of Studio Arsitektropis, whose climate-responsive designs placed emphasis on passively cooling the exterior of a space in order to optimise the thermal comfort indoors. Among the strategies that he applies are to maximise self-shading, increase the number of plants and to ensure good air flow. Sometimes the office also borrows inspiration from architectural features in hot climates abroad, such as mashrabiya or Middle Eastern woven screens to enclose windows.
---
Date 31 March 2023
Audience Makassar
Venue Swiss-Belinn Panakukkang Makassar
Technology reviews Avian Brands; Bluescope
Exhibitors Kayu Asri; Sun Power; Konsorsium Arsitek Makassar
Supported by IAI Sulawesi Selatan
"Find a great mentor," said Zaldi Suradin of AIDA, sharing an important lesson for young and emerging architects in the audience. The firm's projects such as Gapis Park in Soppeng, South Sulawesi aim to provide a public green space in the city in the hopes of enhancing interaction between generations.

Irwan Lubis of BD Studio presented the firm's completed and ongoing projects including Andaliman Café and Eatery, which features a playground that has been designed for children with disabilities as its main user. The 'playscape' is placed at the front court and maximises accessibility, providing key views to and from the eatery complex for extra safety.
---
Date 14 April 2023
Audience Denpasar
Venue Swiss-Belresort Watu Jimbar
Technology reviews PT Anugerah Magna Nanoteknologi; PT Surya Multi Cemerlang
Supported by IAI Bali
Empathy for users, society, the environment and for architecture itself is something that Clifford Sutedjo of Spasi Architects underlined as the firm's philosophy. "Making an empathetic yet progressive space requires us to walk in others' shoes, while wearing our own innovative glasses," he said. Their project Kubika Space in Sidoarjo aims to enliven a nearby residential area by creating event and market spaces with eateries, providing a 'shelter' for the community.
Bioclimatic design is an important tenet for Julius Saptian of Atelier Generations Vasudeva Design (GVD), showcasing an array of hospitality projects such as Nyanyi Cabins designed along a contoured riverfront site. The project aims to minimise the building footprint by interweaving the modular cabins along the landscape, expandable into two storeys for future flexibility while minimising disturbance on the land.

---
Read more stories from FuturArc 2Q 2023: Old is Gold!

Previously Published Happening