3rd Quarter 2023
FuturArc Exchange and Exhibitions (FEX) | 3Q 2023
September 20, 2023
What can architects discover through design? Along the design process, problems will often be uncovered. The architect's role is to see them through a creative lens—then ideating and testing solutions. The following are highlights from FEX events held across Indonesia, featuring leading architects that have discovered contextual design solutions in their projects, presenting to an audience of fellow designers and construction industry professionals.
---
Date 5 May 2023
Audience Malang
Venue Ascent Premiere Hotel & Convention
Technology review Hunter Douglas Architectural
Exhibitor Kayu Asri
Supported by Ikatan Arsitek Indonesia (IAI) Jawa Timur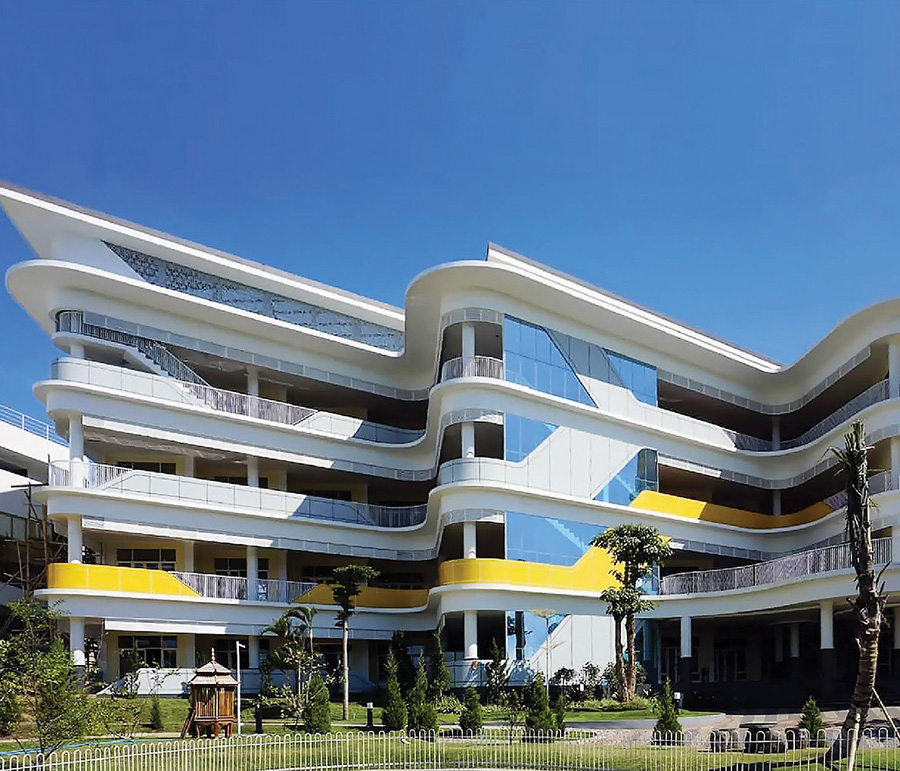 Founded in 2012 by architect Livie Sukma Taristania, AAA-studio has handled private and public projects, from residences to public buildings. Among their portfolio is the Thursina International Islamic Boarding School complex in Malang, where they took part in master planning and designing buildings within the campus. In response to the tropical climate, many of them applied sun-shading strategies through patterned cut-out screens or deep-set balconies, such as the fluidly shaped Granada Student Dormitories, the teachers' apartment building and the Thursina Mosque.
Artria Pratomo, principal of K.O.H, engaged the audience with scans of his journals from 2009 to recent times, documenting his master's studies and professional practice. Sketches and study notes revealed his range of inspirations, from everyday construction details to how time can be emphasised as "the fourth dimension in architecture".
---
Date 12 May 2023
Audience Medan
Venue Hotel Aryaduta
Technology reviews Hunter Douglas Architectural; International Finance Corporation (IFC); Mapei Indonesia
Supported by IAI Sumatera Utara
Muhammad Syahrir Harahap co-founded Harasire in 2020. The studio's principles of adaptation and innovation responded to what he considers "existential questions" related to the architectural profession. As an example, user-friendly software can easily generate numerous floor plans within seconds, making the design process more efficient—or eliminating clients' needs to consult altogether. Syahrir believes that the architect's task in an automated world is to imbue emotion and feeling—some of his projects emphasise small, humane details such as semi-translucent, shutter-like materials layered over the windows of Lampion House and accented gaps in Celah House.
Freddy Simamora is the founder of Fasade23 Architect and also runs Suar Desa (Studio Arsitektur Desa), focusing on the study, preservation and recreation of vernacular architecture. He likens the process to "collecting and assembling puzzle pieces", diving into ethnographic research of the Pakpak tribal people indigenous to northern Sumatera and documenting their existing architecture across the ancestral land. A traditional house in Sibande Village was digitally modelled and analysed, then reconstructed along with the community to reinvigorate local craftsmanship.
---
Date 19 May 2023
Audience Batam
Venue Swiss-Belhotel Harbour Bay
Technology review Avian Brands
Supported by IAI Kepulauan Riau
Dandung Setiadi, principal of Dandung Adhi Kreasi presented the design of campus buildings for Universitas Universal (UVERS) in Batam. In the equatorial heat, a cool microclimate is created with the help of a manmade pond. Overlooking this pond is a theatre building, designed with a perforated sun-shading building envelope.
As a proponent of climate-responsive design, Ren Katili established Studio ArsitekropiS in 2014. He disclosed how he found like-minded clients: 55 per cent through word of mouth, 40 per cent through discovering his content on social media and the remaining five per cent "by chance". Studying passive design principles from houses in an era before air-conditioning, ArsitektropiS translated them with modern sensibilities, shown in projects such as Pondok Indah House with tall ceilings that helped discharge hot air.
---

Date 26 May 2023
Audience Denpasar
Venue Swiss-Belhotel Rainforest Kuta
Technology review Avian Brands
Supported by IAI Bali
Chandra Apsari, principal of the multidisciplinary consultant SHL Asia (Swarna Hutama Loka), spoke about their design philosophy of desa, kala, patra or "time, place and identity". Their approach considers each project's needs while revering the site's natural conditions, local culture and art. Projects like the Andaz Bali and Natya Resort place emphasis on the landscape, integrating existing trees to achieve serenity in the design.
To the Denpasar audience, Ren Katili of ArsitektropiS shared that convincing clients to believe in an architect's vision hinges upon one's communication skills. He expressed that while some architects may assume that their design fee is what makes or breaks a deal, their personable approach to the client and concise formulation of design issues actually play a much more important role.
---
Date 9 June 2023
Audience Balikpapan
Venue Swiss-Belhotel Balikpapan
Technology reviews Bostik; TOA Paint
Exhibitors Kayu Asri; Spindo Steel Pipe
Supported by IAI Balikpapan
"God is not in the details—god is in the concept," was a tip shared by Aris Munandar of Hepta Desain specifically about the firm's experience in winning numerous design competitions. This was the focus of his session, with pointers such as: "review design references—other competitions' champions, similar typologies, how others' panels look. Do not be afraid to explore the design to be unconventional. Divide the task based on what each person is good at—from making concept diagrams, panel compiling, to arranging the text. Imagine the prize to gain motivation!" And most importantly, "know when to stop designing."
Maxy Medwin Sandy Rumengan of Sinar Mas Land presented the design of a culinary hub inside the Grand City Balikpapan complex. The buildings are single-storey and oriented around a lake, to be equipped with bicycling paths, an outdoor gym and playgrounds. The open-air dining terraces aim to reduce the consumption of energy compared to indoor air-conditioning.
---
Date 16 June 2023
Audience Padang
Venue The ZHM Premiere Padang
Technology review Epson
Supported by IAI Sumatera Barat
Renggo Pernanda, founder of Archividea, has won design competitions held by state-owned corporations. An example is the new office of PT Pelabuhan Indonesia in Makassar, South Sulawesi, which faces the ocean. Named Sulapa' Eppa' (meaning 'four sides') as inspired by traditional Bugis cosmology, the square building implemented façade fins to shield against direct sunlight. The fins also formed the company's logo when viewed from a certain angle.
In the era of computer-generated imagery, Artria Pratomo, principal of K.O.H Studio, shared a message of caution to fellow architects: "don't fall into the trap of visuals—what's being used by humans is the empty spaces inside buildings." He likened architecture to building a nest, using local materials where possible to reduce carbon emissions.

---
Date 23 June 2023
Audience Makassar
Venue Four Points by Sheraton Makassar
Technology review Avian Brands
Supported by IAI Sulawesi Selatan; Konsorsium Arsitek Makassar
The Public Works department of Makassar wanted to improve facilities in the 0.8-hectare island of Kodingareng Keke, located 13 kilometres away from the town, and prepare it for government-owned tourism initiatives. The winner of the design competition was Karyadi Muhammad Architects, and the principal presented it along with the firm's other projects in this session of FEX. Low-cost but effective bamboo fencing, weighted down by bags of sand, would be used to break the intensity of waves around the island as proven by studies from a municipal research agency. Recycled fish baskets were also envisioned to become building materials, where plants could be grown on the porous plastic containers.
On a narrow residential plot in South Jakarta, the project Ozone House by Studio ArsitektropiS in collaboration with Nimara Architect managed to include an outdoor seating area and install solar panels as a hybrid source of electricity. Principal Ren Katili recounted how delighted the client was that their electricity bill was drastically reduced, despite the inhabitants working full-time from home and using an assortment of household gadgets.

---
Date 7 July 2023
Audience Surabaya
Venue Wyndham Surabaya
Technology reviews Hunter Douglas Architectural; Jayaboard
Exhibitor Kayu Asri
Supported by IAI Jawa Timur
Agung Rudianto, founder of Deamaya, presented the firm's recent designs including Al Azhar International Islamic Boarding School in Karanganyar, East Java. Geometric motifs adorned spaces large and small, from patterned skylights in prayer rooms to the large hexagonal dome spanning the campus atrium. The designs were inspired by nearby landmarks of Mount Lawu and the stepped architecture of Sukuh Temple, combined to become gradually inclining buildings.
Among the recent projects handled by OTTO Architecture is the rejuvenation of the Balai Pemuda heritage complex in Surabaya. Principal Fulbert Otto Sutanto explained that in collaboration with ARA studio, they improved connectivity between the buildings by designing the central plaza landscape. A new basement-level access was also designed with transparent materials to not disrupt the historic architecture.
---
Date 14 July 2023
Audience Yogyakarta
Venue Hotel Sahid Raya Convention Yogyakarta
Technology review Hunter Douglas Architectural
Exhibitor Kayu Asri
Supported by IAI Daerah Istimewa Yogyakarta
Eka Feri Rudianto of Desain Sarana Intermatra has handled many high-rise residential projects, and shared with the audience about tailoring each project to specific needs. "Understand the project owner, because the process will be different between government-owned companies, state corporations and private companies," he said. "What does the owner want to achieve, and what are their anxieties?" For the end user, an understanding of the target market's behaviours and expectations is key. The projects of Ismail Yakub Arsitek often showcase natural materials like wood and brick to result in a warm and friendly ambiance. Among the projects presented, Swasana Resto in Yogyakarta notably incorporated tree ferns, palms and potted ornamental plants throughout the indoor and outdoor spaces.
---
Date 21 July 2023
Audience Denpasar
Venue Swiss-Belresort Watu Jimbar Sanur
Technology reviews Epson; Sun Power Ceramics
Exhibitor Kayu Asri
Supported by IAI Bali
Green building criteria was the focus of the session featuring Ari Setya Wibawa, principal of Taru Arsitek. Ari has been involved as a Green building consultant in various projects, such as the Sukawati Art Market in Gianyar. He compared the ministry's criteria of Bangunan Gedung Hijau Garuda between 2016 and 2021, with the latest revision adding detailed parameters since the planning and design process.
The upcoming projects of Hepta Desain, presented by Aris Munandar, include the Laswi City Heritage complex in Bandung. This 20-hectare adaptive reuse project will be built on land that used to contain railway supply warehouses belonging to PT Kereta Api Indonesia. Heritage buildings in the complex will be preserved, and old train cars will be repurposed into new functions such as restaurants. A portion of the area will be dedicated for public use, sports facilities and event spaces.
---

Date 28 July 2023
Audience Bandung
Venue West Point Hotel Bandung
Technology review Avian Brands
Supported by IAI Jawa Barat
The renovation of a villa in Cijapati, a multi-function campus hall in Cirebon, and a modern take on a traditional West Javanese house called the Mandapa were among projects presented by Baskoro Tedjo, principal of Baskoro Tedjo & Associates. Undertaking projects in close collaboration with firms like Hepta Desain, Baskoro expressed that working with different architects is a good source of inspiration.
Ren Katili of Studio ArsitektropiS responded to the flood-prone conditions of North Jakarta in the design of Kelapa Gading House: "not by keeping floodwater out of the house, but rather designing to allow the home to be flooded." In the rainy season, floods of around 1 metre high—projected to double in the future—was expected to hit the area. To withstand flooding, the house's ground level only included circulation and service areas, equipped with infiltration wells inside the landscape. Living spaces and even the swimming pool were elevated over 2.5 metres to the upper floor, connected by a ramp for ease of movement. This concept was adapted from the resilience of traditional stilted homes.
---

Previously Published Happening