1st Quarter 2023
FuturArc Exchange and Exhibitions (FEX) | 1Q 2023
March 21, 2023
Sustainable architecture should be suited to its users' habits and needs. To this end, architects need to familiarise themselves with a variety of different contexts. FEX provides an avenue to stay updated with design solutions by fellow professionals and learn from each other's experiences.
---
Date 4 November 2022
Audience Medan, North Sumatra
Venue Hotel Aryaduta
Technology reviews Roda Bangun Mandiri; Avian Brands
Supported by IAI Sumatra Utara
Is it possible to Green a massive international fast food chain? Yanuar Pratama Firdaus, Principal of Aaksen Responsible Architecture, has done precisely that—McDonald's at Boulevard Barat Kelapa Gading is the franchise's first eco-friendly restaurant in Indonesia. Completed in October 2022, the restaurant incorporated 35 modules of solar panels, a woven rattan façade, eco-bricks and a deck made out of recycled materials. Around 45 per cent of the parking area is made permeable with lawns and grass blocks to allow rainwater absorption.
Designing what he described as a "layered intervention in a heritage context", Soehardi Hartono of Hartono Design Syndicate explained the past and vision behind Lapangan Merdeka Medan. The town square is in the process of being transformed into a low-emission zone with open parks. An adjacent train station serves as a transportation hub, connected to the town's BRT and airport rail link.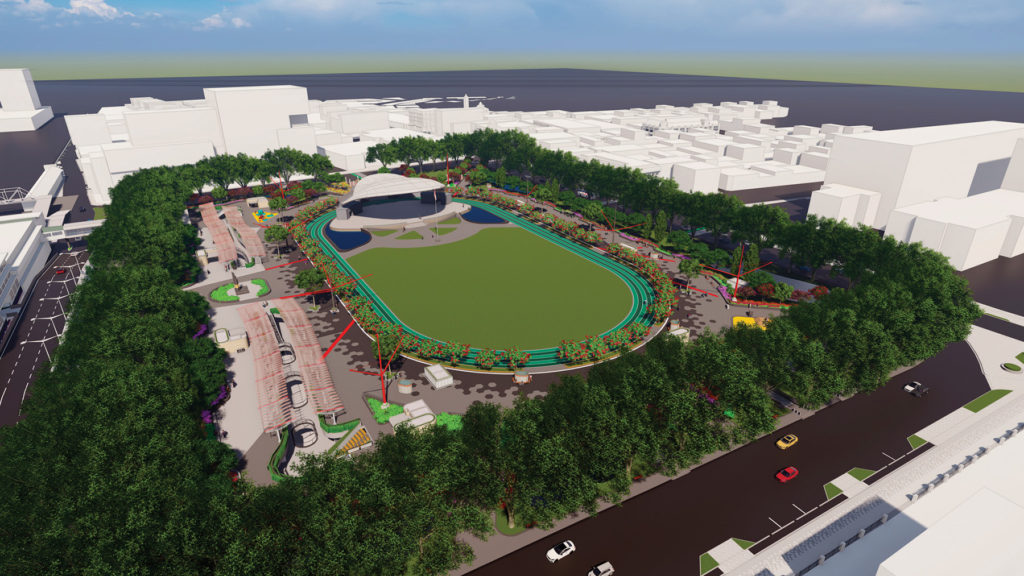 ---
Date 18 November 2022
Audience Bandung, West Java
Venue West Point Hotel Bandung
Technology reviews Roda Bangun Mandiri; Teka; Avian Brands
Exhibitors Sun Power; Wadja Inti Mulia
Supported by IAI Jawa Barat
"Design is a process of self-discovery," proclaimed Agung Rudianto, Principal of Deamaya Studio. He discussed the importance of delivering a consistent brand output by not only exploring the firm's own architectural sensibilities, but also understanding the character and needs of the client. One example is the Faculty of Law building at Universitas Islam Indonesia (UII) Yogyakarta, which uses geometric ornaments and large vertical columns for sun shading, while imparting the desired formal atmosphere.
Gania Nanggala, Founder of Arkides Studio, presented the firm's residential projects. Various types of brick and wood were explored, constructing them with a high attention to detail. "We try to design wide houses with large openings in order to create healthy spaces," he said. This solution is applied to the firm's row house projects in residential clusters, where boundary walls are often shared with neighbours.
---
Date 25 November 2022
Audience Surabaya, East Java
Venue Wyndham Hotel Surabaya
Technology reviews EDGE IFC; Indo Karya Anugerah; Wadja Inti Mulia
Exhibitors Häfele Indonesia; Hempel
Supported by IAI Jawa Timur
In this session, Aris Munandar of Hepta Desain presented projects by their firm, such as the new Institut Teknologi Bandung campus branch in Cirebon, West Java. Yohanes I. Limandjaya, Founder of yO Design Architect, has recently received international accolade for the firm's residential design. J House in Sidoarjo, East Java incorporated passive shading techniques to shield the house against harsh sunlight and heat. Balconies along the west façade were covered by wooden slats, which allowed for cross ventilation.

---
Date 2 December 2022
Audience Denpasar, Bali
Venue Swiss-Belresort Watu Jimbar, Sanur
Technology reviews TOA Paint; Roda Bangun Mandiri; Granito Tile
Supported by IAI Bali
Agung Rudiyanto, Principal of Deamaya Studio, returned to present projects such as Alanabi Miniplant Creative Building in Ciomas, Bogor, a 900-square-metre production facility for herbal cosmetics, supplements, food and beverages. The building is cleaved into two parts to separate stock supply/production areas from research and development offices.
Adrian Christian Worek, Principal of Casa Studio, recently completed a café for a new brand in Canggu called Gron. The site had only one façade exposed to the west sunlight. In response, they designed a jutting second floor covered by woven screens—a recurring theme throughout the interior—and provided numerous ventilation openings.

---
Date 3 February 2023
Audience Pekanbaru, Riau Islands
Venue Grand Jatra Hotel
Technology reviews Bluescope; TOA Paint
Supported by IAI Riau
Mosques are a central part of many Muslim communities in Pekanbaru. Isag Nabela Praditya, Principal of CASA Architecture, shared several designs of government-funded and privately owned mosques. Abu Ad'Darda Ash Shohabiy Mosque is part of a larger complex with a dormitory for clerics, and Al Badr Rumbai is an Islamic centre equipped with sports facilities and a landmark minaret.
Artria Pratomo, Chief Architect of K.O.H studio, believes that dwellings should be designed in a nest-like manner, building upon its residents' habits. This is evident in residential renovations such as Neko House, where the walls are adorned by walkways for its feline occupant.

---
Date 10 February 2023
Audience Denpasar, Bali
Venue Swiss-Belresort Watu Jimbar, Sanur
Technology reviews EDGE IFC; Indogress; Mapei Indonesia
Supported by IAI Bali
I Made Sulandra, Principal of AdeBali, envisioned an eco-resort in the contoured hills of Kemetug Village in Tabanan. The buildings are spread out in small masses along the contour, connected by ramps and pathways. Each building design draws from various traditional houses in Indonesia, such as the Javanese Joglo and Sulawesi stilt house.
Irwan Lubis, Principal of BD Studio, has designed popular attractions like the Nusantara Healing & Chill café in Sibolangit, North Sumatra, which uses glass blocks as characteristic ornaments atop its roof. Their recent projects include a curvaceous campus for Universitas Satya Terra Bhinneka in Bekasi, West Java, featuring deep balconies, an open-air connecting corridor, wooden cladding and vertical greenery.
---

Previously Published Happening