Jan - Feb 2016
World Class Sustainable Cities 2015
January 30, 2016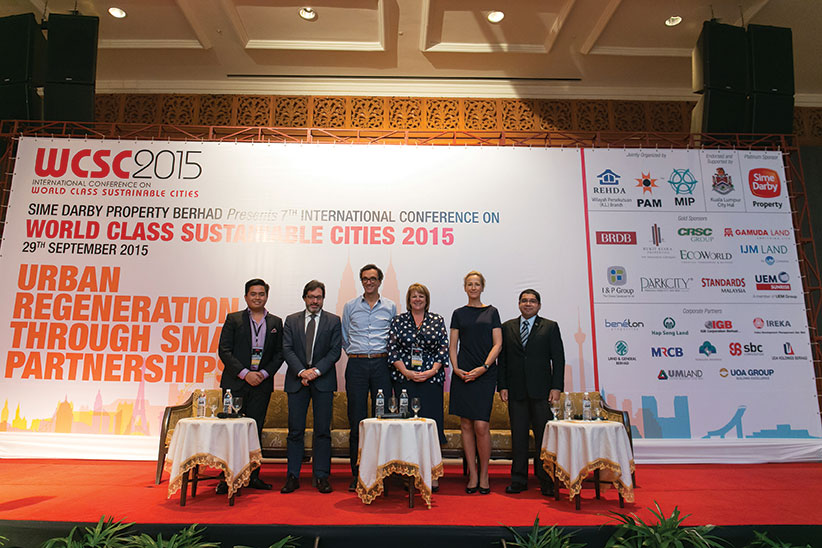 More than 500 participants and over 20 government ministries and local councils from across Malaysia gathered at the 7th International Conference on World Class Sustainable Cities 2015 (WCSC 2015) held at The Royale Chulan Hotel, Kuala Lumpur on 29 September 2015.
With the theme Urban Regeneration Through Smart Partnerships, the conference brought together stakeholders, developers, planners and architects, city authorities and officials, and representatives of residents' associations.
"Revitalising the older parts of the city that are no longer economically viable is the only way to accommodate the continual growth of the city," said the deputy Federal Territories minister Datuk Loga Bala Mohan at the opening ceremony of the conference.
"Each year we have seen the adoption of many of the ideas from this annual conference and master classes," said organising chairman Datuk NK
Tong. "WCSC has inspired all of us to continue to explore better, and more sustainable ways for the growth of KL."
This year's conference speakers included Stephen Luoni, director of the University of Arkansas Community Design Center, USA; Dyan Currie, director of planning and environment, Gold Coast, Australia; Sascha Haselmayer, chief executive officer of CityMart, Barcelona, Spain; and Catarina Rolfsdotter-Jansson, journalist, moderator and innovator from Malmo, Sweden.
The conference workshops discussed the regeneration potential of the Sungai Besi and Chow Kit areas, involving key stakeholders such as local authorities and residents' associations.
The WCSC series, which began in 2009, is designed to showcase successful practices and experiences of world-class cities to better understand what makes cities sustainable places to live in, and to inform policymaking. WCSC2015 was jointly organised by Rehda KL, the Malaysian Institute of Planners(MIP) and the Malaysian Institute of Architects (PAM), and was supported and endorsed by Kuala Lumpur City Hall (DBKL).
Previously Published Happening