Jan - Feb 2017
Defining public-private sector roles in building sustainable cities
January 31, 2017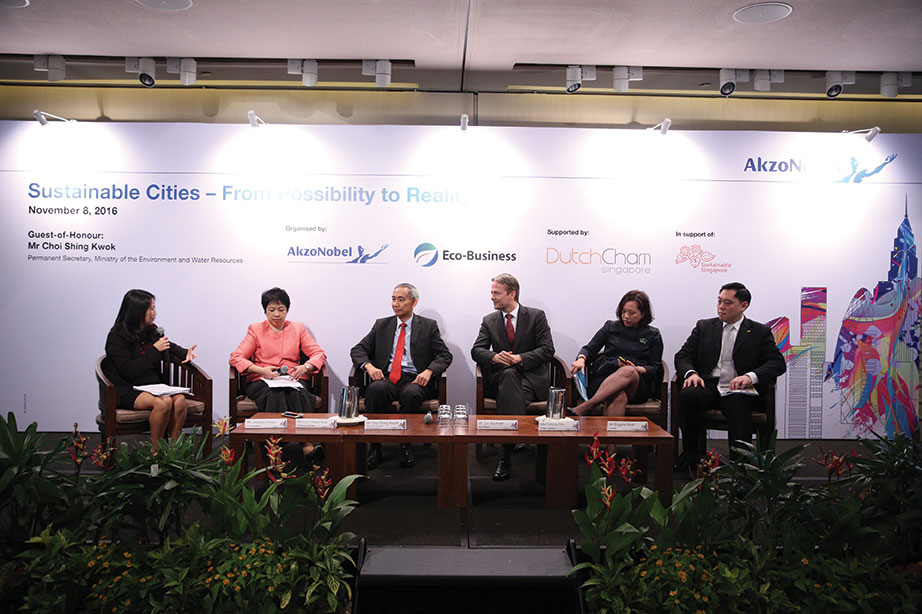 Held on 8 November 2016, the inaugural Cities:Possibilities forum was co-organised by AkzoNobel—a global paints and coatings company and a major producer of specialty chemicals—and Green media company Eco- Business, where 250 senior government and business leaders convened to discuss solutions for sustainable cities.
The panel of speakers, which included guest-of-honour Choi Shing Kwok (Singapore's permanent secretary for the Environment and Water Resources) and Ton Büchner (chief executive officer, AkzoNobel), exchanged views on issues such as the government's role in driving environmental initiatives, the profitability of sustainable solutions as well as the challenges towards sustainable cities.
Büchner kicked off the dialogue session by stating, "Sustainability starts with the conviction that everybody—whether we are individuals, companies, government officers or cities—should use as little as we can of this world." AkzoNobel's Planet Possible sustainability strategy is the Dutch company's commitment in doing more with less and creating higher value from fewer resources. It embodies this approach by focusing on using as little raw materials as possible, shifting towards more renewable energy and bringing waste back into the value chain for a circular economy. The company invests 70 percent of its innovation fund (close to EUR400 million) into the process of building new sustainable products, which leads to benefits for customers and in turn, growth for the company.
Büchner added that while governments have a significant role to play in leading the way for sustainable cities, the private sector can also make a difference. The Dutch Sustainable Growth Coalition comprises eight Dutch multinational companies that develop and share knowledge on sustainability while actively engaging with the Dutch government.
These sentiments were echoed by Choi, who emphasised that while the government can incentivise corporations when eco-friendly practices are more of a cost than a profitable opportunity, Singapore's sustainability journey can only move exponentially when companies and the public come on board.
Panellists also highlighted their views on how the sustainability of cities is highly dependent on a collective effort—dynamic collaborations between governments and corporations are needed for a successful outcome.
Previously Published Happening