Nov - Dec 2016
A Green lifestyle
November 6, 2016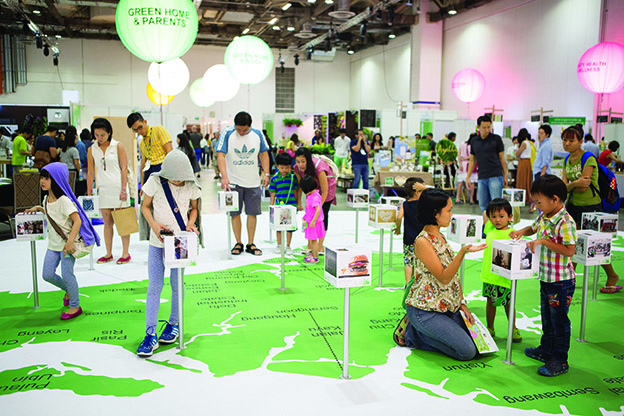 Also part of the Singapore Green Building Week, Green Living 2016 is an eco-friendly lifestyle event that aimed to educate and encourage consumers to embrace a Green lifestyle. Held from 9 to 11 September 2016 at the Marina Bay Sands Convention Centre, the second edition of Green Living welcomed twice the number of attendants as compared to last year—a record of 11,000 visitors. "The [increase] of visitors this year demonstrates a growing trend towards going Green and sustainable living," said Karen Leong, project director of Reed Exhibitions and organiser of Green Living 2016.
Themed Cities of Love, this year's exhibition included a wide variety of activities, workshops and seminars that offered visitors the opportunity to learn about environmentally friendly methods in order to enhance their overall well-being. The event also saw IKEA's first sustainable showroom outside their Singapore stores, where families were given a guided tour that provided simple solutions and tips for a more eco-friendly lifestyle at home. Exhibitors also took this opportunity to educate the public on their products and benefits.
Launched during last year's exhibition, the Singapore Sustainability Story contest promoted government initiatives to make Singapore a sustainable city to live in. Visitors casted their votes for their favourite stories submitted by the public about a Greener lifestyle, and the top three finalists out of 20 shortlisted stories were Ong Wee Lee, Lucas Lu and Summer Fong. 
The inaugural Schools' Recycling Bin Design Competition 2016 sought to find innovative ways to increase household recycling rates in Singapore, which has stagnated at 20 percent in the past 10 years. The winners will be announced at the School Green Awards ceremony on 10 November 2016 based on votes received from a panel of judges as well as the public. A pilot featuring prototypes of the winning designs will be rolled out in 500 selected households and schools from February 2017.
Previously Published Happening