Jul - Aug 2016
2016 Macao International Environmental Cooperation Forum and Exhibition
July 6, 2016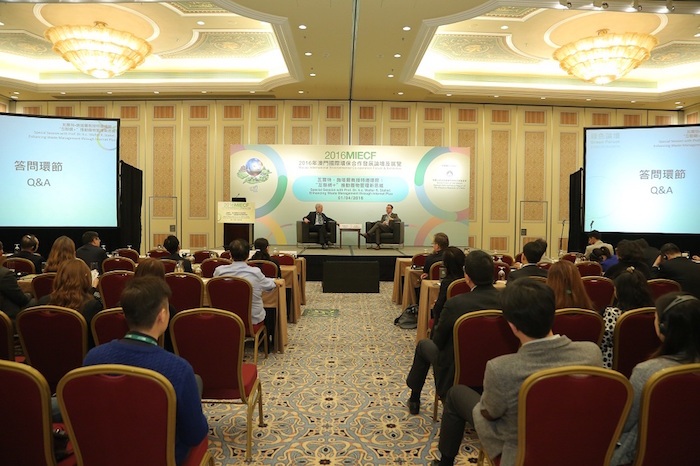 Under the theme Green Economy – Opportunities for Waste Management, the 2016 Macao International Environmental Cooperation Forum and Exhibition (2016MIECF) was held from 31 March to 2 April 2016.
An international Green exchange platform for the environmental industry in the Pan-Pearl River Delta (PPRD) and around the world, this year's MIECF focused more on business matchmaking opportunities, which enabled buyers to find better projects and business prospects. In addition, participants also learned more about the latest environmental technologies.
Since MIECF's inception in 2008, various event activities have been constantly improved. At the same time, the provinces and regions in the PPRD, collectively known as PPRD 9+1, have been participating as co-organisers of the event and bringing in high-level delegations to the exhibition every year.
MIECF 2016 occupied an area of 16,900 square metres, with 460 exhibitors from 20 countries and regions, including 21 prominent exhibitors from Macao, Mainland China and overseas. The PPRD 9+1 arranged two PPRD sessions, namely Solid Waste Management Policies and Technology in the PPRD and PPRD Environmental Technology Exchange. The sessions provided opportunities for professionals in the environmental sector from the PPRD region, Southeast Asia, United States, Europe and Portuguese-speaking countries to exchange information on waste management and new technologies and explore cooperation opportunities.
A total of six sessions on waste management were held under the Green Forum, which involved industry experts. Forty-six environmental protection experts and pioneers, multinational company leaders and policymakers of the PPRD region discussed other topics such as waste reduction and garbage recycling; solid chemical waste; Green hotels and Green buildings; and shared
information on the remanufacturing of the economy in each region.
The 10th MIECF will take place from 30 March to 1 April 2017.
Previously Published Happening