Commercial, Online Exclusive Feature / 2021
Within one 'roof': Ngói Space by H&P Architects
December 1, 2021
Hanoi in Vietnam is a capital city that has been undergoing rapid development. Over the past two decades, Hanoi recorded the second-largest urban agglomeration area in the country—its administrative area and population size have tripled, with further expansions of the capital region planned within the next decade.
It is in this context that the architects experienced pervasive change in their everyday surroundings. As many single-storey landed houses were demolished to meet higher-density demands, they observed that the construction waste was left unused, including the clay roof tiles that used to be characteristic of the area.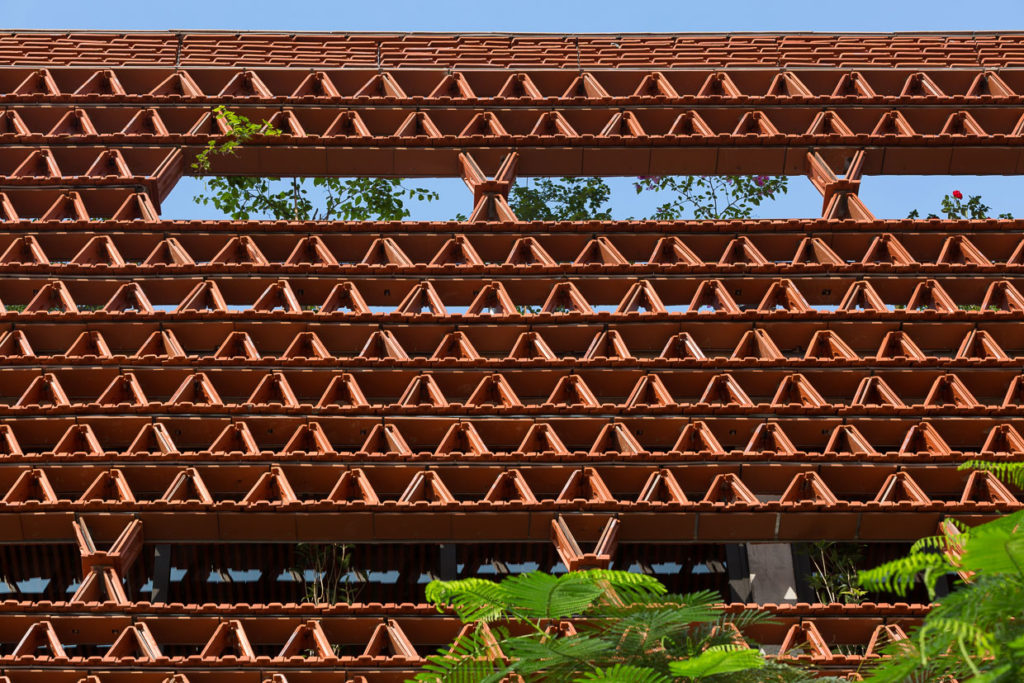 'Roofs' for walls
"Ngói Space was created as an inspiring solution to reuse these memory-filled tiles," wrote the architects. By reaching back to the past, they wanted to show how spaces of the future could be rooted in familiar values. Around 20,000 clay roof tiles from a local manufacturer were arranged into triangular modules, then stacked and interlocked as a 'curtain' to wrap around the building.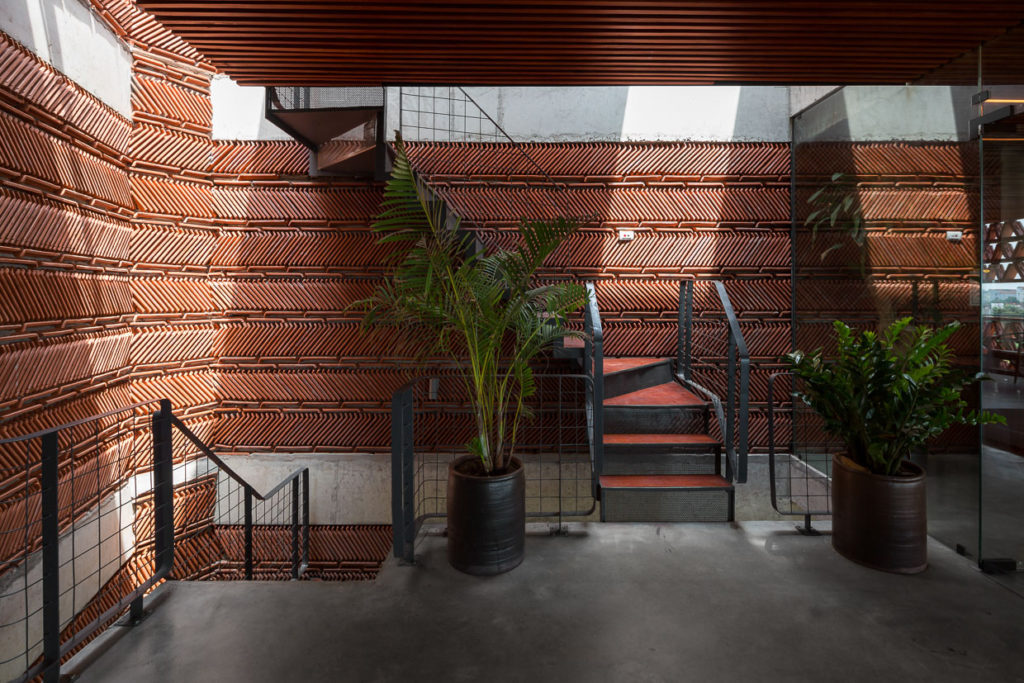 Tree + Cave
This vertical enclosure drew its inspiration from two ancient motifs of architecture. First, a tree with intertwined branches that form various layers for use. The tree-like quality to the porous skin is apparent, as the tile arrangement allows the spaces inside to 'breathe' while providing shade from the tropical sun. The other motif is the cave, where caverns and chambers could nestle a variety of functions at different depths.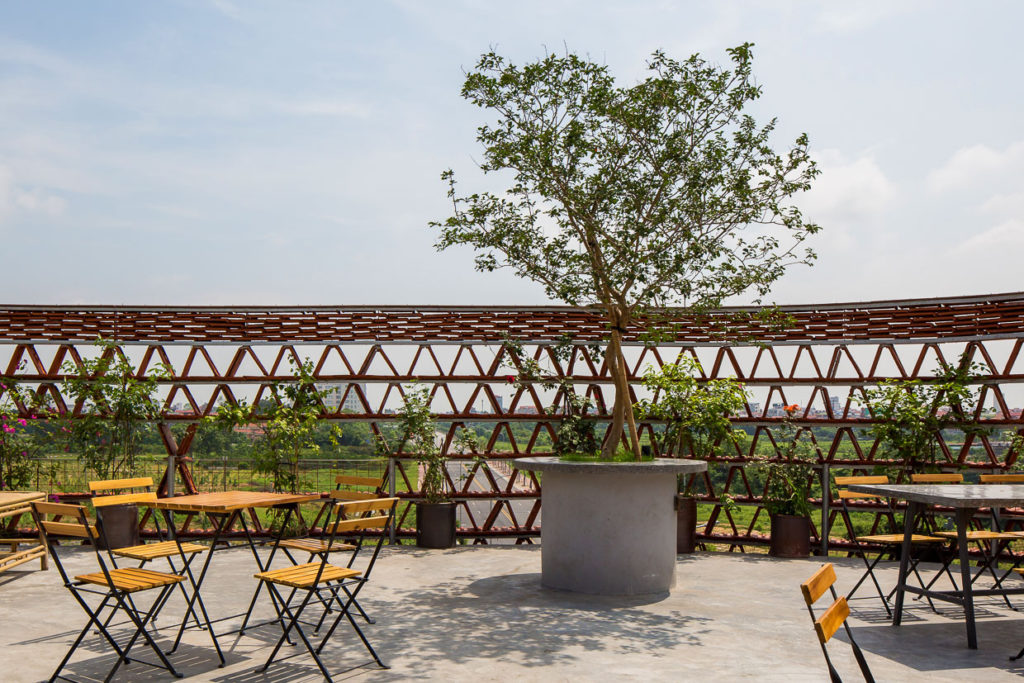 The functional arrangement in Ngoi Space also takes its cue from another reference: the Rong house, which is a vernacular communal structure that serves as a meeting point for a whole village—the five-storey Ngoi Space is a giant vertical communal space, bookended by cafés on the ground floor and rooftop, plus seminar and exhibition rooms in between. This results in an intriguing and lively space in the neighbourhood, where people can gather within one communal 'roof-tiled' space.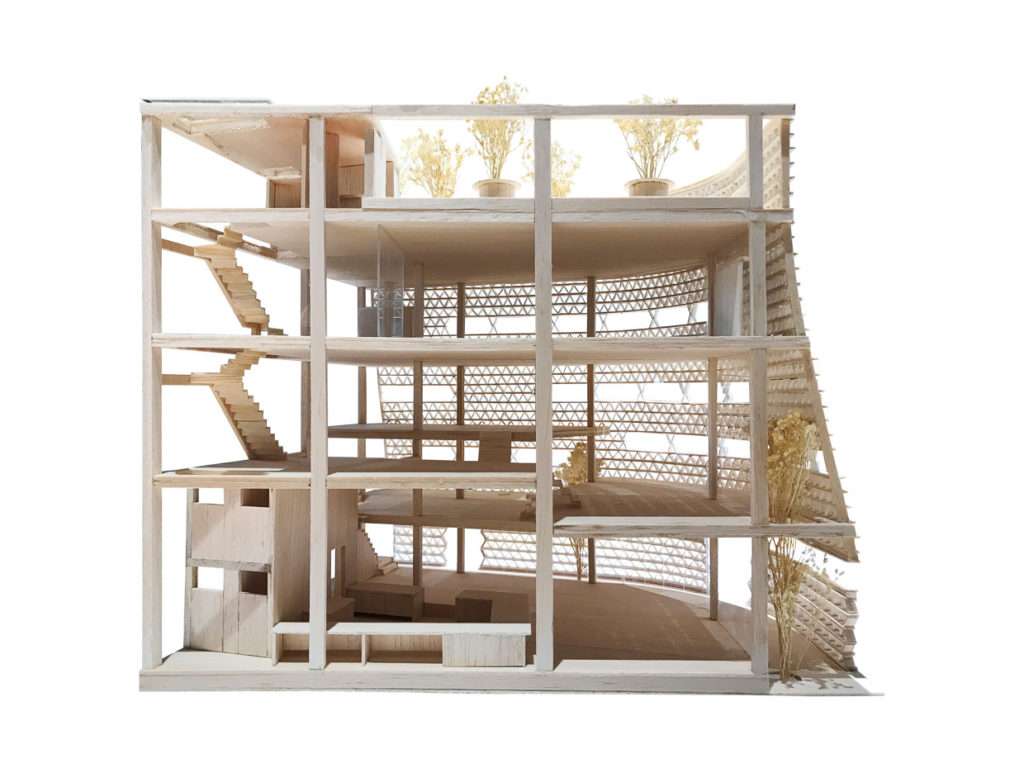 ---
PROJECT DATA
Project Name
Ngói Space
Location
Dong Anh, Hanoi, Vietnam
Architecture Firm
H&P Architects
Architecture Team
Doan Thanh Ha; Tran Ngoc Phuong; Luong Thi Ngoc Lan; Tran Van Duong; Nguyen Hai Hue; Ho Manh Cuong; Nguyen Van Thinh; Trinh Thi Thanh Huyen
Site Area
197 square metres
Total Floor Area
510 square metres
Completion Date
January 2021
Photography
Le Minh Hoang
Read more related projects:
Previously Published Projects