Institutional / Jul - Aug 2018
West Java New University
July 23, 2018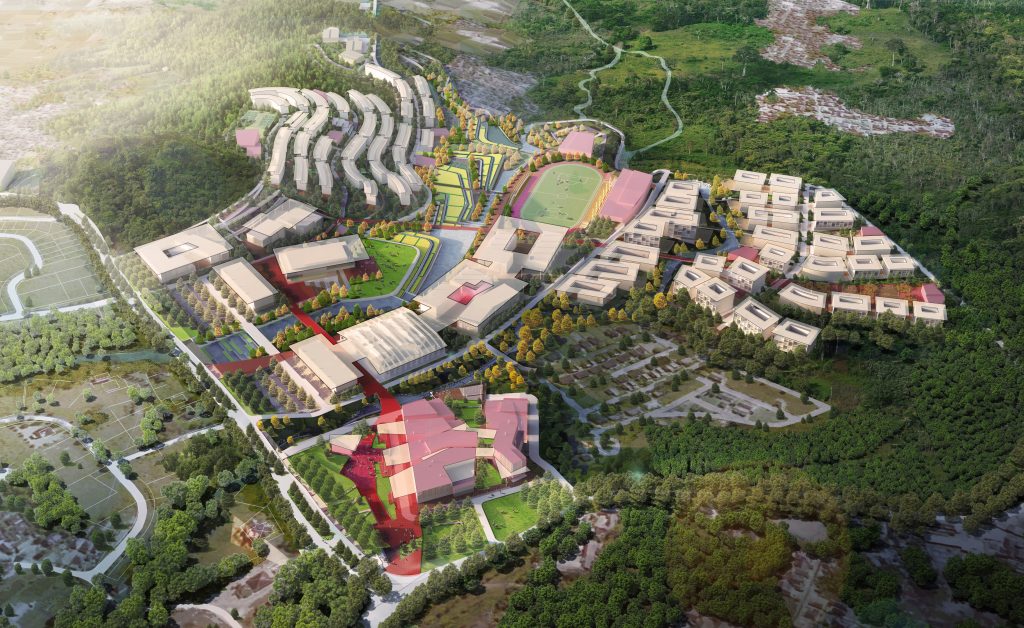 The West Java campus is conceived as a compact living-learning 'village' that sits harmoniously within its natural setting. The master plan took advantage of the morphology of the site by concentrating the development of academic and student housing around the central valley and the ravines. This will enable the preservation of key watersheds on-site and create a series of diverse open spaces. The valley will thus be transformed into a primary campus amenity that integrates water management systems and houses a diversity of natural habitats, agricultural terraces as well as recreational spaces for outdoor learning.

LANDSCAPE STRATEGIES
The master plan promotes the restoration and ecological inclusion of the agricultural landscape. It responds to its site context through a variety of conservation and development strategies, such as the continuation and restoration of existing natural ecosystems; the restoration of the tropical rainforest within the site; and the conservation of wetlands and open streams as part of the larger regional watershed.

Key landscape strategies include reinforcing existing natural systems by promoting native vegetation; consolidating development and impervious areas; complementing existing ecosystems with the regulation of the site's watershed; and developing terraces and planting areas to stabilise the ravines.
PROJECT DATA
Project Name
West JAva New University
Location
Subang, Indonesia
Status
Design Completed in January 2016
Site Area
115 acres
Architecture Firm
Sasaki Associates, Inc
Principal Architect
Dennis Pieprz
Images/Photos
Sasaki Associates, Inc
Previously Published Projects