Institutional / 2nd Quarter 2020
FGLA 2020 Merit: Viettel Academy Educational Centre
May 23, 2020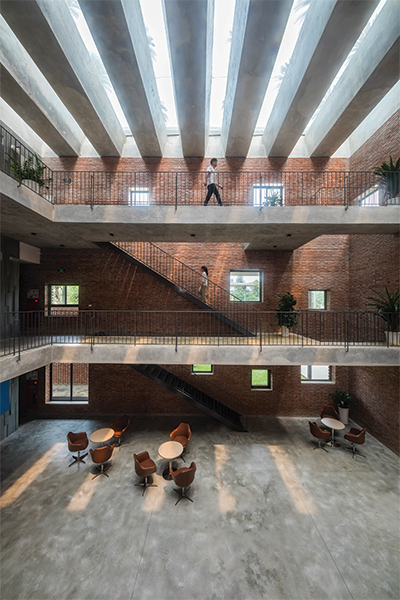 This project celebrates the beauty of brickwork and minimalistic form making — the overall design quality is quintessentially Vo Trong Nghia, with pockets of greenery and trees sprouting from the flat rooftops. Square windows puncturing the seemingly impervious façades allow for light and air, creating interesting interplay of light and shadow throughout the day. Red bricks were used to create the 300 to 400 millimetre thick façade, which comprises two layers of wall — the void in between to allow for insulation to reduce energy use.
A distinctive feature is the elevated lightweight concrete pathway that serves as both a 'sky-walk' to the rooftop gardens/greenery and as shade to pedestrians at the ground level. The first floor garden system has been arranged to alternate between the blocks, bringing the occupants closer to nature. The roof gardens on the different floors form a series of 'hanging gardens' that provides trainees with a relaxing space for interaction during breaks. The greenery, along with the presence of the water body, creates a cooling microclimate and a comfortable learning space for the trainees.
Published previously in FuturArc 4Q 2019.
PROJECT DATA
Project Name: Viettel Academy Educational Centre
Location: Thach That, Hanoi, Vietnam
Completion Date: March 2018
Site Area: 9,026 square metres
Gross Floor Area: 2,651 square metres
Client/Owner: Viettel Corporation
Architecture Firm: VTN Architects (Vo Trong Nghia Architects)
Principal Architect: Vo Trong Nghia
Main Contractor: Delta Corporation
Images/Photos: Hiroyuki Oki; VTN Architects
Previously Published Projects