Residential / Sep - Oct 2016
Vegan House
September 22, 2016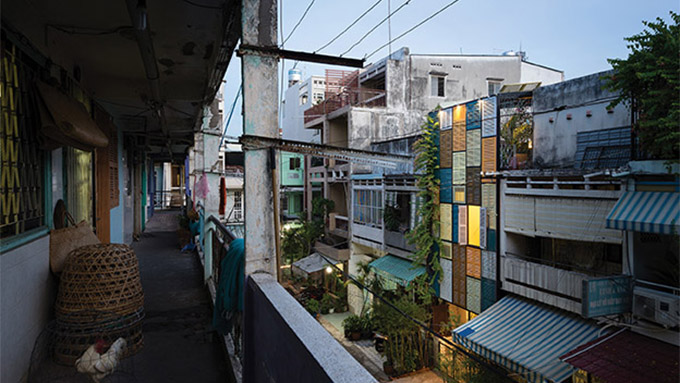 Standing amidst other traditional narrow 'tube houses' in Ho Chi Minh City, the Vegan House cannot be missed. With a quaint exterior of recycled window shutters painted in bright colours, this building draws attention with its creative façade. Look deeper and one will come to realise that the architect has redeveloped most of this house by cleverly utilising adaptive reuse of abandoned materials for its cladding and interiors.
After being inspired by an old apartment across the current Vegan House, he had an idea to combine the discarded shutters. Sandwiched between two adjoining buildings, these jalousie windows—a common sight in the country— pay homage to the history of Vietnamese architecture, and were also installed as decorative elements as well as flexible partitions throughout the interior spaces of the house. They bring in natural lighting and provide cross ventilation in a hot climate. Some of the recycled louvres on the roof are kept open so that the trees beneath can grow upwards.
The owner had collected the abandoned building materials from his friends: there were every kind of furniture such as tables, chairs, wardrobes, windows and lampshades. With a limited budget of USD10,000, the architect faced a challenge to refurbish this 50-year-old house—which was not in a good condition—into a culinary spot where the community can gather to cook and enjoy Vietnamese vegan dishes.
PROJECT DATA
Project Name
Vegan House
Location
Dien Bien Phu Street, District 3, Ho Chi Minh City, Vietnam
Completion Date
February 2015
Site Area
60 square metres
Gross Floor Area
160 square metres
Number of Rooms
4
Building Height
11 meters
Client/Owner
Nguyen Tam
Architecture Firm
Block Architects
Principal Architect
Dang Duc Hoa
Main Contractor
Block Constructions
Mechanical & Electrical Engineer
My Tien
Civil & Structural Engineer
Khoa Nguyen
Images/Photos
Quang Tran; Block Architects
Previously Published Projects