Commercial / 3rd Quarter 2019
URBN Hotel
by Praveen Nair
September 27, 2019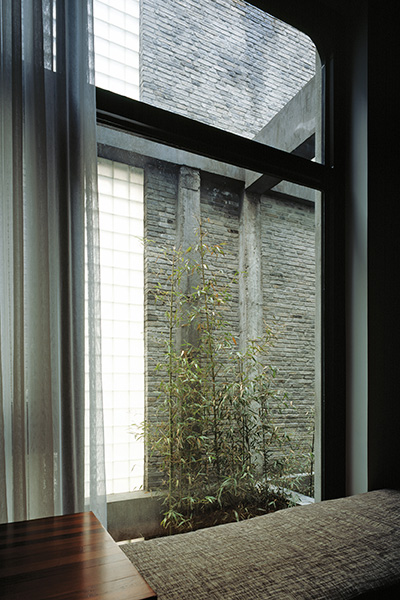 The architectural team turned a trio of old buildings, including a former artificial limbs factory and a post office, into a boutique hotel. It holds the record as China's first-of-its-kind carbon-neutral establishment. The architects' radical approach conveys sensitivity to the environment while redefining what a hotel stay should be like. While the attention to sustainability has grown and evolved recently, principal architect Silva feels that the hotel did create a ripple effect to inspire a consciousness in material use and in the creation of healthy spaces.
WELLNESS
Wellness, he thinks, cannot be discussed in and of itself. It is but one dimension of the greater sustainability discourse, centring itself on the health of its inhabitants and of the environment. He feels that only when the term is read alongside concepts such as resilience can it actually realise any significant change in the building industry.
APPROACH
Longevity acted as a guiding term in this project. The architecture firm embraced the memory of the space and the use of new materials, all while ensuring that the Greenest methods were employed and an honest material usage was ensured.
The present form of the building has been largely retained, its original columns and beams left exposed and its original white-tiled external façade kept in place. Two centenarian magnolia trees have also been also preserved to add a sense of time and green in the space, keeping the charm and memory of the place intact.
DESIGN DECISIONS
What the architects sought to do was to add a multifunctional dimension to the hotel rooms, from simple spaces of rest to lounges where rooms are fitted like places to meet. To them, the flexible use of space—an Asian quality they had observed in Shanghai—is a characteristic that they wish to implement in this project.
Rooms here are like terraced stage platforms for different functions. The beds in some of these rooms are set inside the floor while the bath is placed right beside it, allowing for a meld of multiple uses located within a singular space, resembling more of an artist's studio. These simple but innovative gestures dare hotel guests to experience a different kind of hotel stay—one that gives them confidence to move within the spaces of this singularity.
PROJECT DATA
| | |
| --- | --- |
| Project Name | URBN Hotel |
| Location | 185, Jiao Zhou Road, Shanghai, China |
| Completion Date | 15 December 2008; recent renovation in 2014 |
| Site Area | 2,746 square metres |
| Gross Floor Area | Hotel: 1,890 square metres; Garden: 620 square metres; Restaurant: 236 square metres |
| Number of Rooms | 26 |
| Architecture Firm | A00 Architecture |
| Principal Architect | Raefer K. Wallis; Sacha Silva |
| Main Contractor | Well-Alliance |
| Images/Photos | A00 Architecture; Nacasa & Partners |
Previously Published Projects